NFL
Rams beat Bengals, 23-20, to win second Super Bowl title in franchise history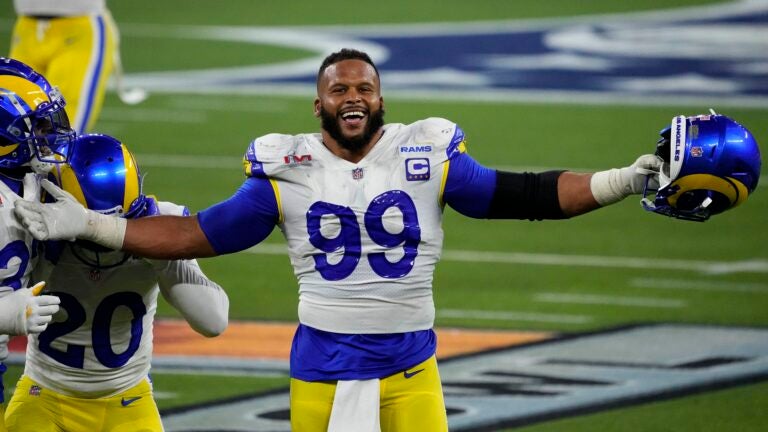 A Super Bowl that was set to feature two high-powered offenses turned into a defensive showcase down the stretch, one where the Rams had just enough down the stretch to come away with the 23-20 victory.
Matthew Stafford, who engineered a late-scoring drive to lift Los Angeles, went 26-for-40 for 283 yards with three touchdown passes. He was aided by Cooper Kupp, who had a pair of touchdown catches in the win, including a 1-yard catch for the game winner.
Joe Burrow was 22-for-33 with 263 yards and a touchdown. Joe Mixon had 72 yards on 15 attempts. Tee Higgins caught 4 passes for 100 yards and 2 touchdowns.
Things started smoothly for the Rams, who took a 13-3 lead through the first quarter-plus when Stafford connected with Odell Beckham and Kupp. But Beckham sustained a non contact left-knee injury late in the second quarter, which caused the Los Angeles' offense to stall.
That's when the Cincinnati offense woke up, with a touch of razzle dazzle. Mixon found Higgins on a trick play that went for a six-yard touchdown pass to make it 13-10. And on their first drive of the second half, a 75-yard scoring strike from Burrow to Higgins gave Cincinnati a 17-13 lead.
After Stafford was picked off on the next Los Angeles possession, a 38-yard field goal from Evan MacPherson made it 20-13 with just over 10 minutes to go in the third quarter. The Rams responded with a field goal of their own before the end of the third to make it 20-16.
Whether it was the injuries to Beckham or the quarterbacks (both of whom were banged up in the second half), both offenses struggled down the stretch — at one point, there were seven straight punts between the two teams.
But it was Stafford and Los Angeles with just enough late, as Stafford and Kupp connected for the game winner with 1:25 to go.
Here's how the game unfolded:
Rams win — 10:00 p.m.
And that's a wrap.
Rams take the lead — 9:55 p.m.
Kupp was the one who stepped up on that drive, gathering in a seven-yard end-around on fourth-and-1 to move the chains. Later in the same drive, Stafford connected with Kupp on a 22-yarder over the middle that gift the Rams to the Cincinnati 24. He followed that with another pass to Kupp, an 8-yarder that landed LA in the red zone. Kupp was the one who put the capper on the drive with a 1-yard TD catch. It's 23-20 with 1:25 to go.
Two minutes left — 9:44 p.m.
Two minutes left. The Rams trail, 20-16, but are driving.
Defenses in command — 9:27 p.m.
Not sure if we're looking at exhausted offenses, offenses that have just become too banged up, or defenses that have taken it to the next level. (My guess is a mixture of No. 2 and No. 3.) But the scoring pace has slowed considerably since the middle of the third quarter. Both quarterbacks have taken their shots, and Burrow has been sacked six times since the first half. (The Rams have gotten to him seven times in all.) We'll see how it all shakes out as this game winds to a finish — there's 9:58 left in regulation.
Fourth quarter looming — 9:13 p.m.
Third quarter is done. Bengals lead 20-16, but the Rams have the ball at the Cincinnati 47.
Rams' pass rush dominating — 9:11 p.m.
Burrow and the Bengals were really good getting the ball out quickly over the first quarter-plus. Now, the Rams' pass rush has been unleashed. Los Angeles has six sacks of Burrow. The Rams will take over the ball at the Cincy 47 with 36 seconds left in the third quarter.
The OBJ Effect — 9:07 p.m.
The Rams have had five possessions since the Beckham injury: INT, punt, INT, FG, punt. Not great. (He's now on the sidelines in street clothes.)
OBJ officially out — 8:56 p.m.
Odell Beckham has officially been ruled out with a left knee injury.
Rams answer — 8:53 p.m.
LA put together a tidy little drive, but ended up settling for a 41-yard field goal after botching their own version of the Philly Special. It's 20-16 with 5:58 to go in the third quarter.
Bengals settle for FG — 8:45 p.m.
Under the circumstances, that was probably the best possible outcome for the Rams; after an Aaron Donald sack, the Bengals settled for a 38-yard field goal to make it 20-13 with 10:15 left in the third quarter. Los Angeles needs a steady and consistent drive to regain control of this one.
Stafford picked off — 8:38 p.m.
The Rams are reeling. The touchdown pass from Burrow to Higgins — despite an ugly facemask that wasn't called — gives Cincinnati the 17-13 lead. Then, we're told Odell Beckham will likely not return. And to put a capper on things, the Bengals have picked off Mathew Stafford for the second time tonight. They'll get the ball right back.
Bengals come out firing — 8:34 p.m.
WOW. The Bengals deliver a thunderbolt to start the third quarter, a 75-yard scoring strike from Burrow to Higgins. (Jalen Ramsey fell down in coverage.) Cincinnati holds a 17-13 lead, 12 seconds into the third quarter.
Halftime analysis — 8:01 p.m.
Two quarters are done at SoFi Stadium, and the Rams hold a 13-10 lead. Here are a few quick stats and notes:
Akers: 7 carries, 10 yards
Stafford: 12-18, 165 yards, 2 TDs, 1 INT
Beckham: 2 catches, 52 yards, 1 TD
Kupp: 3 catches, 40 yards, 1 TD
Burrow: 12-18, 114 yards
Mixon: 7 carries, 40 yards, 1 TD pass
Chase: 3 catches, 62 yards
Higgins: 3 catches, 25 yards, 1 TD
-This one looked like the Rams were rolling early, but there's been a bit of a momentum shift as of the midway point in the second quarter, a stretch that included the Beckham knee injury (he's questionable to return) and the Stafford INT.
-For what it's worth, when it comes to MVP front-runners, we're trending toward the winning quarterback. (We'll see if Beckham comes back from his first-half knee injury.)
-The only real surprise over the first two quarters was the trickery we saw from the Bengals on the touchdown pass near the end of the first half, where running back Joe Mixon threw the first pass of his career, flipping a six-yard touchdown pass to Tee Higgins to make it 13-10. But for the most part, the two teams kept things relatively simple; no surprises.
-The Rams were the team that suffered the most in the first half, at least from a health perspective. Beckham went down near the end of the second quarter with a non-contact left knee injury, while Eric Weddle sustained a shoulder injury and ended up sitting out for a spell.
-A large part of it is Burrow and his quick release, but the fact that Burrow hasn't been sacked only once in the first half might be the most amazing stat to this point in the evening.
-Worst decision of the first half? Vernon Hargreaves, who was one of Cincy's inactives, came off the bench to celebrate with his teammates after the Bengals' interception late in the first half. It cost Cincinnati 10 yards — unsportsmanlike conduct. Foolish decision in a game where there's little margin for error. (In the context of this conversation, it's worth noting that the officiating has been pretty good for the first two quarters.)
-The decision to go for it on fourth down ended up backfiring on the Bengals, as the Rams took over at midfield and turned it into a touchdown. As we said at the time, if this one ends up as a one-score game, that'll be a decision — and play — that we talk about when things are all done. The same holds true for the Rams' botched extra point, a ball that was simply dropped by holder Johnny Hekker.
Cincy rolling late in the first half — 7:48 p.m.
That was not a good sequence for the Rams. We will wait for word on Beckham, who appeared to sustain a noncontact left knee injury on the latest drive. But just after Beckham left the field, Stafford ended up tossing his first interception of the game when he aired it out toward the end zone for Van Jefferson. It was basically a punt — the pass happened on third-and-long — but it'll still go down on the books as a turnover. The Rams are up 13-10, but the Bengals have the ball with two minutes left in the first half on their own 10-yard line.
Bengals cut Rams' lead — 7:35 p.m.
Impressive answer by the Bengals, who got quality yards on that drive from Joe Mixon, including a 14-yard pickup on the ground. Cincinnati cashed in when Mixon connected with Higgins from six yards out with a little razzle dazzle to make it 13-10 with 5:47 to go in the first half. Bold move by the Bengals, and it paid off.
Kupp makes it 13-3 — 7:23 p.m.
If you're looking for an early choice for MVP, you could do worse than go with Beckham, who has two catches for 52 yards and a touchdown. A 35-yard connection from Stafford to Beckham to start the drive got the Rams into Cincinnati territory. A few plays after that, Stafford found Kupp for his first TD reception of the evening. There was a botched extra-point attempt, but the Rams still got six to make it 13-3 with 12:51 to go in the first half. Los Angeles is starting to gain some momentum.
First quarter done — 7:15 p.m.
First quarter is done, and the Rams are up 7-3.
Stafford: 1 rush, 7 yards; 6-for-6, 56 yards, 1 TD
Kupp: 1 catch, 20 yards
Beckham: 1 catch, 17 yards, 1 TD
Burrow: 4-for-9, 60 yards
Mixon: 2 carries, 14 yards
Chase: 2 catches, 52 yards
Cincy responds — 7:11 p.m.
No worries about the Bengals responding: Joe Mixon picked up a 13-yarder, and then Burrow connected with Chase for 46 yards. Cincinnati had to settle for three, but the Bengals developed a little offensive rhythm (six plays, 59 yards) on that sequence. It's 7-3 with 28 seconds left in the first quarter.
Rams take an early lead — 6:53 p.m.
The Rams are on the board first, thanks to a beautiful throw-and-catch from Stafford to Beckham, a 17-yarder that saw OBJ come down with a terrific reception. Extraordinary YAC on that third-down reception by Kupp, who picked up 20 yards to help get the first. Those Los Angeles receivers are something else. It's 7-0 Rams with 6:22 to go in the first quarter.
LA gets the ball back — 7:01 p.m.
I want to be careful because, as we saw against the Chiefs, the Bengals are capable of hitting you with a thunderbolt of offense. But we are entering a key portion of the game here; if the Rams are able to go up 14-0 on this drive, Cincy will really have to work hard to counter. One more thing: the Bengals are playing (mostly) a run-friendly defense, which has allowed LA to gain some early yards on the ground. It'll be interesting to see if the Cincinnati defense changes things up a bit here on this drive.
Bengals can't convert on fourth down — 6:48 p.m.
Give the Bengals some credit for going for it there on fourth-and-short, but there was a failure to execute. The Rams are going to get the ball at their own 49 with 9:57 to go in the first quarter. If this one is a close game that the Bengals lose, that's one of those decisions we'll look back on when this one is over.
Great start for Cindy D — 6:28 p.m.
The Rams got one first down, but couldn't do anything with. After the Hekker punt, the Bengals will take over at their own 42-yard line with 11:54 left in the first quarter.
Bengals win the toss, defer — 6:28 p.m.
Time for some football. (The team that loses the opening coin toss has won the past seven Super Bowls.)
Official Price Prediction — 6:15 p.m.
Los Angeles 28, Cincinnati 23: Joe Burrow is buried under a wave of defensive linemen, Cooper Kupp catches one touchdown and OBJ gets another. The Bengals hang for three quarters, but the Rams pull away in the end.
Last game for McVay, Donald? — 6:02 p.m.
You guys buying the stories that have leaked over the last few days — in the case of Aaron Donald, just this afternoon — that if the Rams win, they might retire? Me neither, especially at that age. Guys have told me that when you win one, it makes you hungry for another, and another … and … well, you get the point. Anyway, I'd be shocked if either one of them retired if Los Angeles won today.
Scouting local connections — 5:38 p.m.
The personnel connections between the Patriots and the respective conference champions are thin — other than old friend Sony Michel, who is going for his second ring as a member of the Rams this afternoon — but there are a pair of Massachusetts ties when it comes to each coaching staff.
-The Rams assistant strength & conditioning coach is John Griffin, who was a running back at Northeastern and UMass. (With the Huskies, Griffin was a 2009 first team All-Colonial Athletic Association selection and led the CAA in rushing.)
-The Bengals have senior defensive assistant Mark Duffner, who made his bones as the head coach at Holy Cross from 1986 to 1991 where his teams went 60-5-1. And Sam Francis — the football data analyst for Cincinnati who is on the headsets every week with Bengals coach Zac Taylor — is a product of Newburyport High School and Bates College, where he was a standout in football and lacrosse.
-One other semi-connection with New England? Los Angeles wide receiver Van Jefferson (50 catches, 802 yards, six touchdowns this season) is the son of Shawn Jefferson, who had 178 catches for 3,081 yards and 14 touchdowns in four seasons (1996-99) for the Patriots.
Team Fluff, led by Snoop Dogg, win Puppy Bowl XVIII — 5:35 p.m.
Will this be hottest Super Bowl ever? — 5:26 p.m.
In Southern California, the temperature two hours before kickoff was 85 degrees, with the chance to go even higher by the time the ball is kicked off. That would make this the hottest Super Bowl ever, topping the record of 84 set on Jan. 14, 1973, at the Los Angeles Memorial Coliseum.
Rams, Bengals inactives — 5:20 p.m.
Rams inactives: QB Bryce Perkins, RB Jake Funk, OLBs Chris Garrett and Terrell Lewis, DL Bobby Brown, OL Tremayne Anchrum, DB Blake Countess.
Bengals inactives: DT Mike Daniels, CB Vernon Hargreaves, DE Wyatt Ray, DT Tyler Shelvin, OL Fred Johnson, WR Trenton Irwin, HB Trayveon Williams.
Super Bowl presents unique set of challenges — 5:15 p.m.
A few notes on having covered nine Super Bowls:
-The sound inside a Super Bowl stadium is different than a regular-season crowd. There are more high rollers and fewer partisan fans, so there are times where the noise gets louder than expected, and vice versa. That's one reason why it takes some getting used to. There are also more flashbulbs going off than usual, especially in big moments, like at kickoff—again, a small thing, but it makes it different than a regular season game. And the PA is usually jacked up pretty high.
-That being said, if it's close and late, the energy in the stadium is unlike anything else I've every experienced. It can get surprisingly loud, feeding off the dramatic atmosphere. For a new team, it can be a little disorienting to deal with. As someone covering the event, it's tough not to get goosebumps.
-You guys probably know this, but the halftime break is longer. Another logistical challenge to have to deal with. It's one of the reasons why (usually) the team with more Super Bowl experience has a better start to the second half.
Who will win? — 4:55 p.m.
The sentiment among many fans — at least locally — is that theyre rooting for the Bengals, but the Rams will win. I'd love to see the upset as well, and as someone who went to Northeastern, I'd love to see Cincinnati win, as it was home to former Husky tight ends Dan Ross and Matt Lengel. But Los Angeles just has too much in its favor: The Rams are home, they have enough star power to light up a city block, and many of them have been here before when they faced New England in Super Bowl LIII. (Seems like a decade ago.) It's not a deciding reason, but previous Super Bowl experience counts for something in my book. It's a different game with unique rhythms — longer halftimes, bigger stage, etc. — and it helps to have been there before.
Predict the outcome — 4:48 p.m.
Pregame reading list — 4:28 p.m.
Best way to get ready for the big game.
Khari Thompson: 10 Bengals and Rams players to watch in Super Bowl LVI
Chad Finn: Will the Super Bowl help boost NBC's dismal Olympic ratings?
Christopher L. Gasper: Matthew Stafford has set the stage for a Hollywood ending during Super Bowl LVI
Chad Finn: It's the two quarterbacks who make this Super Bowl a compelling matchup
Tom Brady tweets out calendar reminder to play in Super Bowl gone wrong
Rob Gronkowski believes Tom Brady will play again
It's Super Sunday — 4:15 p.m.
Welcome to the Super Bowl! Hope everyone has a good afternoon — I'll be here, blogging my way through the proceedings, from the pregame show and the kickoff, all the way until they hand out the Lombardi Trophy. Along the way, we'll have the usual updates from SoFi Stadium, so make sure to keep it here all afternoon — and evening — long as we put the wraps on another NFL season. CUE THE BAND.