NFL
Doctors offer medical perspective after Bills' Damar Hamlin collapses
Hamlin was treated with CPR and an AED following a cardiac arrest during Monday's game.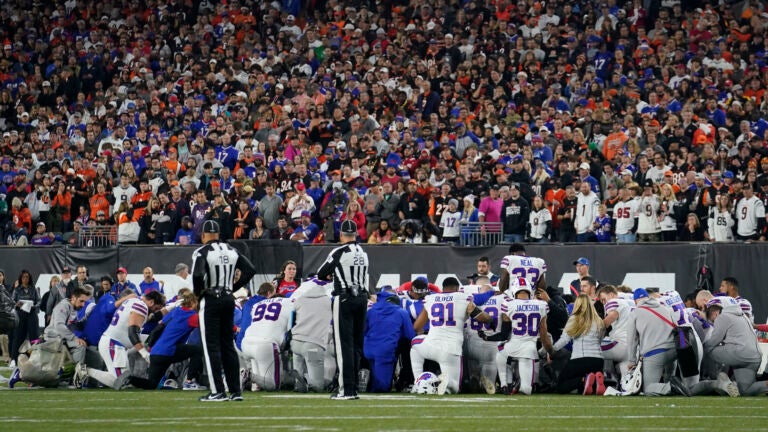 In a chilling medical emergency that played out on live TV Monday night, Buffalo Bills player Damar Hamlin collapsed on the field during a game, sparking concern and speculation among football fans and medical professionals alike.
The defensive back collapsed moments after taking a hit to the chest during a tackle in a game against the Cincinnati Bengals. He suffered a cardiac arrest and was sedated and in critical condition as of early Tuesday morning, according to the Buffalo Bills.
How could a seemingly routine play fell a 24-year-old professional athlete?
"We're talking about the most fit, the most physical, the most macho, the healthiest men in the world," football analyst and retired NFL player Ryan Clark said on SportsCenter.
"It's the most afraid I've ever been watching a football game," Clark said, adding, "We hear guys always say, 'I'll die for this [game],' or 'I'll give my life for this.' We may have watched a player actually do that tonight."
Neither the Bills nor the NFL has said what caused Hamlin's heart attack. However, some medical professionals have taken to social media to suggest some potential causes.
Several pointed to commotio cordis, when blunt trauma to the heart leads to ventricular fibrillation, according to the National Library of Medicine.
Though relatively infrequent, "commotio cordis plays a distressing role as a leading cause of sudden cardiac death in young athletes," per the National Library of Medicine.
The condition is seen mostly in athletes aged 8 to 18 who are playing baseball, hockey, lacrosse, or other sports involving projectiles, according to the University of Connecticut's Korey Stringer Institute.
Others said the incident underscored the importance of CPR and AEDs. Hamlin was treated with CPR and an AED on the field before being taken away by ambulance, Joe Danneman of Cincinnati's Fox 19 Now reported.
Newsletter Signup
Stay up to date on all the latest news from Boston.com