NFL
Bills honor Damar Hamlin; open game vs. Patriots with kickoff return TD
The Bills had a storybook start against the Patriots in an emotional game at Highmark Stadium.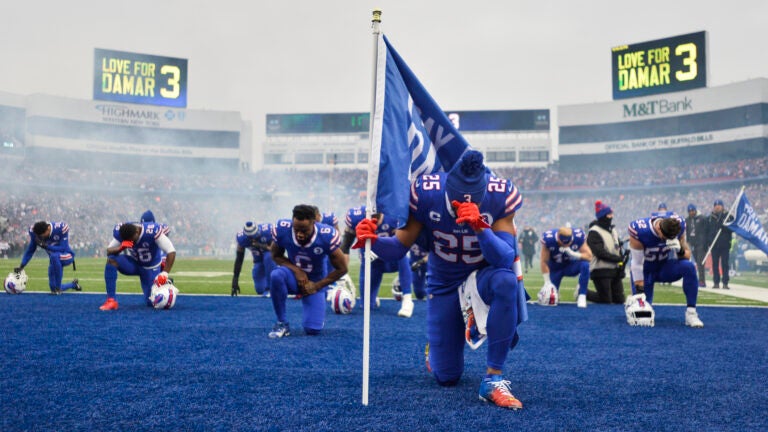 There might be plenty at stake on the gridiron at Highmark Stadium on Sunday afternoon, but the minutes leading into the New England Patriots' matchup against the Buffalo Bills showcased that some things matter far more than what transpires out on the field.
The Bills, playing in their first game since safety Damar Hamlin suffered a cardiac arrest in Monday's matchup with the Bengals, honored both Hamlin and the medical staff who helped save his life during an emotional pregame ceremony.
Hamlin, who had to be given CPR on the field in Cincinnati and taken off in an ambulance, remains in critical condition — but the 24-year-old safety is now awake and did not suffer any neurological damage despite his medical emergency.
Before the Bills took to the field at Orchard Park, N.Y., the team opened their pregame festivities with a salute to the medical personnel whose quick actions saved Hamlin's life seconds after he collapsed against the Bengals.
Just minutes later, the Bills were introduced as a team amid the roars of over 70,000 Buffalo fans — with Josh Allen and many other of Hamlin's teammates carrying flags featuring Hamlin's No. 3 jersey number.
The Patriots showcased their support for Hamlin ahead of the game by donning shirts that read "Love For Damar" — with Mac Jones among many players who took part in warmups while wearing that gear.
Even Bill Belichick was wearing that custom shirt under his Patriots jacket once Sunday's contest got underway.
Hamlin, still in his hospital bed, took to Twitter to showcase his love for both the Bills and the greater Buffalo community just before Sunday's game kicked off.
And in a storybook scenario straight out of Hollywood, the Bills capped off an emotional start with a 96-yard kickoff return touchdown by running back Nyheim Hines — sending Highmark Stadium into a frenzy.
Sign up for Patriots updates🏈
Get breaking news and analysis delivered to your inbox during football season.