NFL
Bucs' Tom Brady breaks own record but suffers 1st losing season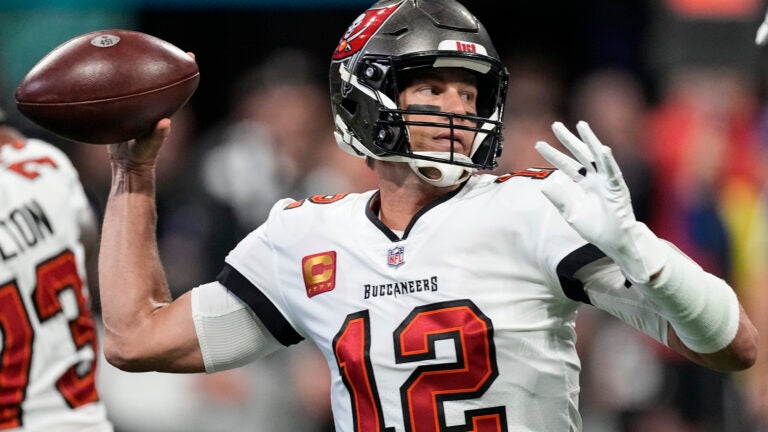 ATLANTA (AP) — Tom Brady hasn't tired of breaking records — even his own.
He ended Sunday with a different record he's never had: a losing one.
Brady broke his own NFL mark for most completions in a season, quickly gaining the needed nine connections in Tampa Bay's 30-17 loss to the Atlanta Falcons. He played into the second quarter and then was taken out to avoid injury with the playoffs just a few days away.
The loss dropped the NFC South champion Buccaneers to 8-9, the first time a team quarterbacked by Brady has finished a season below .500.
Brady had a record 485 completions with the Buccaneers in 2021, and the 45-year-old began the day only nine away from a new mark. He also has NFL career records for passes completed, passes attempted, yards passing and touchdown passes. He's a three-time MVP and a 15-time Pro Bowl selection among his other accolades.
"I just love going out there and competing with my teammates, love competing with those guys," Brady said. "I've got a great group of guys I go to work with every day. We try to show up for everybody and be the best we can be. These are all team records in my opinion. I've always said that."
Brady set his most recent mark on a 5-yard completion to Russell Gage, a former Falcons receiver, early in the second quarter. The sideline pass gave Brady nine completions on his first 12 attempts and 486 for the season.
That drive ended with a field goal. Brady played one more possession before backup Blaine Gabbert took over late in the first half.
Now the Bucs must regroup and get ready to host a playoff game this coming weekend. They will play either Dallas or Philadelphia. The date has yet to be announced.
"It's a big challenge," Brady said. "I think every team's going to be challenged. There's only 14 teams that qualify. There's only one that's happy about it at the end. It's going to be hard, but we're battle tested.
"We've had some tough games. Some we came back from. Some we haven't. But like I said, close won't be good enough for going forward for anybody."
Brady completed 13 of 17 passes for 84 yards with a touchdown, giving him 490 completions for the season. He also took the loss on his career record and dropped to 11-1 all-time against the Falcons.
Tampa Bay clinched the NFC South with last week's 30-24 win over Carolina and couldn't improve its No. 4 seed in Sunday's game.
Though Buccaneers coach Todd Bowles followed through with his plan to start his healthy regulars, it was not known how long he would stick with Brady.
The Buccaneers had three active quarterbacks, including Kyle Trask, for only the second time this season. Trask, a second-year player, has not appeared in a regular-season game this season.
"I was trying to play as long as I could, I really was, but we just had so many injuries and we had so many people going in and out," Brady said. "It's tough. You want to give other people opportunities to play. I've played a lot this year. Good to see Blaine in there and throw a touchdown and good to see Kyle play a little bit."
Brady didn't need long to close in on the record. He completed four passes for 38 yards on Tampa Bay's opening drive, including an 8-yard touchdown lob to tight end Kyle Rudolph.
"He continues to defy time," Bowles said. "Father Time is having a heck of a time with Brady. He works hard. He loves to play the game. He's like a little kid out there. He loves to compete and everything else has already been said."
___
AP Sports Writer Charles Odum contributed.
Get the latest Boston sports news
Receive updates on your favorite Boston teams, straight from our newsroom to your inbox.