NFL
Houston Texans fire coach Lovie Smith after just one season
It's the second straight season in which the Texans have fired a coach after just one year.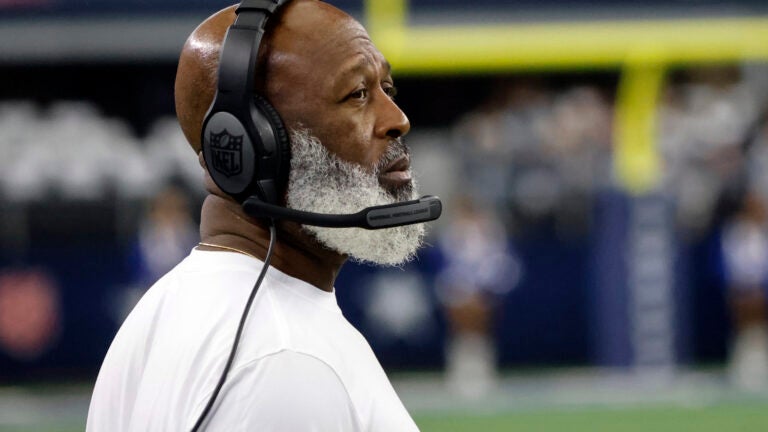 HOUSTON (AP) — Lovie Smith was fired as coach of the Houston Texans on Sunday night after just one season in which the team went 3-13-1.
It's the second straight season in which the Texans have fired a coach after just one year. They parted ways with David Culley last January after he went 4-13 in his only season.
"I'm constantly evaluating our football operation and believe this is the best decision for us at this time," general manager Nick Caserio said in a statement announcing the team parting ways with Smith. "It is my responsibility to build a comprehensive and competitive program that can sustain success over a long period of time. We aren't there right now, however, with the support of the (team owner) McNair family and the resources available to us, I'm confident in the direction of our football program moving forward."
Smith was asked about his future after Sunday's game at Indianapolis and seemed confident that he'd return next season.
"We understand the totality of the season," he said. "Do I expect to be back? Yeah, I expect to be back, absolutely."
Hours later, he was out of a job.
The Texans had the league's worst record for most of the season, but won two of their last three games, capped by Sunday's win over the Colts that cost the team the No. 1 overall pick in next year's draft. The 32-31 victory over Indianapolis gave Chicago the top pick and left Houston to choose second in April's draft.
Davis Mills connected with Jordan Akins on a 28-yard touchdown pass with 50 seconds left Sunday against the Colts. Mills then found Akins again for the 2-point conversion to put the Texans on top for good.
The 64-year-old Smith was one of the few Black coaches in the NFL along with Pittsburgh's Mike Tomlin, Tampa Bay's Todd Bowles and Miami's Mike McDaniel, who is biracial. The league requires teams to interview at least one minority candidate for head coaching positions, but has long fallen short of its goal to increase the number of Black coaches in a league where the majority of players are Black.
Culley, who is also Black, spent more than 40 years as a college and NFL assistant before being hired to coach the Texans.
It is the third time since the merger that a team has fired its head coach in consecutive years after just one season. The 49ers fired Monte Clark, Ken Meyer and Pete McCulley in consecutive seasons from 1976-78 before the team fired Jim Tomsula and Chip Kelly in 2015 and 2016.
Smith was promoted to head coach after serving as the team's defensive coordinator for one season. The 2022 season was his 12th as a head coach, and he has a 92-100-1 record in his career that included nine seasons with the Bears and two with Tampa Bay.
Texans owner Cal McNair said in a statement that he and Caserio informed Smith of the move Sunday night and thanked him for his "contributions over the last two seasons."
"We are grateful for his leadership and character, and we wish him the best moving forward," McNair said. "While we understand the results have not been what we had hoped for, we are committed to building a program that produces long-term, sustainable success. Our fans and city deserve a team that they can be proud of. I will work alongside Nick Caserio throughout this process and I'm confident we will find the right leader for our football team."
His firing will give the Texans a fourth head coach in as many years. Culley was hired after coach Bill O'Brien was fired after losing the first four games in 2020 in his seventh season in Houston.
This is the second time the Texans have fired a coach after just one year. Dom Capers was the team's first coach and spent four seasons at the helm before being let go. Gary Kubiak took over, and he was fired in his eighth season.
This season was Houston's third with a losing record after the team went 4-12 in 2020. That season came after they won AFC South in the previous two seasons.
Get the latest Boston sports news
Receive updates on your favorite Boston teams, straight from our newsroom to your inbox.