NFL
Kyle Shanahan 'content' with Brock Purdy, Trey Lance as top 2 QBs for 2023
Both Lance and Purdy are recovering from long-term injuries.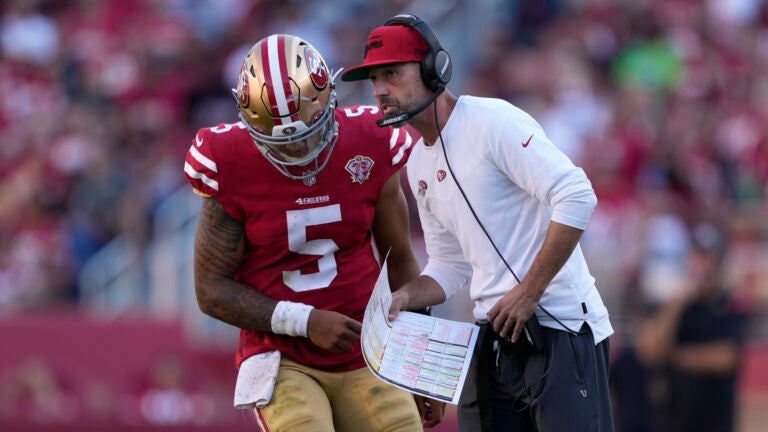 SANTA CLARA, Calif. (AP) — San Francisco coach Kyle Shanahan is "content" going into next season with Brock Purdy and Trey Lance as the top two quarterbacks for the 49ers even after both head into the offseason rehabilitating major injuries.
Purdy could be sidelined until training camp with an elbow injury suffered in the NFC championship game, while Lance is still recovering from a second operation on his broken right ankle but is expected to be ready for the offseason program.
But that uncertainty doesn't mean the 49ers are looking for a veteran option to compete as the starter on one of the NFL's most talented rosters.
"I know we have two starters on our team right now that I believe we can win with, so when you have that situation, you're not that eager to go looking around," Shanahan said Wednesday.
Lance began the season as the starter but got hurt early in his second game. He has thrown only 102 passes in two seasons in the NFL after San Francisco traded three first-round picks to draft him third overall in 2021.
Purdy came in with much less fanfare as the last pick in the 2022 draft but shined late in the season after Lance's replacement, Jimmy Garoppolo, went down with a broken foot.
Purdy won his first seven starts before losing 31-7 to Philadelphia in the NFC championship game. Purdy hurt his elbow on the opening drive and returned to play the second half in an emergency even though he couldn't throw the ball more than a few yards because of a torn ligament in his right elbow.
Purdy is still seeking additional opinions on his treatment options, but the most likely scenario is a repair to the elbow that would allow him to be back before the start of next season.
"He's continuing to go through that process," general manager John Lynch said. "I think the positive bit of news is that it seems to be consistent that the right approach is that one that takes about that six-month mark."
Under that scenario, Purdy would be able to start a throwing program in about three months and be back to his old self well before the start of next season.
"He (would be) the same dude and full go, so that was the most encouraging part that I heard," Shanahan said.
Shanahan said he wasn't focused at this point on who would go into training camp as the starter and wasn't worried about another offseason of questions at quarterback after dealing with those the past few years.
"I don't think there's much to handle," he said. "One guy can't go and the other guy should be ready for OTAs."
One quarterback not in San Francisco's plans is Garoppolo, who started 55 games over the past six seasons for the Niners. Garoppolo returned this season as a surprise on a reduced contract when offseason shoulder surgery hurt his trade market.
When asked about a possible Garoppolo return for 2023, Shanahan said: "I don't see any scenario of that."
Newsletter Signup
Stay up to date on all the latest news from Boston.com