NFL
Patrick Mahomes played on a high ankle sprain. Here's why that's so rare.
Mahomes originally suffered the injury in the first half of his playoff matchup with the Jaguars.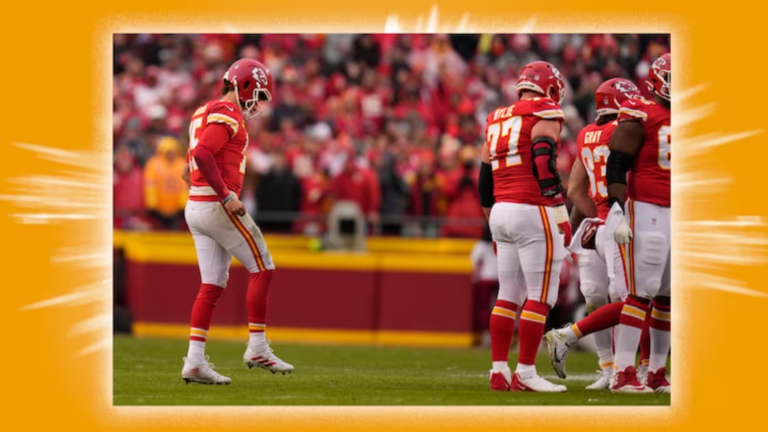 Patrick Mahomes tried to negotiate his way out of it. In the first quarter of the Kansas City Chiefs' AFC divisional-round playoff win over the Jacksonville Jaguars, the quarterback crumpled to the ground with a noncontact injury to his right leg. He couldn't go back on the field, Coach Andy Reid ordered – not until he underwent an X-ray.
Television cameras caught Mahomes slamming his helmet in frustration before walking to the locker room for testing.
"I've been in that X-ray room before, and it hasn't worked out well for me," Mahomes said last week in an interview on Fox Sports 1's "First Things First." "I thought I was good enough to play, and I wanted to at least get one more series to get out there and see if I could test it out. Coach Reid … said: 'You're getting the X-ray before you play. So you might as well go now.' "
The good news was Mahomes had avoided a fracture in his lower leg. The bad news was he had suffered a high ankle sprain – an injury that can sideline a player for six weeks, if not longer, and, depending on the severity, can require surgery.
Mahomes missed a series in the victory over Jacksonville, then played through the pain to lead the Chiefs past the Cincinnati Bengals in the AFC championship game, hobbling between series in the second half and taking extra measures to avoid landing on his ankle during his final run, which set up the game-winning field goal.
Now Mahomes faces the difficult task of doing it again in Super Bowl LVII on Sunday. After two weeks of rest and rehab, his ankle could be markedly improved, but it still has the potential to limit him on the biggest stage.
"Certainly some of it depends on how he plants and twists and how he gets hit. He's still going to be at risk of it flaring up or getting worse during the game," said Brian Polsky, a former Philadelphia Eagles team physician who is now an orthopedic surgeon based in Maryland. "I'm certain there will be less swelling. They'll be giving him daily treatments. … I'm not privy to how bad his injury was, but I would bet that he can make very good progress."
Ankle sprains and their recoveries can vary significantly. They usually range from a Grade 1 sprain – which is mild, with swelling and pain – to Grade 3 – which is severe, with torn ligaments. But they also can be distinguished by the location and the types of ligaments affected.
A low ankle sprain affects the ligaments connecting the bones in the foot. A high ankle sprain affects the tissue between the tibia and fibula in the lower leg. The recovery time for a high ankle sprain is typically longer than recovery from a low ankle sprain because of the constant weight-bearing and twisting and turning of the ligaments.
"The problem with a high ankle sprain … depending on the severity, is it can be as bad as crutches and non-weight-bearing and season-ending," Polsky said. "Or it can be a little more mild, where it's just kind of a sprain of that tissue, and someone can initially limp around on it, and it tends to heal over four to six weeks."
Neither the Chiefs nor Mahomes have disclosed the severity or grade of his high ankle sprain, but his ability to play in the AFC championship game and walk fairly normally Sunday when the Chiefs arrived in Arizona offer a more promising outlook.
"My whole body was a little sore, so I don't think I had any step backward or anything like that," he told reporters Thursday. "I had no re-aggravation of the ankle – just the general pain I had playing with it. But other than that, I feel like I'm in a good spot."
After the AFC championship game, Mahomes credited Julie Frymyer, an assistant athletic trainer and physical therapist with the Chiefs, for leading his rehab plan in the days before the game and helping to improve his mobility and range of motion.
To treat a high ankle sprain, typical methods – elevation, ice, massages, anti-inflammatory and prescription pain medicine and electric stimulation – may be used in conjunction with dry needling or laser therapy to reduce the swelling.
"Rehab ebbs and flows," said former NFL safety David Bruton Jr., who is now a physical therapist in Colorado. "He's going to see positive gains, and he might take a step back one day because he's pushed it a little bit. Then he'll see more gains with what he's able to tolerate. He might be on anti-inflammatories … to get the swelling down. Whatever the case may be, I'm sure that training staff for the next two weeks is like, after the game: 'Okay, let's just chill; he played a whole game on it. Let's get it to calm down and then reintroduce him to quarterback [movements].' "
It's not common that an NFL player – or any athlete – plays through a high ankle sprain, given the pain and potential for long-term damage. Mahomes's feat in the AFC title game was a testament to his mental fortitude (and adrenaline).
But he also wouldn't be the first to play through significant injury in the NFL's biggest game.
In the AFC championship game after the 2011 season, New England Patriots tight end Rob Gronkowski suffered what was reported to be a high ankle sprain. Speculation about his availability for Super Bowl XLVI was rampant, but he ended up playing and was limited to two catches for 26 yards in the Patriots' 21-17 loss to the New York Giants. He underwent surgery days later.
Two years later, Seattle Seahawks cornerback Richard Sherman had to be carted off the field during Super Bowl XLVIII after suffering a high ankle sprain in the fourth quarter of a dominant win over the Denver Broncos.
"I've played through a pretty bad [ankle sprain], and that's no fun – that's for darn sure," Bruton said. "It's tough. It's tough playing hurt, but even more so with an injury that you should be missing time for."
Bruton broke his leg in a game while playing for the Broncos in 2015. He stayed in, not fully knowing the extent of the injury until the pain intensified and tests afterward showed a fractured fibula.
"During the season, it's more of a triage: 'Let's get you back into a position to get back on the field,' " Bruton said. "It's up to the players if they're able to play through it. Obviously, consideration is given to whether they'd be doing more damage or if they've been able to tolerate some movement in the training room before they go on the field."
Polsky added: "I'd imagine if this were the first game of the season, Mahomes would not be playing. They would take him out for a month, probably, and treat it week-to-week. But based on his MRI and physical exam, they decided … the benefit of treating this and playing vs. the risks were equal enough or in his favor."
Get the latest Boston sports news
Receive updates on your favorite Boston teams, straight from our newsroom to your inbox.