NFL
Fox's Super Bowl pregame planning is a year-long effort
Rob Gronkowski will be a part of Fox's 5.5-hour-long pregame show.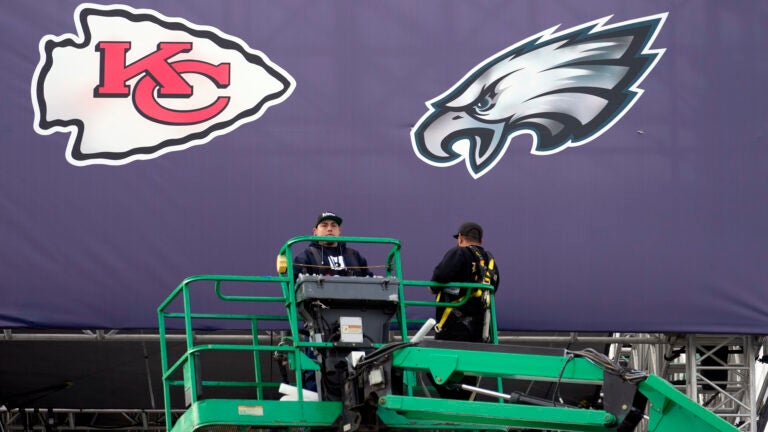 PHOENIX (AP) — Even while watching last year's Super Bowl, Bill Richards was planning how this year's pregame show would look.
Richards is the lead producer for Fox's Super Bowl pregame show for the fifth time. The five hours leading up to Sunday's showdown between the Kansas City Chiefs and Philadelphia Eagles is analysis, entertainment and pageantry all in one huge production.
"It's a cloud. I don't say that to feel negative, but it's something that's with you for at least a year," Richards said earlier this week. "You're always kind of like if you get something great for Week 7, do I save that for the Super Bowl?"
Even though Fox and Richards have had a year to prepare, the final rundown still wasn't finalized as of Saturday afternoon.
Most of the features — especially the final two hours — are dictated by the teams, but Richards and his crew were able to get a couple done before the matchup between the Chiefs and Eagles was set two weeks ago.
Besides profiles on Arizona and Phoenix, which is hosting the Super Bowl for the fourth time, there will be a feature on the 50-year anniversary of the 1972 Miami Dolphins' perfect season. Richards said he has been happy with that profile because it has the feel of bringing viewers into the locker room.
There will also be features that run the gamut from funny to thought-provoking.
"I think we do sports comedy as well, if not better than anybody," Richards said. "So we'll have a little bit of that. But this is our first Super Bowl with Tom Rinaldi (who was hired from ESPN in 2020) and I'm really excited about the stuff he's gonna bring to it and kind of grab at a different type of emotion."
The first three hours will be a mix of entertainment, celebrity interviews and other features before the focus turns to beginning to break down the game over the final two hours.
"It's quite a challenge moving those chess pieces around, making sure to get the right stuff in and at the right time," Richards said. "You really want things to flow. The attitude of the show is going to be different than at the end. If you're going to get there early, it's like showing up at a party, here's the guys you want to hang out with. And then as you get closer and start focusing in, it's a little more X's and O's and less music and fun."
Besides figuring out where certain features air, Richards also has to divvy up time among the cast of 13 serving as either a host or analyst.
Host Curt Menefee said he will get to the stadium 3 1/2 hours before show starts at 1 p.m. EST. Besides doing the pregame show, Menefee and the Fox NFL Sunday team of Howie Long, Jimmy Johnson, Michael Strahan and Rob Gronkowski will be on at halftime and anchor postgame coverage.
"People keep asking how you do a pregame on Super Bowl Sunday, it's all about pacing because it is a long day," Menefee said. "It does go by fast once you're in it and the excitement builds."
The pregame show is not only a Fox Sports production. It includes appearances from those who have shows on Fox as well as some involvement from Fox News and Fox Business.
There's also another reason why Super Bowl pregame shows are long — they make money. A 30-second commercial during the first couple hours of the pregame went for $100,000. That rate increases to closer to $3 million before kickoff.
Charissa Thompson — who hosts the Fox NFL Kickoff early show on Sundays during the season — will also handle some of the early hosting duties. Sean Payton remains a part of the coverage despite being hired by the Denver Broncos a couple weeks ago.
"If the pregame was six or seven hours, there would still be plenty of stuff to talk about and no shortage of entertainment," Thompson said.
Fox Sports CEO and Executive Producer Eric Shanks has been involved in all of the network's Super Bowl broadcasts. While he still looks back fondly on Fox's first one in New Orleans in 1997, he has seen the network continue to grow as it airs the Super Bowl for the 10th time.
"I don't think will replace the first one, because it was joining the other three networks in doing a Super Bowl. But I will say that this constantly gets bigger and more refined," he said. "I think our storytelling has grown by leaps and bounds. And, quite honestly, our ability to make it a big event now with everything that we do.
"That first one won't be replaced, but there's nothing like the next one."
Sign up for Patriots updates🏈
Get breaking news and analysis delivered to your inbox during football season.