NFL
No progress for Black head coaches in NFL
One of the five NFL head coaches hired this offseason was Black.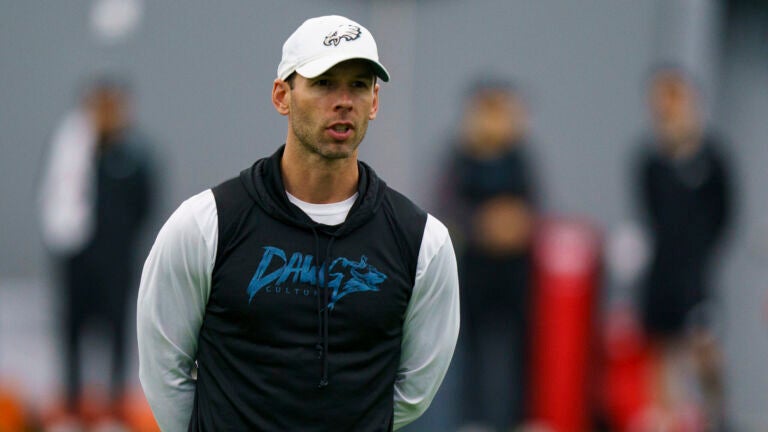 After completing the latest round of coaching hires this week, the NFL won't look much different on the sidelines in 2023.
DeMeco Ryans was the lone Black candidate to land one of the five openings, which means the 32-team league remains stuck at just three Black coaches heading toward a new season for the fifth year in a row.
The NFL also maintained the status quo with six minority head coaches, which includes Miami's Mike McDaniel, who has a Black father and identifies as multiracial.
It remains a stubbornly low number in a league where nearly 57% of the players are Black and more that 69% are minorities, according to the Institute for Diversity and Ethics in Sport at the University of Central Florida.
"It's certainly discouraging," said Richard Lapchick, who heads the institute. "I have no doubt the league is trying to make a push to strengthen its policies … but the record is the record."
Three Black candidates stand out after all openings from the recently completed season were filled.
— Steve Wilks took over as Carolina's interim coach when Matt Rhule was fired and nearly guided to the Panthers to the playoffs. That wasn't enough to land the full-time job, which went to Frank Reich, a white coach who was fired in the midst of this past season by the Colts. Wilks, who was dumped by Arizona after just one season in his previous head coaching opportunity, is now San Francisco's defensive coordinator.
— Former Miami head coach Brian Flores was among the candidates for the Cardinals' job after the firing of Kliff Kingsbury. But Flores pulled himself out of the mix, instead accepting an offer as Minnesota's defensive coordinator because "it was a great chance for growing." It's not clear if he would have gotten the Arizona job, which instead went to Philadelphia defensive coordinator Jonathan Gannon.
— Kansas City offensive coordinator Eric Bieniemy, who is annually touted as one of the top Black head coaching candidates, was passed over again — even after the Chiefs won their second Super Bowl title in four years. This time, it was even more striking because both coordinators for the team they beat in the big game wound up with head coaching jobs. Philadelphia offensive coordinator Shane Steichen was tapped by the Indianapolis Colts.
While introducing Gannon at a media event Thursday, Arizona's new general manager, Monti Ossenfort, insisted the team considered a diverse group of candidates.
"It was important for us to cast a wide net and interview a diverse group of people — not only from a race standpoint but also experience," he said. "Ultimately, we had to come up with the fit that we felt was the best for the Arizona Cardinals. That led us to Jonathan."
Ryans became the third straight Black head coach hired by the Houston Texans, but there's a big caveat to that seeming sign of progress. Their last two coaches — David Culley and Lovie Smith — were both dismissed after only one season.
The other opening was in Denver, where the Broncos went with former New Orleans Saints coach Sean Payton.
Over the last five hiring cycles, a total of 33 non-interim jobs opened up around the league. Just five of those went to Black coaches — three of them hired by the Texans.
That group also included Flores, who took over the Dolphins heading into the 2019 season — and was fired just three years later despite two straight winning marks. He has since sued the NFL for discrimination.
The only other Black coach hired during that timeframe was Tampa Bay's Todd Bowles, who took over last March after Bruce Arians unexpectedly retired. Bowles is set to return for his second season with the Bucs despite a disappointing 2022 campaign.
With Ryans, Bowles and longtime Pittsburgh Steelers coach Mike Tomlin set to guide teams next season, the NFL remains at just three Black head coaches — the same number it had at the beginning of the last four seasons.
"To go up and go down, that's normal," Lapchick said. "But it's stagnated at a low point for way too long."
Despite efforts by the NFL to provide more exposure to minority candidates, the owners and front offices seem stubbornly resistant to giving Black coaches a chance.
In fact, the league seems to be going backward — or, at best, stuck in neutral.
"The hiring process in the NFL is like many other industries in that who you know seems to play an important role in who gets hired as a head coach," said Devon Goss, an assistant professor of sociology at Oxford College of Emory University in suburban Atlanta.
"When so many people in leadership positions across the league are white, they are going to disproportionately socialize, network, and therefore hire other white people," she said. "Additionally, as a society, many of the qualities that we associate with leadership, especially in sports, are tied to whiteness, making white coaches appear to be better candidates."
It's a far cry from the 2006 season, when the NFL seemingly had a huge breakthrough. There were seven Black head coaches that year, and two of them met in the Super Bowl for the first time ever.
When Tony Dungy's Indianapolis Colts defeated Smith's Chicago Bears in the title game, minority coaches appeared to be the biggest winners. No one could deny that Black coaches could do the job as well as their white counterparts.
Tomlin took over the Steelers the following season, and went on to lead them to a Super Bowl title, but the league has yet to surpass its high-water mark of seven Black head coaches.
By 2013, there were only three Black coaches a the start of the season. The number climbed back to seven in 2017 and remained at that level to start the following year.
Then, five Black coaches were let go during or after the 2018 season: Cleveland's Hue Jackson, Bowles of the New York Jets, Denver's Vance Joseph, Cincinnati's Marvin Lewis, and Wilks by the Cardinals.
With Flores being the only new Black coach hired for the 2019 season, the overall number dropped to three.
It's been there ever since, not counting interim coaches.
The Rooney Rule, which is supposed to ensure Black coaches at least get an opportunity to interview for open jobs, has largely been a flop. Many minority candidates have received what appear to be nothing more than token interviews, designed to check off a box rather than providing a real shot at a job.
"The Rooney Rule, while well intentioned, has not been effective," said Vince Benigni, a communications professor at the College of Charleston in South Carolina. "Courtesy interviews of black candidates are anything but. Black candidates — usually successful coordinators — who interview and don't receive jobs become skeptical of the process because positions are offered to less qualified coaches."
Art Shell of the Raiders became the first Black head coach in the NFL's modern era in 1989. He remains one of just 21 Black coaches who've held a top job on a non-interim basis.
Tampa Bay is the lone team that's had four Black head coaches, with Bowles preceded by Dungy (1996-2001), Raheem Morris (2009-11) and Smith (2014-15).
Only two other teams — Houston and the Raiders (who twice gave Shell the job) — have hired Black head coaches three times.
Thirteen teams, roughly 40% of the league's franchises, have never had a Black non-interim coach: Atlanta, Baltimore, Buffalo, Carolina, Dallas, Jacksonville, the Los Angeles Rams, New England, New Orleans, the New York Giants, Seattle, Tennessee and Washington.
NFL Commissioner Roger Goodell, speaking last week ahead of the Super Bowl, insisted the league is making progress in providing more access to minority candidates, though he added "we always look to see how we can do better."
He touted an "accelerator program" for introducing teams to a more diverse pool of candidates. He said that initiative led to the Titans hiring the first Black general manager in team history, Ran Carthon.
"We had a number of other programs that we've put in that I think are going to produce long-term results," Goodell added. "Now we all want short-term results, but it's important to have it be sustainable for the future, and we believe diversity makes us stronger."
Maybe so, but most teams seem determined to keep things white on the sideline.
___
AP Sports Writer David Brandt in Phoenix contributed to this report.