NFL
Another week of lip service from Roger Goodell, this time on NFL Network trimming staff, including Jim Trotter
NFL leadership has just one core belief: to say whatever is necessary to keep the maximum billions of dollars flowing its way.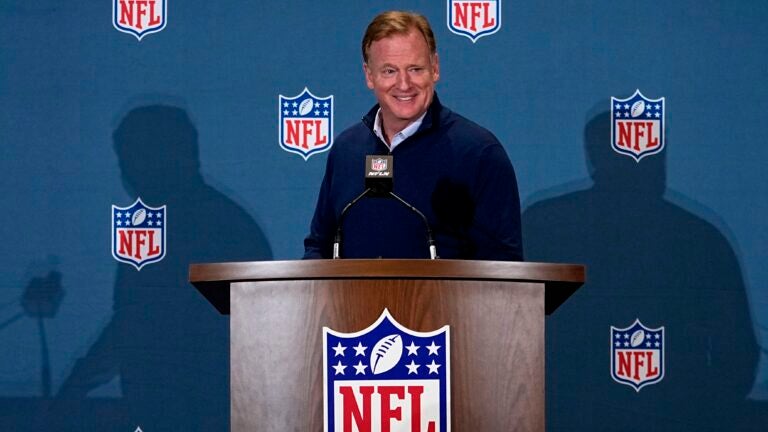 Always remember, sports fans, the NFL deserves the benefit of the doubt on nothing.
Not on Deflategate, Bountygate, or Spygate. Not on Ray Rice and incidents of domestic violence. Not on Colin Kaepernick and actions in the name of social justice. Nothing. Nada. Not a thing.
Haven't we learned by now not to be played by Roger Goodell's lip service whenever an incident or controversy threatens to affect the NFL's image and bottom line?
NFL leadership has just one core belief: to say whatever is necessary to keep the maximum billions of dollars flowing its way.
The most recent reminder of this came this past week, when Jim Trotter, an accomplished and conscientious columnist, announced that his contract with the NFL Network would not be renewed.
The NFL Network — which the league treats as a separate entity from its core businesses of, oh, signing massive television rights contracts and hocking personal seat licenses and anything else it can do to make loyal fans reach for their wallets again — has been in the process of trimming its staff.
Seeing familiar names tweet about their unfortunate change in employment status wasn't surprising. Some excellent reporters and personalities, including Mike Giardi and Rachel Bonnetta, lost their jobs. But seeing Trotter's name appear on the network's de facto waiver wire raised an immediate red flag.
Back in February, at Goodell's annual state of the league address at the Super Bowl, Trotter, who is Black, asked the commissioner a version of the same question for the second straight year. How come there has been such little progress when it comes to diversity in NFL front offices, head coaching positions, and in NFL Media leadership and its newsroom?
Goodell offered Trotter a defensive answer at the Super Bowl. "I'm not in charge of the newsroom," said Goodell, in part. "As you point out, this is the same question you asked last year."
Two months later, Trotter is out of a job, and for now isn't in a position to ask Goodell the question again next year.
"One of the things the NFL always said internally was, 'Hold us accountable. Hold us accountable as it relates to diversity, equity, and inclusion,' " said Trotter during an appearance on Peacock's "Brother From Another" Tuesday.
"And so for the last couple of years, that's what I've been trying to do, pointing out that in our newsroom, where we cover a player population that is roughly 60 to 70 percent Black, according to league data, there is no Black person in senior management in our newsroom who has a seat at the table when we are deciding how we are going to cover these players and who is going to cover them."
At the owners' meetings in Arizona this past week, Goodell denied that he had anything to do with Trotter's dismissal. "I wasn't part of that decision and actually was just made aware of it about 10 minutes before I walked in here," said Goodell. "So, no, I don't believe that had anything to do with it."
Surprisingly, the wooden commissioner's nose did not grow three sizes when he offered his unconvincing ("no, I don't believe … ") denial.
Trotter believes otherwise, as he should. He said on "Brother From Another" that he believes his questioning played a role in his dismissal, saying he would elaborate at a later date.
"I will have a lot to say about it at the appropriate time, which is not now," Trotter told host Michael Holley. "What I will say now is that journalism matters, and holding people who are in power accountable matters."
Trotter long ago proved he was the kind of reporter willing to do so. He's the kind of journalist any serious newsroom should covet.
We know what Roger Goodell is, too. Accountable is an antonym of the first words that come to mind.
Poor decision
It's a shame that the NFL Network didn't have the sense to keep Giardi around. The former NECN and NBC Sports Boston reporter and anchor is one of the hardest-working and respected reporters covering the NFL. Many of his assignments involved covering the Patriots, a wise way for the network to deploy him given how plugged in he is in Foxborough and how levelheaded he was in his coverage. Giardi deserves a high-profile landing spot. ESPN would be an ideal fit, but it is reportedly facing layoffs, too … Thought Ryan Johnston was an excellent fit as the third voice recently on "Toucher and Rich." I'd like to hear him more often on that show … Those occasional Celtics broadcasts on NBC Sports Boston that lack a traditional play-by-voice would be much more enjoyable if someone would tell Brian Scalabrine to limit his play-by-play to telling us who scored and reacting to highlight plays. Johnny Most, he ain't. (Donny Most? That I can see.)
Sign up for Patriots updates🏈
Get breaking news and analysis delivered to your inbox during football season.