NFL
NFL mock draft: Patriots take an edge rusher to pair with Matthew Judon
Mock drafts are fraught with peril, even in years when the top 10 picks are fairly predictable. This year, well, forget about it.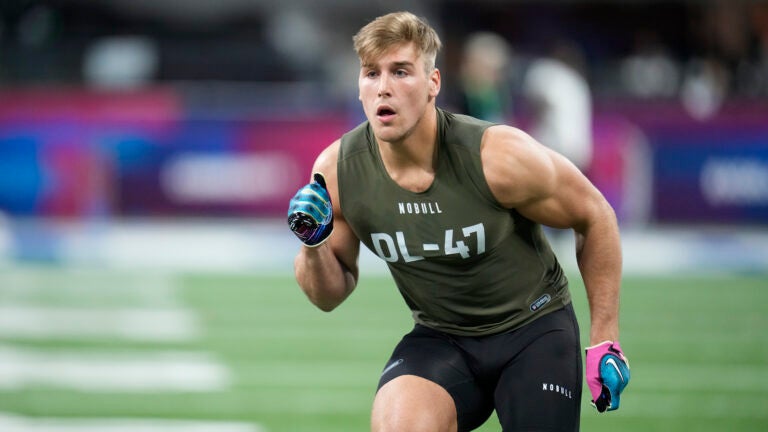 This is, invariably, an exercise in futility.
Mock drafts are fraught with peril, even in years when the top 10 picks are fairly predictable. This year, well, forget about it.
The quarterback conundrum hovers over this first round. Will the Houston Texans and/or Arizona Cardinals, with top-three picks, find a quarterback-needy team willing to trade up? Are the Indianapolis Colts, who pick fourth, really sold on Kentucky signal-caller Will Levis? Where will Florida's Anthony Richardson land? There are so many questions, and – even for NFL general managers themselves – still very little clarity. We do know this much: Expect the unexpected Thursday night, because every personnel executive I've chatted with over the last few months is banking on some bombshells that no one saw coming arriving very early in this draft.
So with that disclaimer out of the way, here is my best guess as to where the first 31 selections might land, trying to parse smokescreen from reality, after spending the spring sizing up this unique draft class.
1. Carolina Panthers
QB Bryce Young (Alabama)
No need to belabor this point. We told you immediately after Carolina traded up to get the first overall pick weeks ago that it was with this particular quarterback in mind. Now, Young going to the Panthers is considered an inevitability (Reddit threads about Levis aside).
2. Houston Texans
Edge Tyree Wilson (Texas Tech)
The Texans very well might trade down. They also could opt for Alabama pass rusher Will Anderson Jr. instead. But I've heard a lot of buzz about Wilson here, and while his foot issue has scared some teams off, my suspicion is the Texans aren't one of them.
3. Tennessee Titans (TRADE with Arizona)
QB C.J. Stroud (Ohio State)
Coach Mike Vrabel has amassed some power in Tennessee after Jon Robinson, the general manager who hired him, got whacked midseason. He desperately needs a quarterback, with incumbent Ryan Tannehill possibly the next to leave town. The Titans, who own the 11th pick, have been telling teams they want to move down. I think it's smoke. And they can't risk the Colts taking their guy with the next pick.
4. Indianapolis Colts
QB Will Levis (Kentucky)
I've heard it for months. I'm still buying it – especially in this scenario, with two passers already gone. Rival front offices have had the Colts tied to this kid since the combine. Regardless, Indianapolis is taking a quarterback with its top pick. You can bank on that.
5. Seattle Seahawks
DL Jalen Carter (Georgia)
He fits their model. The off-field concerns – Carter was sentenced to 12 months probation, a $1,000 fine and 80 hours of community service after his involvement in a car crash that claimed the lives of a teammate and a Georgia recruiting staff member – won't bother the Seahawks as much as they would some other teams. He might end up being the most impactful player in this draft if a team can help him mature and keep off excess weight. I see the Seahawks leaning into his upside.
6. Detroit Lions
CB Devon Witherspoon (Illinois)
Cornerback is a huge position of need for the Lions, and rival evaluators figure Witherspoon's toughness gives him the edge over fellow corner Christian Gonzalez for a team that prizes Coach Dan Campbell's "knee-biting" mentality.
7. Las Vegas Raiders
QB Anthony Richardson (Florida)
The Raiders have a ton of needs, but new arrival Jimmy Garoppolo might be hurt by Week 4 and quarterback is atop the list. Coaches can buy themselves more time with ownership by taking a raw prospect with just 13 college starts, and Raiders Coach Josh McDaniels was a strong proponent of Lamar Jackson back when he was running Bill Belichick's offense in New England. Richardson's athleticism would wow owner Mark Davis, too.
8. Atlanta Falcons
Edge Will Anderson Jr. (Alabama)
Some defensive player is going to slide a tad, and I am playing a hunch here because Anderson's high-end projections as a pass rusher are not elite. The Falcons desperately need help on the edge and they would view this as a win, given that Anderson could be taken second overall without anyone flinching.
9. Chicago Bears
OT Peter Skoronski (Northwestern)
Another prospect who has been tied frequently to one team since the start of the draft process. I'm buying that the chatter holds up and the Bears take him over fellow Big Ten tackle Paris Johnson Jr. The Bears could also look to a cornerback here, but I have Chicago staying local with a safe pick to help protect quarterback Justin Fields.
10. Philadelphia Eagles
CB Christian Gonzalez (Oregon)
I hear they really like Iowa edge rusher Lukas Van Ness, and Texas running back Bijan Robinson could be in play as well, but Gonzalez is a blue-chip cornerback and you can never have too many of those. With another first-round pick to come, the Eagles can address perhaps more pressing needs later in the round. If any of the top four quarterbacks are still on the board when this pick arrives, look for a trade.
11. Arizona Cardinals (TRADE with Tennessee)
OT Paris Johnson Jr. (Ohio State)
Even if the Cardinals stay at third overall, Johnson is likely to be their pick. In this scenario, though, the Cardinals could acquire much-needed future draft capital and still get their guy.
12. Houston Texans
RB Bijan Robinson (Texas)
After taking a defensive player early in the night, the Texans punt on quarterback for another year and get arguably the best pound-for-pound player in this draft. I wouldn't be totally shocked if they opted for Robinson with that second overall pick, either. Too many smart evaluators have said too many good things about this kid.
13. Green Bay Packers
OT Broderick Jones (Georgia)
I had him going to the Jets at No. 13 before the Aaron Rodgers trade, and I'll keep him here. Yes, the Packers need pass catchers, but with novice quarterback Jordan Love finally in line to take over, protection is key above all else, and Green Bay's line needs help.
14. New England Patriots
Edge Lukas Van Ness (Iowa)
He looks like a Patriot, and comes from a program that Bill Belichick respects. I think Belichick would love to get his hands on Bijan Robinson, but I don't see him being there at No. 14. The Patriots could also grab a corner like Maryland's Deonte Banks.
15. New York Jets
OT Darnell Wright (Tennessee)
I had him going here before the Rodgers trade as well, and that still feels right. The Jets have major tackle issues and Rodgers can't really move much anymore.
16. Washington Commanders
CB Deonte Banks (Maryland)
They would love to be in position to trade down, and hope to find a taker that is searching for a quarterback or has another reason to move up. Edge rushers and offensive linemen could also be in play, but I see this local product sticking out for the Commanders.
17. Pittsburgh Steelers
CB Joey Porter Jr. (Penn State)
The offensive line is an issue, too, but the Steelers have drafted a lot of cornerbacks and I see them continuing that trend. Porter's dad's Steelers bloodlines don't hurt, but this is more about grabbing one of the few highly graded cornerbacks left. (In this scenario, Porter would already be the fourth corner off the board.)
18. Detroit Lions
DT Calijah Kancey (Pittsburgh)
The interior of their defensive line needs attention after focusing on picking up edge rushers. I foresee a run on defensive tackles coming in the back half of the first round, and the Lions could get ahead of it here.
19. Tampa Bay Buccaneers
Edge Nolan Smith (Georgia)
He could easily end up being picked much higher, but Smith's lack of ideal size – he's listed at 6-foot-2 and 238 pounds – has me slotting him here for a team whose defense has plummeted since its Super Bowl win.
20. Seattle Seahawks
WR Jaxon Smith-Njigba (Ohio State)
If the Texans go with a receiver at No. 12 – and they very well might – then I hear Smith-Njigba is the pick. I also get the sense Seattle likes him above the other wide receiver options.
21. Los Angeles Chargers
TE Dalton Kincaid (Utah)
This could be a receiver as well, but I see the Chargers leaning into a big, mobile target for Justin Herbert.
22. Minnesota Vikings (TRADE with Baltimore)
QB Hendon Hooker (Tennessee)
Just to be safe, the Vikings move up one spot to make sure they get the successor to Kirk Cousins. The Ravens are shopping this pick.
23. Baltimore Ravens (TRADE with Minnesota)
DB Brian Branch (Alabama)
Baltimore has a desperate need at cornerback and Branch probably would play the slot for them. With only five picks, the Ravens' needs matter, and they love taking Alabama kids.
24. Jacksonville Jaguars
OL O'Cyrus Torrence (Florida)
Protecting franchise QB Trevor Lawrence is paramount and the Jaguars need help inside. (Read more about Torrence and his record-breaking hamstrings.)
25. New York Giants
WR Zay Flowers (Boston College)
Flowers should unlock easy yards-after-the-catch gains for New York quarterback Daniel Jones, helping to invigorate the Giants' passing attack.
26. Dallas Cowboys
TE Michael Mayer (Notre Dame)
They lost starter Dalton Schultz to the Texans in free agency and love taking pass catchers. It smells like a Jerry Jones move to me.
27. Buffalo Bills
RB Jahmyr Gibbs (Alabama)
More ball control would mean less pounding for quarterback Josh Allen and more rest for a Bills defense that took a step back last year. Gibbs is a legit home run hitter in the backfield.
28. Cincinnati Bengals
Edge Myles Murphy (Clemson)
Opinions vary on him based on iffy tape, and he could go much higher, but look for Murphy to land here if he's still on the board. The Bengals instead grabbing a tight end or running back would not be a surprise, either.
29. New Orleans Saints
DT Mazi Smith (Michigan)
The Saints badly need to start refortifying their defensive line.
30. Philadelphia Eagles
DT Bryan Bresee (Clemson)
The Eagles love taking defensive tackles in the draft, and with Fletcher Cox nearing the end of his career and Javon Hargrave gone to San Francisco in free agency, I see them addressing the line of scrimmage. (Read more about Bresee's journey through tragedy and resilience.)
31. Kansas City Chiefs
OT Dawand Jones (Ohio State)
Kansas City lost a mammoth tackle in free agency – Orlando Brown left for the Bengals – and the Chiefs could add one of the biggest linemen in the league here. They will wait until Friday to add a pass catcher for Patrick Mahomes.
Editor's note: The Miami Dolphins forfeit their 2023 first-round draft pick (and 2024 third-round pick) after an investigation determined the organization violated the anti-tampering policy.
Sign up for Patriots updates🏈
Get breaking news and analysis delivered to your inbox during football season.