NFL
Ex-Raider Henry Ruggs pleads guilty to driving 156 mph while drunk in fatal Las Vegas crash
The Raiders dropped Ruggs while he was still hospitalized from the predawn Nov. 2, 2021, crash that killed 23-year-old Tina Tintor.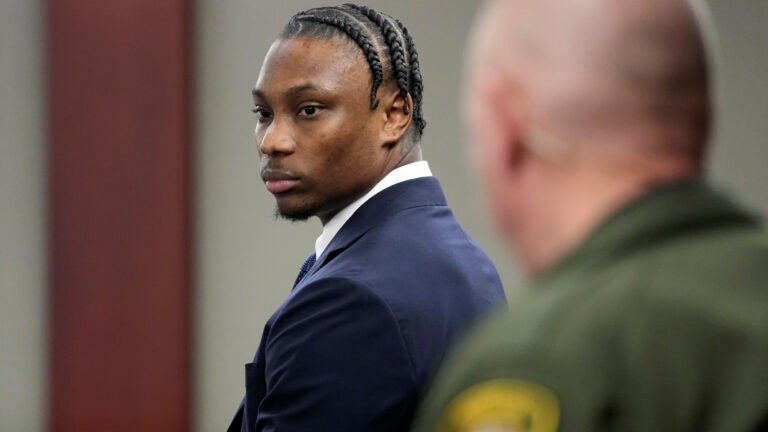 LAS VEGAS (AP) — Ex-Las Vegas Raiders player Henry Ruggs pleaded guilty Wednesday to driving his sports car drunk at speeds up to 156 mph on a city street before causing a fiery crash that killed a woman and her dog.
"Guilty," said the former first-round NFL draft pick, 24, who will avoid trial and is expected to be sentenced Aug. 9 to three to 10 years in state prison under terms of his plea deal with prosecutors. The minimum three-year sentence cannot be reduced by converting the year and a half that he has spent on house arrest to time already served.
Ruggs and his attorneys, David Chesnoff and Richard Schonfeld, declined immediate comment and left the courthouse with a group of about nine people following the brief court appearance.
The Raiders dropped Ruggs while he was still hospitalized from the predawn Nov. 2, 2021, crash that killed 23-year-old Tina Tintor.
Tintor's mother, brother and several other family members were in the courtroom Wednesday but departed with their attorney, Farhan Naqvi, without comment.
Ruggs' girlfriend, Je'nai Kilgo-Washington, was with him in the Corvette and also was injured. Prosecutors said Ruggs suffered a leg injury and Kilgo-Washington received an arm injury. Kilgo-Washington and Ruggs have a daughter together, and Kilgo-Washington was not cooperative with prosecutors as a victim in the case.
Last week, Ruggs waived a long-delayed preliminary hearing with his agreement to plead guilty to driving under the influence of alcohol, causing death, a felony, and a misdemeanor vehicular manslaughter charge carrying a six-month jail sentence that will be folded in with his three-to-ten year prison term.
Prosecutor Eric Bauman told the local judge who moved the case to state court last week that Clark County District Attorney Steve Wolfson endorsed the deal. Wolfson declined immediate comment following Ruggs' plea.
Wolfson said shortly after the crash that Ruggs would face a mandatory minimum of two years in prison if convicted and could get more than 50 years. The district attorney said investigators learned that Ruggs spent several hours drinking with friends at a sports entertainment site and golfing venue, and may have been at a friend's home for several more hours before he and Kilgo-Washington headed home.
Ruggs' attorneys last week called the plea agreement a "first step toward a fair resolution to this matter" and "closure for all parties involved."
Since the crash, Ruggs' lawyers lost several bids to challenge evidence, including that Ruggs had a blood-alcohol level of 0.16% — twice the legal limit in Nevada — after the rear-end wreck that ignited a fire that killed Tintor, 23, and her pet dog, Max.
Police reported that air bag computer records showed Ruggs' 2020 Chevrolet Corvette slowed slightly from 156 mph (251 kph) to 127 mph (204 kph) seconds before slamming into Tintor's Toyota Rav 4. The speed limit in the area was 45 mph (72 kph).
Other charges against Ruggs were dismissed under the plea agreement, including felony reckless driving, driving under the influence causing substantial injury to Kilgo-Washington, and a misdemeanor gun charge stemming from the discovery by police of a loaded handgun in his demolished Corvette.
Ruggs posted $150,000 bail to be released from jail after leaving the hospital, and has remained on house arrest with strict conditions including electronic monitoring and alcohol checks. A judge's order allowed him to attend a gym for three hours of physical training twice a week.
Ruggs' full name is Henry James Ruggs III. He grew up in Montgomery, Alabama, and won an NCAA championship with the Crimson Tide before he was drafted by the Raiders in 2020. He signed a four-year rookie contract reported to be worth more than $16 million and had been emerging as a star NFL player before the crash. Records show he bought a $1.1 million home in April 2021, not far from the scene of the crash.
Sign up for Patriots updates🏈
Get breaking news and analysis delivered to your inbox during football season.