NFL
Former Boston College and current Packers RB AJ Dillon introduces his new book
Aaron Rodgers wants a signed copy of "Quadzilla Finds His Footing."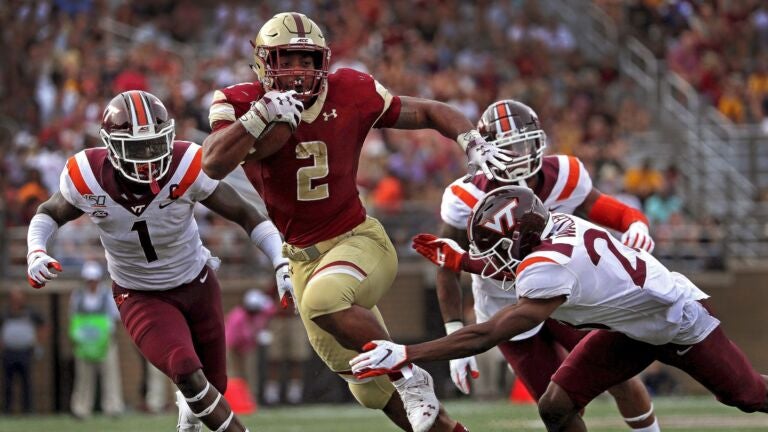 As AJ Dillon welcomes his newborn son, Algiers Dillon III, into the world, he's constantly brainstorming ways to pass down lessons to help him learn and grow.
One day, Dillon decided there was no better way to do so than to write a book. The former Boston College standout and current Green Bay Packers running back initially planned on writing it for his son only.
Then his mind started racing, as he realized he could transform his idea into an actual, published book. He connected with a Wisconsin-based publisher and illustrator, worked diligently over the summer to tie the loose ends together, and saw his vision come to fruition.
"To see it turn into this is awesome," Dillon said, per Kassidy Hill of Packers News. "The sky's the limit. I'd love to do more."
Dillon introduced "Quadzilla Finds His Footing," – a story based on his childhood about a dinosaur who discovers himself – to supporters Tuesday morning at Lambeau Field.
Known now for his overpowering running style – along with his still-massive quads – Dillon wasn't always into football. In fact, he started out as a baseball player, but he figured he'd try football as a way to hang out with his friends.
As it turned out, they told him at the time, he had a knack for it. The story is about trying new things with your friends and getting out of your comfort zone, as Dillon learned to do at a young age with their support.
"There's great morals in there that I hope can I carry and pass onto my son and the rest of the community here that's reading it at story time," Dillon said.
Dillon tweeted at former Packers quarterback Aaron Rodgers and asked if his book could earn an "honorable mention" spot on Rodgers' book club list.
Rodgers responded: "I'm sure we can find a spot for it," and shared how proud he is of Dillon.
Dillon read the book to fans at Lambeau, and on Thursday, he visited Bellin Hospital and did the same with pediatric patients and their families.
He's more than happy to read it to anyone who will listen – most of all, his nine-week-old son.
"I don't really think he understood what I was saying, but he was looking at the colors. They caught his eye," Dillon said. "He fell asleep, and it was one of those cool things. Hard work paid off. It was very rewarding and an awesome thing to do. If nothing else, that was worth every single second."
Get the latest Boston sports news
Receive updates on your favorite Boston teams, straight from our newsroom to your inbox.