NFL
Giants' Saquon Barkley considering holding out after failing to get a new deal
One of football's most dynamic running backs may not play this year.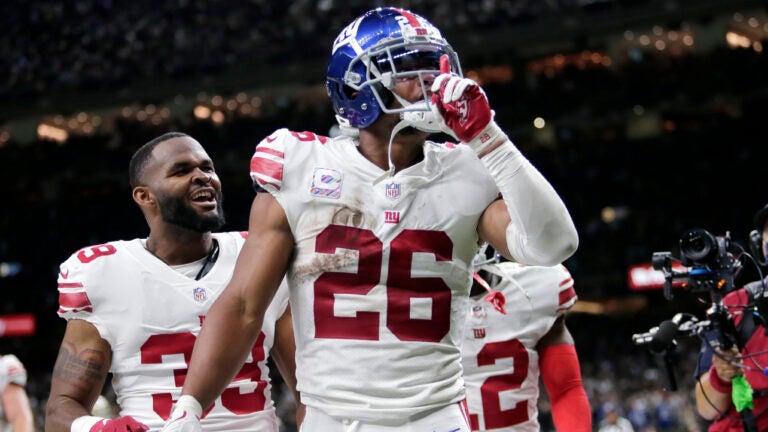 EAST RUTHERFORD, N.J. (AP) — A frustrated Saquon Barkley considered sitting out the 2023 season among his options if the star running back couldn't get a new contract from the New York Giants.
In an interview on a podcast released Monday, Barkley discussed the negotiations leading up to Monday's deadline for players on a franchise tag to reach a new multi-year deal with teams. The 26-year-old used an expletive several times in noting a holdout would thumb his nose at the Giants and his teammates and show them his true value.
Barkley and the Giants, who reached the playoffs last season for the first time since 2016, failed to reach a new contract agreement on Monday, meaning the Penn State alum will earn $10.1 million this season.
The two sides talked until the 4 p.m. deadline but could not settle on a deal, even though the Giants reportedly offered one worth more than $12 million annually.
Barkley's only comment after not getting a deal was a tweet: "It is what it is."
During "The Money Matters" podcast recorded on July 11 — six days before the deadline — Barkley had hoped he would be able to get a new contract, noting his leverage would be to hold out, a move that he felt would hurt the team and his teammates. He felt it would show everyone how valuable he was to the team after rushing for a career-high 1,312 yards as well as 10 touchdowns last season.
"Anybody who knows me knows that's not something I want to do," Barkley said. "But is it something that crossed my mind, I never thought I would ever do that. But now I'm at a point where it's like, 'Jesus, I might have to take it to this level.' Am I prepared and willing to take it to the level. I don't know. That's something I gotta sit down. I gotta sit down and talk to my family. I gotta sit down and talk to my team, gotta really strategize about this. Can't just go off emotions."
Barkley insisted all he wants to do is win and bring a title to New York.
Barkley has not signed his franchise tender offer so he cannot be fined for not reporting to training camp next Tuesday. While he can't reach an agreement on a multi-year contract, the two sides can sign a sweetened one-year deal for 2023.
The Giants would retain the right to franchise Barkley again next season.
Sign up for Patriots updates🏈
Get breaking news and analysis delivered to your inbox during football season.