NFL
Tom Brady was asked by Shaquille O'Neal who he sees as his NFL successor
Brady also explained why a recent quarterback trend will make it even harder for anyone to replicate his unprecedented career.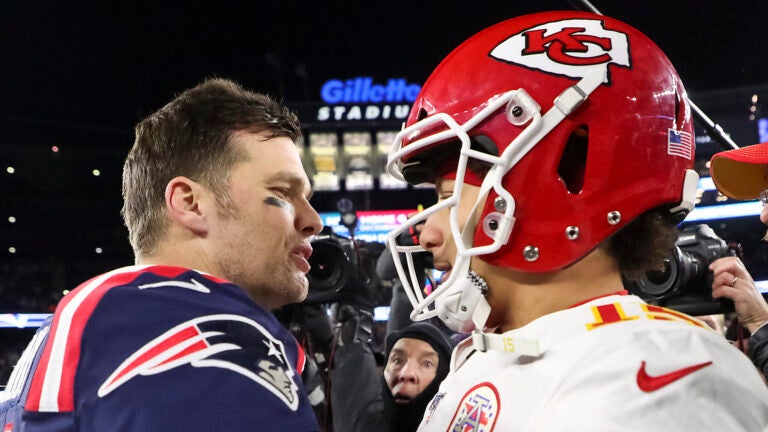 As Tom Brady looks back on his 21-year NFL career — a run that included an unprecedented seven Super Bowl wins — he can be reasonably confident that no one will be able to fully replicate his remarkable story.
But when asked to identify "the next Tom" during a recent episode of his "Let's Go!" podcast, the former Patriot had a clear choice in mind.
The question was posed to him by NBA Hall of Famer Shaquille O'Neal, who appeared in the episode as a guest. O'Neal, noting that basketball fans continually ask who the next Michael Jordan or LeBron James might be, reframed the question for Brady.
"Good question," Brady replied. "I think when I'm looking at guys in pro football, quarterbacks, you know, Patrick [Mahomes] is the one that really stands out. They've done a great job since he's really taken over. He's got a really great coach — like [how] I was fortunate, like how you were fortunate — that helps you and is there for you when things are going good, and not good. Gives you the humble pie when things are going good, and knows how to pick you up when things aren't good.
"But it's going to be interesting," Brady added. "People have to do it for a long time. I did it for a long time. When I look at my career, I was able to do it every single year for basically every single game."
Noting that he only missed time twice — one of the occasions being his four-game NFL suspension following the "Deflategate" controversy in 2016 — Brady distilled his quarterbacking philosophy down to a single piece of criteria.
"Every game wasn't perfect, but every game was pretty good, and most of the time I never put our team in a position to lose," he explained. "There are very few guys like that, that I'm watching over and over and over."
Aside from the conventional metrics, Brady also emphasized how it might become even tougher to maintain his level of durability (as a player who stayed in the NFL until age 45).
"I think unfortunately, the way the game's going, a lot of the guys are running the ball a lot more. It just makes for a shorter career," he said.
Granted, the league has added additional rules over the years to help protect quarterbacks from being on the receiving end of too much contact. Still, Brady thinks the increasing prevalence of signal-callers who scramble will ultimately make it more difficult to chase his records.
"Running quarterbacks don't last that long," said Brady. "I don't know who can play 21 years, I really don't. I know what it took, and it took a lot. I'm sure some of the people have ambitions to try, but there are a lot of things that need to go your way. The only reason that I was able to do it was because I had so many people there to support me."
Yet should someone somehow match his level of achievement, Brady acknowledged that they would have his "respect."
"I believe that if someone does make it as long as I made it with the degree of success, then I give them a lot of respect," Brady concluded. "It would be an unbelievable accomplishment for them to do that, especially in today's day and age."
Sign up for Patriots updates🏈
Get breaking news and analysis delivered to your inbox during football season.