NHL
John Webster, NHL's oldest ex-player, stays wry and spry at 96
"I don't even buy green bananas at my age."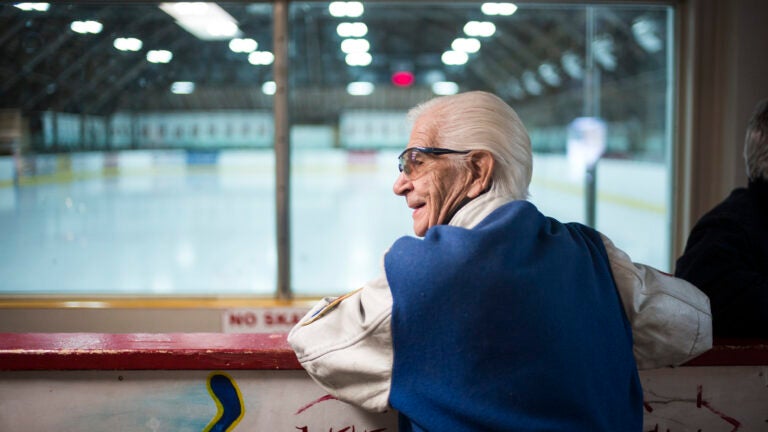 MATTAWA, Ontario — This rugged logging town, 250 miles north of Toronto along the Quebec border, is the perfect hiding place for a former NHL player who does not want attention.
A town of 2,500, this northern outpost, once an important transportation corridor for paddlers, is tucked away at the confluence of the Ottawa and Mattawa Rivers, providing sweeping views of the Upper Laurentian Mountains.
The solitude suited John Webster's humble, shy nature perfectly when he moved here in 1969.
The town's biggest draw is Big Joe Mufferaw, the French Canadian folk hero who many think was modeled after a real person, a river driver in the 1800s by the name of Joseph Montferrand.
Visitors take pictures of the carved wooden sculpture depicting Montferrand, a logging giant who was immortalized in a Stompin' Tom Connors song and was thought to be the inspiration behind Paul Bunyan.
Outsiders did not know about Webster, known as Chick.
He was virtually unknown until former Boston Bruins great Milt Schmidt died Jan. 4 at 98, leaving Chick exposed.
Now Webster, who turned 96 on Nov. 3, is thought to be the oldest living former NHL player, and that has made him something of a celebrity.
Suddenly, phone calls came in, and newspapers and radio stations wanted interviews as if Webster had done something special.
Although quite a stickhandler in his day, Webster will never be remembered for what he did on the ice.
He had an undistinguished career with the New York Rangers, playing 14 games in the 1949-50 season.
He scored no goals. He collected no assists. His only statistical marker in the NHL is that he tallied four minutes in penalties. A broken wrist ended his chances with the Rangers. He finished out his career in the minors and retired after the 1952-53 season.
Webster's younger brother, Don, had marginally more success. He played 27 games with the Maple Leafs and had seven goals and 13 points in the 1943-44 season. He also played several years in the minors before he died of a brain tumor at 53.
As unremarkable as Chick Webster was on the ice, he is a beloved figure in town.
Everyone calls him Chick, a name given to him in his playing days for his love of chewing Chiclets gum.
"He's still vibrant," said Jacques Begin, recreation director at the local arena. "He's always been a community supporter. I've never seen him angry in his life. He has a good air about him."
Everywhere he goes, whether it is to the post office, the hardware store or the arena, Webster knows everyone by name, and everyone's family members, too. People are often rewarded with a wisecrack, most of it directed at himself.
Gerry Belanger, a local gas station attendant, told of an encounter several years ago, when Webster came in with muffler problems and was offered a lifetime warranty.
"Why would I do that? I don't even buy green bananas at my age," Webster joked.
At 5 feet 8 inches tall and 172 pounds, Webster would never measure up to Big Joe in height.
But Webster has one big advantage. He is still in one piece. The huge wooden carving of Big Joe fell apart recently, and a local artist, Clermont Duval, has been commissioned to put Big Joe back together again.
It is Webster, though, that whom Duval called "a force of nature."
Although Webster is hard of hearing and has occasional back problems, he is in relatively good health and betrays little sign of his age, with a crown of luxurious silver hair and no visible facial scars that can be telltale signs of former hockey players.
He walks without a cane, although his son Rob, 68, fashioned one in the form of a hockey stick.
"He's very stubborn and wants no help at all," his son said.
Webster takes one pill a day to control his blood pressure. He does not smoke and is not much of a drinker. He fixes oatmeal every morning. He rarely takes naps. He goes to bed late and gets up late.
Asked why he is not an early riser like a lot of seniors, Webster quipped, "What's the point?"
The company at his dining room table broke into laughter.
Longevity can also be a curse. You have to bury loved ones.
One of his five children, a son, was killed at 27, and his wife, Leona, died in 2009 of Alzheimer's disease.
Webster was devastated. Residents spotted him driving aimlessly around town late at night. She is buried nearby, and he would visit her every night when he was still allowed to drive.
Music lifts his spirits. He learned to play the piano as a youngster. In his house is a keyboard, and he plays the Doris Day hit "It's Magic" with aplomb.
Webster does not like to talk about the Rangers too much because, he said, they did not treat him very well. When he broke his wrist, they sent him down to the farm team in New Haven, at lower pay, and never called him back.
But he enjoyed several aspects of life in New York, including going out with teammates to nightclubs like the China Doll.
"Broadway was a just about a block away from us," Webster said. "That was a big deal. It was great town then."
It was a different time for the NHL too. The league had six teams, and they mainly traveled by train.
Webster did not start out being a small-town guy. He grew up in Toronto. He played in the minors, though in 1940 he attended training camp with the Bruins, where he met Schmidt. Webster went overseas to serve in World War II, came back in his mid-20s and thought he was too old for hockey. He did not join the Rangers until he was 29.
After his hockey career, he worked awhile at the de Havilland Aircraft Co. in Toronto, and then retired in Mattawa, where his wife's parents lived.
If Webster seems ageless, it may be because time seems to stop in this town.
The arena has the feel of an old barn, and some establishments appear as if they have not updated their décor since 1950.
In the late afternoon, Main Street achieves a haunting effect as it empties, and large, carved wooden statues outside many shops are silhouetted in the darkness.
These statues commemorate the aboriginal people and explorers who paddled through here, including the 17th-century French explorer Samuel de Champlain.
Shops close early, and there are no taverns to speak of or pool halls.
"I miss playing pool," Webster said. "But I go down to the rink and watch the kids play now and then."
For excitement at night, a half-dozen regulars sit around the dining room counter at Valois' Motel & Restaurant, cracking wise and guffawing. Shortly after, when they get bored, they drift over to the local Tim Hortons coffee shop.
This town honors its heroes in wood, concrete and brass. The arena is named NHL referee and football coach Mike Rodden, a member of both the Hockey Hall of Fame and the Canadian football Hall of Fame, who was also a longtime sports journalist.
Webster's imprint is much smaller. There is a hockey trophy named the Chick Webster Award, created three years ago to honor a career player in the Mattawa minor hockey system who showed leadership and respect.
The first winner was Nicholas Dimick. As it happens, Dimick was at the arena on a recent day when Webster made a visit. It was Dimick's first day on the job as Zamboni driver.
When Dimick learned that Webster had commented on how nice the ice surface looked, Dimick began to grin from ear to ear. Then he hid it.
Here, you can't get too full of yourself, even if your name is Chick Webster.
Inside Mr. Gas, a filling station on the Trans-Canada highway that leads out of town, a small portrait of Webster in his Rangers uniform is pinned up behind the cash register.
Webster autographed it for the station's operator, Corey Lacelle, and Lacelle hung it directly over a counter stocked with pain relievers and disposable lighters.
Webster will probably not see this photo any time soon. This winter, the town has been covered with several feet of snow, and now he cannot drive because he failed a written driver's test.
He protested that he was hoodwinked and vowed to get his driver's license back.
But Webster will not let the cynicism of old age creep into his soul. He likes to deal with life with grace, humor and wit.
At the front door of his home, a sign reads: "Friends welcome. Relatives by appointment only."
A coffee cup is inscribed, "All my friends are dead."
Webster does not think of himself as special just because he has lived so long and happened to play in the NHL. He admitted being so nervous about the interview for this article that he could not sleep the night before.
There will never be Chick stories to match those of Mufferaw, a brawler of legendary strength. But he died young, in his 60s.
At 96, Webster is a fighter of a different sort.
"His real story is about longevity, not hockey," Webster's son Rob said. "Hockey was just something he was lucky enough to be a part of."