NHL
Zdeno Chara's diet and fitness routine sounds a lot like Tom Brady's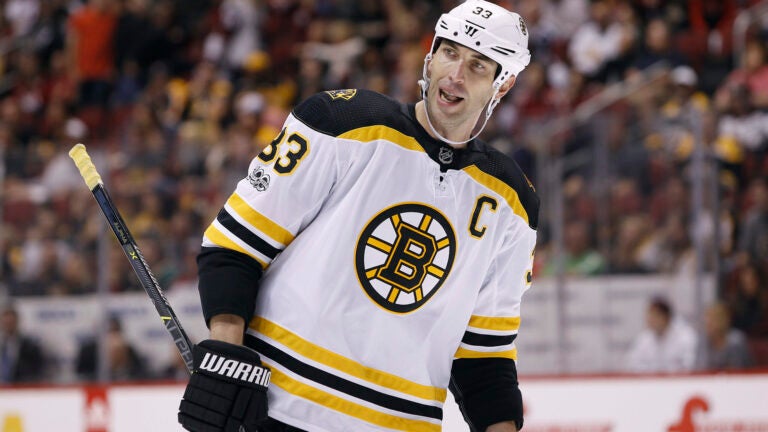 Tom Brady isn't the only 40-year-old pro athlete in New England on a strict fitness regimen.
Boston Bruins defenseman Zdeno Chara, who turned 40 in March, also says he owes his longevity to decades of meticulously tracking workouts and following a considered diet. Described in a recent Wall Street Journal article, the 6-foot-9 NHL player's routine sounds like it could have virtually been pulled from the pages of Brady's recent health book.
"Everything I put in my body has a purpose," he told the Journal.
Just like the Patriots quarterback, Chara reportedly starts each day with "a big glass of water." It's unclear if his daily consumption matches Brady's excessive water intake.
Chara's breakfast includes oatmeal, eggs, toast, and a juice of vegetables and super foods, including carrots, beets, and goji berries. Brady also says he starts the day with some sort of superfood juice or smoothie, however it's unlikely he'll be joining his hockey-playing peer for oatmeal or toast. In fact, Brady's book specifically says to avoid bread and grain-based foods. The carb-averse quarterback says eggs are good, if they're organic, cage free, and "omega-3 enriched."
After breakfast, Chara is also pretty much done with carbs for the day. According to the Journal, he subsists on protein and vegetables for lunch and dinner, with staples being salmon, chicken, avocado and chickpeas — all of which are on Brady's grocery list, according to the quarterback's book.
And like Brady, Chara is a frequent healthy snacker. His favorite options include rice cakes, vegetable and juice shakes, and quinoa mixed with nuts and dried fruits — the latter of which especially sounds like a TB12 snack pack.
"You never want to feel so hungry that you'll put anything in your mouth," Chara told the Journal.
"I never go long without snacking," Brady said in his book.
Both athletes say their diets have been optimized to fuel the training necessary for their careers as athletes. According to the Journal, the Bruins defenseman entered his 20th NHL season this year at 250 pounds, with 5 percent body fat.
Chara's strength and conditioning workouts — which last a total four to six hours leading up to the season — reportedly focus on flexibility, range of motion, coordination, and form.
"Every rep is executed to perfection," he told the Journal.
Brady has similarly emphasized muscle pliability. And like Brady, Chara frequently uses resistance bands in his training, according to the Journal.
While Chara hasn't yet pivoted his fitness regime into a lucrative side business, he has — again, similar to Brady, who wants to play into his mid-40s — reaped the benefits of a career with no immediate end in sight.
"Good question," Chara recently told The Boston Globe, when asked how much longer he would like to keep playing.
"I can't really say the number," he said. "People would say, you know, 45 [years old] . . . Jaromir [Jagr] said 50. I can't really put a number on that. I just want to play."