NHL
From the ice to the green, NHL ref to make US Open debut
"What a dream come true."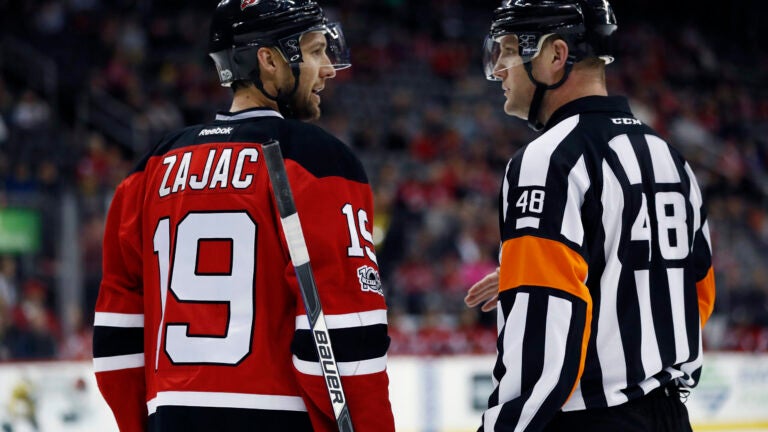 SOUTHAMPTON, N.Y. (AP) — Garrett Rank is trading skates for spikes on a stage far larger than anything he has experienced.
No one plays Shinnecock Hills on ice.
This week is not about blue lines and high-sticking. It's about green fairways and lag putting.
Rank's day job ended two months ago when he finished working the first round of the Stanley Cup playoffs. That left Rank, an NHL referee for the last three years, enough time to qualify for his first U.S. Open.
"The reaction from the hockey community has been huge," Rank said Monday. "I think every official on our staff sent me a text and congratulated me and said they'd be following along and are really proud of me. I even had a few phone calls asking if it was me, like if that was the same Garrett Rank. I don't know too many other people with the same name. But yeah, that's me. I'm going to the U.S. Open."
The fairway isn't really an escape for the 30-year-old Canadian. Sure, it's quieter. There is less surrounding chaos. There are no whistles — any penalties typically are called by the players themselves.
Rank is simply here to play. The intensity is no different.
"You have to deal with the pressure of making a call — or I guess the pressure of making a wrong call — (and) you deal with the pressure of making a bad shot in golf," he said. "And you have to be really decisive as well. Decisive in the decisions you make about what shot you want to hit, and then obviously you have to make a decision in about a split second if you're going to call a penalty or not."
Rank made it to Shinnecock with a pair of 71s at Ansley Golf Club in Georgia, with fellow NHL referee Dan O'Rourke as his caddie. He earned one of three spots.
"What a dream come true," Rank said.
Rank's older brother, Kyle Rank, will be on the bag at the U.S. Open. Kyle caddied for Garrett two years ago at the Canadian Open and plays leisurely himself.
Their father, Rich Rank, was also a hockey referee.
So, Garrett Rank has been a mix of hockey and golf since he was a kid. He even played both at the University of Waterloo in Ontario.
But then Rank was diagnosed with testicular cancer in 2011, putting his athletic plans on hold at 22 years old. He caught it early and was declared cancer-free that same year. Ultimately, he trained as a referee to remain involved in hockey, and that became his career. Golf became something he enjoyed during free time.
"Cancer for me was kind of a blessing in disguise," Rank said. "It gave me a way better approach to hockey and golf and kind of changed my attitude that, hey, maybe that bad shot isn't really that bad or, hey, maybe this missed call really isn't that bad at the end of the day."
Perspective in pressure.
Or just perspective in general.
Golf doesn't move as quickly as hockey, although Rank kept that in context.
"If you've ever seen any referee skate out there, I don't know how fast we're really going," Rank said. "The players are moving fast, but we're fairly stationary, moving in a small area."
A golf course is anything but small. The shortest hole at Shinnecock, the par-3 17th, is 180 yards. That's 540 feet.
A hockey rink is 200 feet long.
But zoom into the player and size is irrelevant. The strokes can translate no matter area of play.
"The slap shot is a very similar move," Rank said. "If you watch my action, I kind of laterally slide through it a little bit. I think the hand-eye coordination in playing hockey, it just bodes well to the game of golf."
On the ice, Rank has officiated 187 career NHL games. He made his debut in 2015 and was promoted to full-time in 2016.
Inside the ropes, Rank has competed in 15 USGA events. His best result was in 2012 when he lost in the final U.S. Mid-Amateur Championship, one match away from making it to the Masters. Rank is, however, a three-time winner of the Canadian Mid-Amateur title.
"I got a question the other day about whether I would want to finish in the top 10 in the U.S. Open or work Game 7 of the Stanley Cup Finals," Rank said, "and I answered with the top 10 at the U.S. Open.
"I said I'd save the Stanley Cup Finals for 15 years down the road when my golf game wasn't as strong."