NHL
The Carolina Hurricanes will wear Hartford Whalers uniforms in games against the Bruins
On December 23 and March 5, the Hartford Whalers will skate again (in uniform only).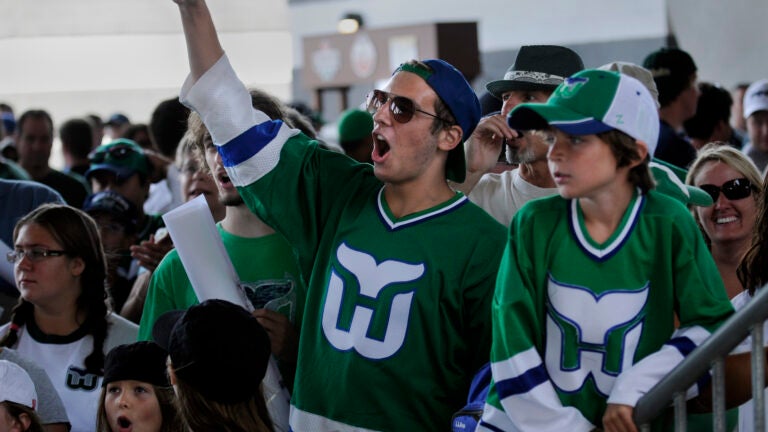 It's been more than two decades since the Hartford Whalers left for Carolina, yet fans watching two games in the upcoming season will see the defunct Connecticut hockey team's distinctive green uniforms squaring off against the Bruins.
On Dec. 23 and March 5, the Hurricanes – the name the team took after moving to Carolina from Hartford in 1997 – will revert to throwback uniforms worn by the Whalers from 1985-1991. According to a Hurricanes announcement on Thursday, the team will host "Whalers Night" two days before Christmas at PNC Arena when the Bruins visit.
Then, when the Hurricanes travel to Boston in March, the team will again don the Whalers' kit.
In several tweets, the Hurricanes explained the move as a way to "honor" the history of the team.
Honoring our history pic.twitter.com/rPPSuf05me

— Carolina Hurricanes (@NHLCanes) September 27, 2018
"We're proud of the history and traditions that we've built in 21 years in North Carolina," Hurricanes President Dan Waddell said about the decision in the team's announcement. "But we've never thrown away the records established during this franchise's 18 NHL seasons in Connecticut. This is a chance to celebrate our team's heritage and the players and coaches who laid the groundwork for this franchise."
Even though the Whalers (as a team name) haven't been in the NHL for years, apparel sales continue at a high volume.
In January, 2018, Tom Dundon became the new majority owner of the Hurricanes, taking over from Peter Karmanos. Dundon wasted no time sharing his thoughts about using the Whalers logo.
"I think we should have a store that sells that Whalers merchandise online and we should explore playing games in that jersey and selling that gear. It's part of the legacy," Dundon told ESPN Radio in January. "I just like cool stuff. If we don't, it will mean something went wrong."
As the Hurricanes are technically a continuation of the Whalers franchise, the Carolina-based team is joint owner of the logo along with the league.