NHL
The NWHL All-Star Game is coming to Boston. Here's what's to expect.
A 4-on-4 game and skills contest will be held at Warrior Ice Arena.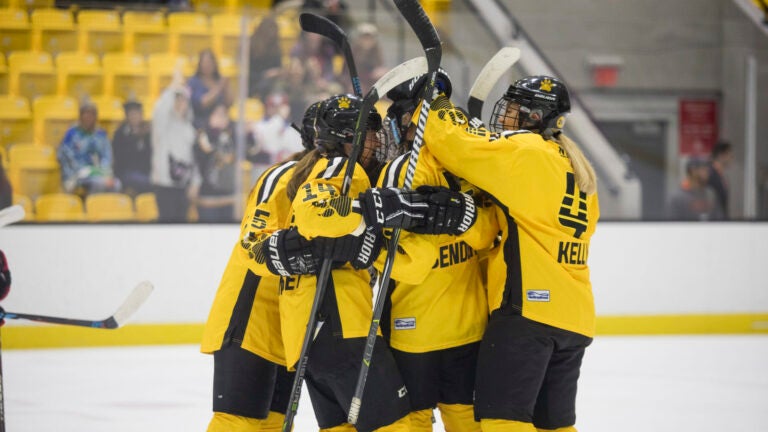 This Saturday and Sunday, the NWHL will take over Boston for its All-Star Weekend. An original NWHL market, Boston becomes the first city with an existing team to host the celebration since Buffalo hosted 2016's inaugural All-Star game. Here are your questions about the NWHL All-Star Weekend, answered:
What's happening where?
The weekend's events will be held at Warrior Ice Arena, where the Boston Pride have sold out two home contests en route to a perfect 20-1 record this season. Two periods of 4-on-4 play make up the All-Star Game, which is set for Sunday at 2:30 p.m. The All-Star Skills Challenge, including fastest skater, relay race, and hardest shot competitions, is slated for Saturday at 8 p.m.
Who is playing?
The two All-Star teams, captained by Madison Packer and Jillian Dempsey, will each consist of 14 skaters and two goalies. Dempsey, 28, is a Winthrop native who played college hockey at Harvard.
Players earned All-Star bids in three different ways: Packer, Dempsey, and six other players (including Boston University alumnae Shannon Doyle and Kaleigh Fratkin) were recognized for having played in the league since its inaugural season.
Lexi Bender, who played at Boston College, Rebecca Morse, and Audra Richards were voted in by fans. More than 15,000 ballots were cast online, according to the league.
After More than 15,000 Ballots are Cast, @bendy0, @moose_X_ing and @audra_21 Win All-Star Fan Vote

?: https://t.co/zhQV2CULqg pic.twitter.com/XPnQrkNsuF

— NWHL (@NWHL) January 8, 2020
The remaining 21 players were selected by league officials, general managers, and coaches. The Pride leads all teams with eight selections.
How can I watch?
Tickets, which range from $10 for standing room at the Skills Challenge to $30 for end zone access to both days' events, are available here. Both events will also be broadcast live on Twitch.