NHL
Chris Snow, former Globe sportswriter turned NHL executive, is persevering through ALS battle
Doctors gave Snow a year to live. Four years later, he's still helping the Calgary Flames make moves.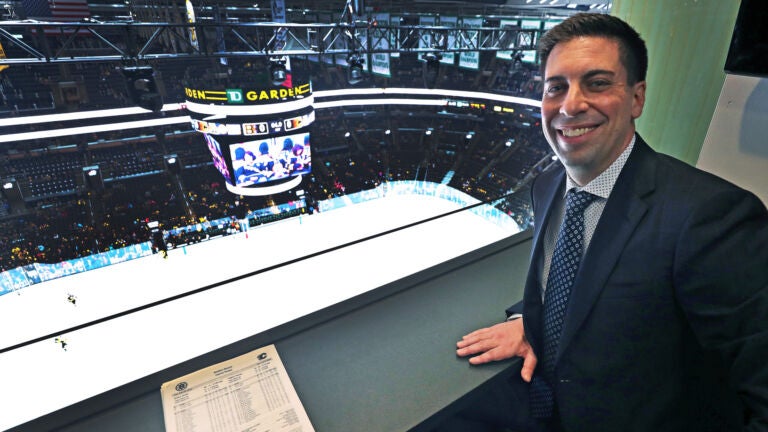 It's been four years since Chris Snow's family announced that he was diagnosed with Amyotrophic lateral sclerosis (ALS), also known as Lou Gehrig's disease.
At the time, doctors gave him one year to live.
Beating that prognosis is a "complete win," he said during a segment on HBO's Real Sports with Bryant Gumbel, because he's gotten to experience moments in his children's lives that he didn't expect to see.
The former Boston Globe sportswriter turned hockey executive still finds the strength to go to work as assistant general manager of the NHL's Calgary Flames.
The complications from his disease make it difficult. But, as long as he is able, he plans to show up. He's taking an experimental drug that doctors believe has extended his life and could do the same for others
Still, with a terminal diagnosis, why not take time off to travel and see the world instead of worrying about hockey transactions, the interviewer asked.
"That's not who I am," Snow said. "If I get up and go to work, then I'm still healthy and I'm still winning."
Snow has had to spend time working from the hospital in recent months. He spent weeks in intensive care and had a pair of stints on a ventilator. The challenges didn't stop when he got home, they intensified.
"Any single thing that you need to do to get ready in the morning, he cannot do by himself," said Snow's wife, Kelsie Snow. "Brush his teeth, do his hair, shave his face, get dressed. He can open the car door, he cannot put his own seatbelt on. That's right now, talk to me in two weeks and maybe the car door's gone."
A particularly aggressive form of ALS exists within Snow's family. It killed his father, two of his uncles, and one of his cousins before striking him.
"Chris knew that he potentially had a time bomb ticking in his body," said Dr. Lorne Zinman, founder of the Canadian ALS Research Network. "Multiple family members before Chris have died of ALS. They have a specific mutation that is the worst form of ALS, where they typically die in less than a year."
Snow said there's a 50-50 chance that one or both of his kids may carry the gene that causes the disease.
His wife said she can't breathe when she thinks about those odds.
"The hardest thing about this has been realizing that I can't protect the people I love," she said.
Snow still spends as much time as he can around the team, and people in his life have stepped up to help him. His wife is his main caregiver.
"I don't think I'm great at a lot of things in life," Kelsie Snow said. "But I am really good at taking care of Chris. It's tiring, but I'm really good at it."
Fellow assistant GM Craig Conroy picks him up, drives him to work, and helps with tasks such as eating.
"I'm probably the only one in the NHL doing that," Conroy said of helping Snow with his feeding tube. "But, I've got it down to a science. Snow gave me a little first bump today."
Family, along with hockey, is what keeps Snow going. He enjoys playing with his kids and watching them grow up. It gives him a renewed sense of purpose.
"My kids were so little. They were 4 and 7 when I was diagnosed," Snow said. "Now, they're 8 and 11. I have to think that I can beat this in order to get up each day and go on with normalcy, be a dad, and play. So, as long as I can do those things, then I don't think I'm dying."
Sign up for Bruins updates🏒
Get breaking news and analysis delivered to your inbox during hockey season.