NHL
Jets' Morgan Barron receives 75-plus stitches after skate to face
"It's a scary thing. We're all so worried about the puck crossing the line, and all of the sudden we see a trail of blood all the way from the crease to the bench."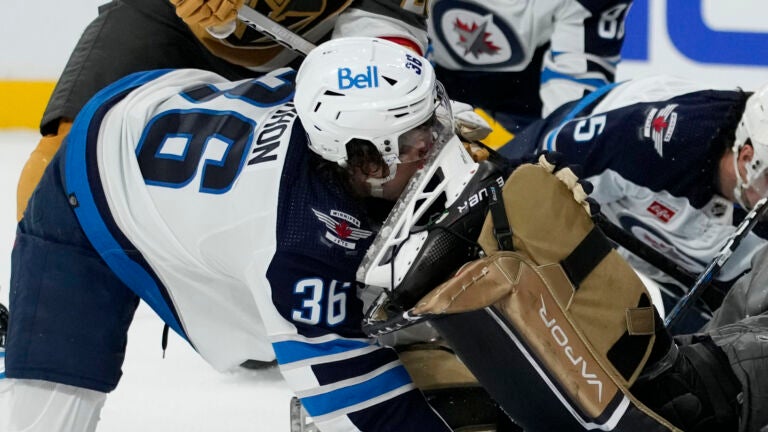 LAS VEGAS (AP) — Winnipeg Jets forward Morgan Barron took a skate to his face Tuesday night, requiring more than 75 stitches, but he returned to the ice less than a period later.
Barron was injured in the first period during a big scramble in front of the Vegas Golden Knights' net in Game 1 of the teams' Western Conference first-round series, which Winnipeg won 5-1. As players collapsed around the front of the net in pursuit of a loose puck, Vegas goalie Laurent Brossoit's skate cut Barron.
"I was trying to figure out if the puck went in because it was pretty close," Barron said. "I saw the skate coming. It was an unlucky play. The first thought was that I could see out of the (right) eye was the main thing."
Barron immediately went to the Jets' locker room, but returned in the second period wearing a full cage on his head.
"Looks like he got attacked by a shark," center Adam Lowry said. "It's a scary thing. We're all so worried about the puck crossing the line, and all of the sudden we see a trail of blood all the way from the crease to the bench."
Jets coach Rick Bowness said he wasn't surprised Barron re-entered the game and even marveled that he didn't hesitate to get physical.
"I think more his presence coming back because we all realized how bad it was, and that gave everyone a big boost," Bowness said.
Sign up for Bruins updates🏒
Get breaking news and analysis delivered to your inbox during hockey season.