Obituaries
Harriette Thompson, marathon runner into her 90s, dies at 94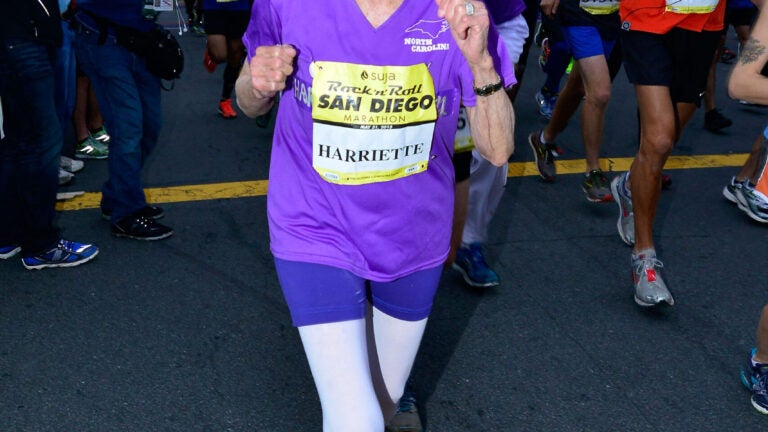 Harriette Thompson, a classical pianist and cancer survivor who started to run marathons when she was 76 and ran the fastest time in a marathon for a woman over 90, died Monday in Charlotte, North Carolina. She was 94.
Her son Brenneman said the cause was complications of a fall down a flight of steps this month while she was delivering birthday gifts at her retirement community.
Thompson began running short distances with her husband in her 50s. But she did not contemplate tackling a 26.2-mile course until she learned in 1999 that a fellow singer in her church choir was raising money for a cancer charity by walking in the annual Rock 'n' Roll San Diego Marathon.
Thompson entered the race — but she did not walk.
"I noticed when I got there that everybody was running, so I decided to run," she said in a video interview for the Syracuse University Alumni Association. "I decided it was a good cause, and I tried again the next year, and the next year."
She recalled that being a rookie marathoner at 76 did not feel like a newsworthy event.
"I didn't get much attention, even though I was coming in first — I was the only one in my age group," she told a women's group of business executives in a luncheon speech last month in Charlotte.
But being a nonagenarian long-distance runner was altogether different.
At 91, she ran the 2014 San Diego marathon in 7 hours, 7 minutes and 42 seconds — faster by nearly two hours than Mavis Lindgren's previous U.S. record for a woman of at least 90.
"She didn't stop; she didn't go to the bathroom," said her son, who is known as Brenny and who ran with her in marathons and other races.
A year later, when her time in the San Diego race was 7:24:36, she became the oldest woman known to have finished a marathon. She did so while wearing white tights to cover the open wounds on her legs from radiation treatments for squamous cell carcinoma. Over the past seven years she had also dealt with a recurrence of oral cancer, which first struck her in 1986.
"I kept hearing, 'Go Harriette, go Harriette!'" she told "CBS This Morning" after the race, adding: "I remember seeing this stuff falling down. They had confetti. Like Lindbergh — I had a ticker-tape reception."
In all, her running at the San Diego marathon raised more than $100,000 for the Leukemia & Lymphoma Society, a national charity.
Music — including favorites like Rachmaninoff's Prelude in D major — played in her head when she ran, helping her through monotonous stretches of the course.
Harriette Brenneman Line was born March 27, 1923, in Carlisle, Pennsylvania. Her father, J. Harvey Line, was a lawyer, and her mother, the former Harriet Brenneman, was a homemaker who taught her daughter to play the piano. An athletic girl who wanted to get places quickly, young Harriette preferred running, bicycling and roller skating to walking.
She attended Dickinson College in her hometown before receiving a music scholarship to attend Syracuse. She married Sydnor Thompson Jr., a lawyer and judge, two hours after they both graduated in 1947.
Throughout her life Thompson maintained her focus on music as she raised her children. She taught piano at Boston University and earned an artist's diploma from the Vienna Conservatory. She performed at Carnegie Recital Hall (now Weill Recital Hall) and on the cruise ship Queen Elizabeth II. She received a master's in music from the University of North Carolina, Greensboro, and played benefit concerts at the Aspen Chapel during the summers she spent in Aspen, Colorado.
When she moved to a retirement community, she brought her Bösendorfer concert grand with her.
In addition to her son Brenneman, Thompson is survived by another son, Sydnor III; three daughters, Darcy Howard, Harriet Moore and Katherine Kelly; and 11 grandchildren. Her husband died two years ago.
Thompson ran two 5-kilometer races recently and in June returned to San Diego, where she jogged and walked a 13.1-mile half-marathon. She was such a crowd favorite that she had to be protected from well-wishers by family members. Women wanted to take selfies with Thompson. Meb Keflezighi, a New York City and Boston Marathon winner, stopped by to marvel at her, as did a former mayor of San Diego, Jerry Sanders.
Thompson was told repeatedly that she was an inspiration, prompting her to remark, "If at this age I can do anything positive, that's wonderful."