Olympics
Boston 2024's 'Bid 2.0' is already an Olympic failure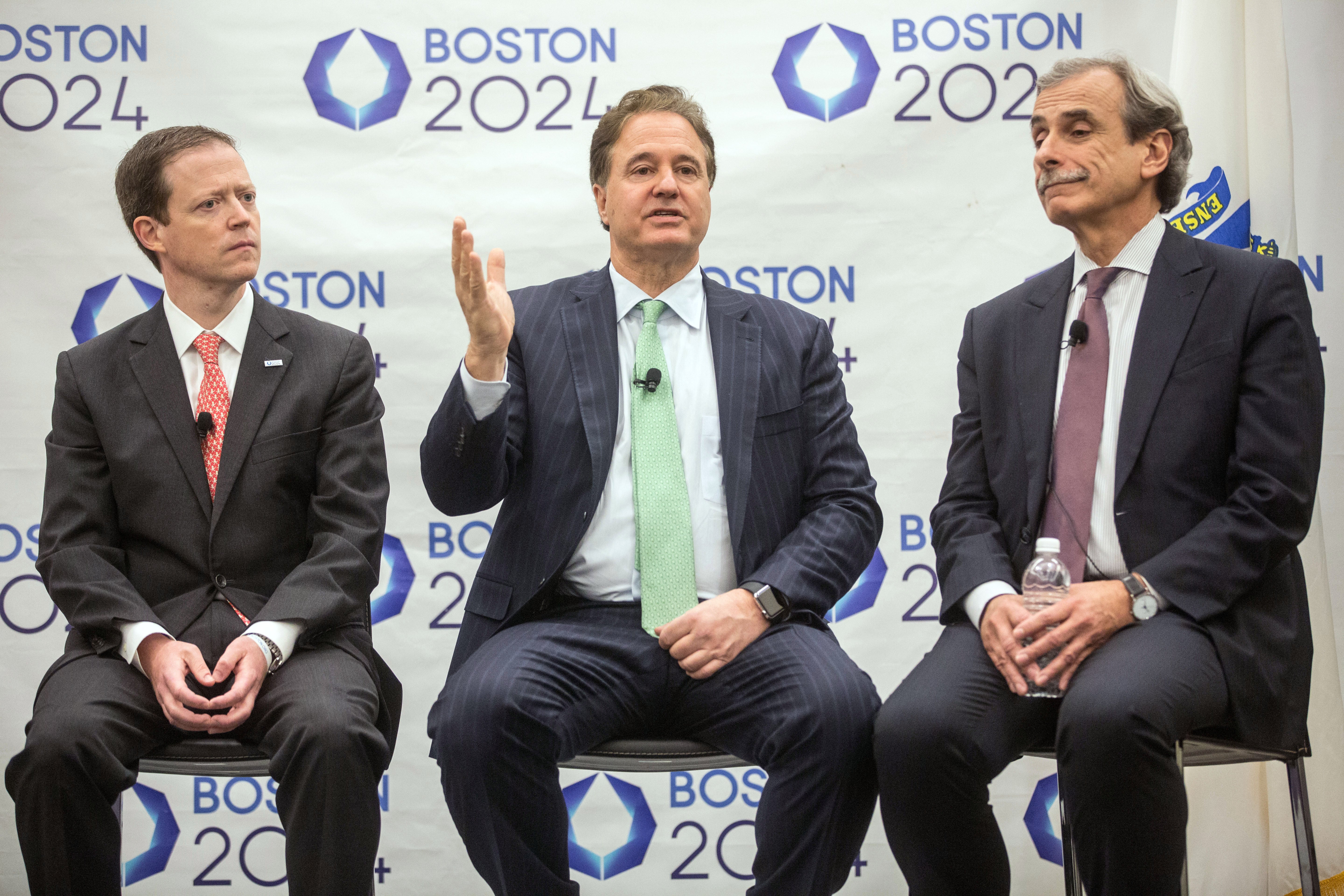 COMMENTARY
Actually…never mind.
It was tempting to get caught up in Boston 2024's forthcoming Olympic plan for a short while. It was fun, for a few days at least, even for a cynic like myself.
I was, admittedly, dazzled by the hypnotic possibilities of a Summer Olympics that would potentially bring long-term impact to the Commonwealth of Massachusetts, not just the initial, juvenile ideas rendered by the embattled group's "Bid 1.0'' plan to bring the Games to the Hub. It was intriguing to think what the venture might do for places like New Bedford, Quincy, and Western Mass.
As it turns out, Massachusetts has as much use for Boston 2024's "2.0'' plan as it does those Bitcoin machines at South Station.
Yikes. On a day when Boston 2024 figured to finally present a plan decent enough to satisfy the United States Olympic Committee before Tuesday's board of directors meeting in California, the organizers fell flat on their collective faces Monday morning at the Boston Exhibition and Convention Center, delivering a paucity of answers to the taxpayers of the Commonwealth in the wake of their showy demonstration that might as well have been given directly in a tiny boardroom in Colorado Springs.
Story continues after gallery
Here's what Boston 2024 wants the city to look like before, during, and after the Olympics
[bdc-gallery id="115186″]
If you, good Massachusetts resident, wanted answers about how the 2024 Summer Games might affect your wallet, well, Boston 2024 chairman Steve Pagliuca doesn't really have any assurances for you. He certainly doesn't have any insurances yet, either. That much is clear.
As No Boston Olympics, a local group opposed to the state's pursuit of Olympus, points out, the new plan, the follow-up to the earlier, bare-bones scribble that (ahem) somehow got the USOC's attention enough to give Boston the bid, fails to "detail for how Boston 2024 will protect taxpayers from the risk of massive cost overruns that have plagued the Olympics.''
The bid committee said that it has budgeted $128 million for taxpayer insurance purposes, but details of that number are sketchy at best. When asked to go into further details about how Massachusetts voters might be left with an enormous bill for a Games that the majority simply don't want, Boston 2024 personnel would rather shift discussion toward its fancy artist renderrings of "Midtown,'' called that "for that lack of a better word,'' according to Pagliuca during the presentation.
Yeah, there's a lot of that, including the unfortunate use of "cluster'' to describe in-city event locations. Like that's not going to come back to haunt them.
"Suffice to say, we'll get the details out,'' Pagliuca said, when pressured about the insurance details surrounding the bid for the Games.
Oh.
Tough week for Pags. First Danny Ainge puts the Celtics back a decade in last week's NBA Draft. Now this. And this is worse.
At one point during the post-glossy presentation scrum, in a room over at the BCEC before a media contingent made to squeeze into a space better suited for a Smashmouth concert, Pagliuca told a prescient Jon Keller, "I think we should move on,'' when the WBZ reporter insisted on more than double-speak as an acceptable answer when pressured about the insurances Massachusetts residents might have in this whole sordid affair. Pags — seated with 2024 CEO Richard Davey, COO Erin Murphy, and Elkus-Manfredi architects founder and principal David Manfredi — seemed better off convincing the room that the Tooth Fairy visited him the prior evening.
It was then that it became clear. Version "2.0'' isn't for Massachusetts. This was merely a due date delivery for Gov. Charlie Baker and the USOC. As was always the case, Boston 2024 has no use in addressing the Commonwealth that is going to be on the hook for this charade.
"We would say that Boston 2024's insurance policy is the taxpayers of the Commonwealth of Massachusetts. That's who will be hit if there are cost overruns of revenue shortfalls,'' No Boston Olympics co-chairman Chris Dempsey said. "Boston 2024 has had more than two years to put together a plan that answers some of the questions that we've been asking for a long time. Things like, 'how are you going to protect taxpayers from the guarantee that they're asking if there are cost overruns or revenue shortfalls?' We had discussion of an insurance plan today, but we saw no details at all about what that insurance policy would cover.
"They've had two years to produce details on this insurance policy and we still haven't seen any of those details. I don't think we can just take them at their word that that policy would cover all the risk. We need to have an independent analysis of that, and without the details in place it's hard to do that.''
There were few assurances in Boston 2024's admittedly impressive presentation, one that promises the birth of new Boston neighborhoods, open spaces, and an Olympic legacy with a more positive footprint than the one it might have on Beacon Hill. There was talk of a surplus. A surplus. For "privately-financed'' Games. What a hoot.
"They presented a lot of glossy photos about what this city can be,'' Dempsey said. "And we believe in a bright future for Boston and the entire Commonwealth, but we haven't seen an explanation for why we need the Olympics to do that. We're a thriving city, we've got a bright future. Let's make the core investments that we need in our Commonwealth to move forward without the Games.''
There was the exciting announcement of a new MBTA commuter rail station at Widett Circle, a factor that must play well in Fall River, where they've been waiting for a rail station for the better part of a generation. That's the sort of focus that leads the likes of Dempsey to ask, "'are you changing your priorities around for this three-week-even instead of making the basic improvements that you need to get us to work every day, to get us to hospitals, schools?' Those are the really important investments we should be making.
"If the USOC and the IOC are so convinced that this is a responsible plan, then why are they still asking City of Boston taxpayers to sign a blank check for cost overruns and revenue shortfalls? They should not need that if this is a responsible plan.''
Well, it's clear that it's not, nor was it intended to be. Boston 2024's "Bid 2.0'' was little more than a book report for the USOC. And they'll get an "A-plus'' at Tuesday's meeting. Great.
For Massachusetts, the plan is still an "F'' based on a continued lack of transparency.
Either Boston 2024 just doesn't get it or, even worse, they do.
But a group with this much influence from the particulars involved can't be that incompetent, can they? So, here we are left to assume it's the latter.
They still aren't telling you the truth.
Don't expect any semblance of it in "Bid 2.1'' either.