Olympics
How this Natick native took fencing to an Olympic level
Eli Dershwitz, a Harvard student, is the No. 11 saber fencer in the world.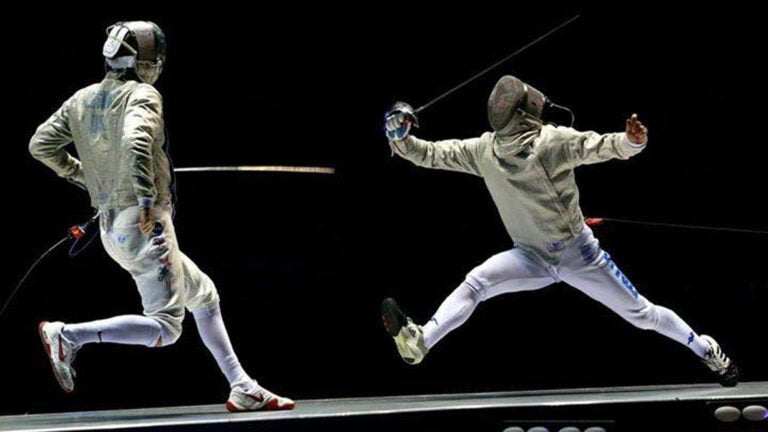 While Eli Dershwitz's introduction to fencing was fortuitous, his success in the sport was almost formulaic.
The Olympic-bound 20-year-old discovered the sport through his older brother Philip, who joined a local fencing gym in Natick.
"It just so happened that there was an amazing club with a world renowned coach just a few minutes from my house," Dershwitz said.
Dershwitz and his brother joined Zeta Fencing, a club run by the current U.S. Men's saber national coach Zoran Tulum. Dershwitz, who is tied for No. 11 in the world in men's saber, calls the club his "second home," as Tulum has coached Dershwitz since he was nine years old. And Tulum was there when Dershwitz clinched a spot on the U.S. team by winning the Seoul Grand Prix on March 26. It was Dershwitz's first Grand Prix victory, and the first Grand Prix victory for a U.S. men's fencer in over a decade.
"As a coach, I'm very pleased," Tulum said. "What else can I say?"
Despite finding the sport by chance, Dershwitz's rise in fencing was a part of Tulum's fencing formula. Tulum said every individual sport athlete — fencers included — must satisfy this "formula." He or she needs the financial, emotional, and moral support of their parents. They need to love the sport, and must have the determination and time to train.
"Then when a coach, who has experience, gets lucky to have a student that satisfies all these needs [of the formula], then you get a champion," Tulum said. "So basically, coaches do not make champions. Champions make champions. … I am a provider, but champions make champions."
Tulum did, however, keep Dershwitz interested in the unique sport for the last decade, during which Dershwitz has won gold medals at the Pan American Championships, the Pan American Games, and the Junior World Championships.
"[Zoran]'s really good at explaining the sport in a way that helps people fall in love with it, and the complexity of everything it has to offer," Dershwitz said. "Rather than think of the sport as just a job to get done, he really helps bring out the art and the beauty, which is a big reason of why I fell in love with it in the first place."
Dershwitz, the youngest athlete on the U.S. fencing team, loves the sport so much that he decided to take a year off from his studies at Harvard to train full-time for the Olympics. He traveled to Panama for the Pan Am Fencing Championships, where he won a gold medal in individual men's saber and helped the U.S. men's team win a gold medal.
His next tournament will be in Rio at the 2016 Olympics.
Here are some more of Dershwitz's thoughts about his development as a fencer.
Why did you pick saber, as opposed to other fencing events like foil or epee?
"I really like it because it's the definitely fastest pace. A lot of the other weapons require more patience. … The weapon I picked is almost always fast, and it requires a lot of speed and a lot of explosiveness, and I really enjoyed that aspect of the sport growing up."
Why Harvard?
"I really liked the team, the hardworking mentality. I really liked their history of winning and their mentality of winning. It was something I really wanted to be a part of."
Was it hard deciding to take a year off from college?
"It was a tough decision, because my freshman year I was able to train pretty hard — not as hard as I am now. I was able to compete at a collegiate level with my college teammates and have a social life. … I really enjoyed being on campus, always having friends around me, always having something to do.
"So it was definitely a tough decision to say I'm really going to sacrifice a little bit of my social life and other aspects of my life for a year in order to accomplish my end goal, which is to get into the Olympics. In the end, when I thought about what I really wanted, it was not a decision that had multiple possibilities. It was really: I could train full-time or I could go to school. It wasn't really possible for me to both, so I think I made the right decision."
What has it been like having Zoran Tulum as a coach?
"I've been working with him like my entire life. I've really worked with him almost every day for however many years. The club that I train at is really like a second home to me. He's been a great teacher and a great mentor, and has really put in so much time along with me. Without all the time and dedication he put in working with me, I definitely wouldn't have gotten as much out of the sport. From all the training we do at home to every corner of the globe that we've been to over the years, it's just been an amazing experience to be able to travel and compete in all these places."
How long do you intend to stick with the sport?
"The Tokyo Olympics in 2020 are just a year after I graduate, so at this point, I'm definitely planning on staying until Tokyo. I'll really just be 24 years old, which is still, in the overall scheme of things, young in terms of Olympian fencing. I don't know what I'll be doing in my life after that, but I'm definitely planning on staying for at least a second olympic games."