Olympics
Usain Bolt's mid-race smile is the newest Olympic meme
The world's fastest man makes it look so easy.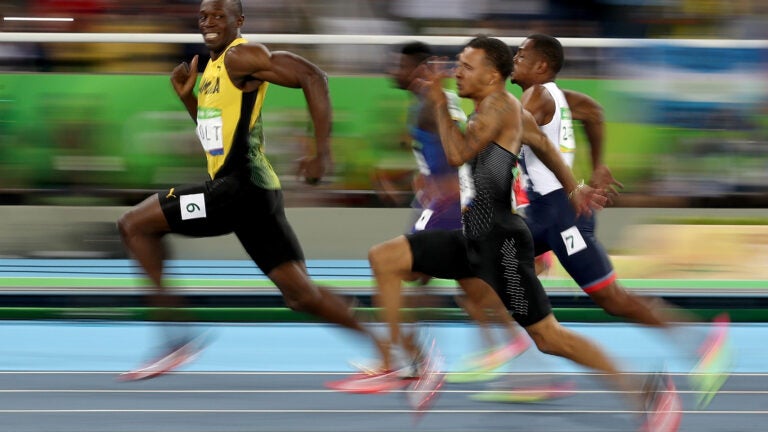 Usain Bolt won the men's 100 meters at the Olympics Sunday night, his third straight Olympic win in that event and seventh career gold medal. But it was a moment from Bolt's semifinal run in the 100 that captured the internet's attention, as the Jamaican sprinter once again added a bit of showmanship to his run.
In a perfect photo captured by Cameron Spencer of Getty Images, Bolt flashes a cheeky smile as he blazes to another win with ease.
Usain Bolt ⚡️ never even had a doubt — this stunning 100m semis photo by @cjspencois says it all #Rio2016 #JAM ? pic.twitter.com/rTTX8ZMzR2

— Getty Images Sport (@GettySport) August 15, 2016
Naturally, the internet took the photo and ran with it, turning Bolt into the greatest Olympics meme since Angry Michael Phelps.
— Luke Cripwalker (@sporker_) August 15, 2016
*Record scratch*

*Freeze frame*

Yup, that's me. You're probably wondering how I ended up in this situation. pic.twitter.com/TXU6T6iM3B

— ben/lil boat fanboy (@a7xweeman) August 15, 2016
Smiling like the Roadrunner. Beep… Beep. @usainbolt pic.twitter.com/I0fODmGSW0

— Marc J. Spears (@MarcJSpearsESPN) August 15, 2016
— Grant Goldberg (@grantgoldberg) August 15, 2016
@suss2hyphens @katienolan now we're cooking with fire pic.twitter.com/Xhu7LvzTpX

— The Ultimate Worrier (@dotbeepdoot) August 15, 2016
bae: "come over"
bolt: "can't, gotta run the 100"
bae: "my parents aren't home" pic.twitter.com/Q6N4CXHPO2

— RUSS BENGT$ON (@russbengtson) August 15, 2016
How does Usain Bolt stay so relaxed in that atmosphere? pic.twitter.com/qbBBp5RBbB

— Mike Tunison (@xmasape) August 15, 2016
Simply put, Usain Bolt is amazing.
https://twitter.com/jchaltiwanger/status/764986483476312064