Olympics
Aly Raisman calls out USA Gymnastics for its handling of sexual abuse scandal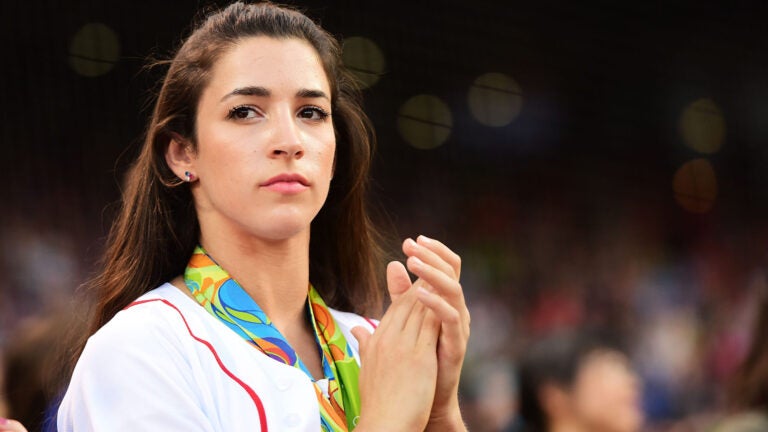 ANAHEIM, Calif. (AP) — Aly Raisman is ready to talk about "the elephant in the room." And the six-time Olympic medal winning gymnast thinks it's time USA Gymnastics joins in a conversation she feels is long overdue.
The 23-year-old is calling for sweeping change in the organization in the wake of dozens of allegations of sexual abuse former national team doctor Larry Nassar, a scandal that has left one of the U.S. Olympic movement's marquee programs scrambling and Raisman shaken.
Larry Nassar spent nearly 30 years as an osteopath with the USA Gymnastics program and is now in prison in Michigan after pleading guilty to possession of child pornography. Nassar is still awaiting trial on separate criminal sexual conduct charges in addition to being sued by over 125 women in civil court who claim he sexually assaulted them under the guise of treatment.
Nassar has pleaded not guilty to the assault charges and the dozens of civil suits filed in Michigan are currently in mediation .
Raisman, who was around Nassar regularly at the team's training facility in Texas and at meets around the globe, declined to talk about whether she was treated improperly by Nassar. She did agree to speak more generally and called Nassar "a monster" and blames USA Gymnastics for failing to stop him and spending too much of the fallout attempting to "sweep it under the rug."
"I feel like there's a lot of articles about it, but nobody has said, 'This is horrible, this is what we're doing to change,'" Raisman said in a wide-ranging interview Saturday shortly after she and other members of the "Final Five" that won team gold at the 2016 Olympics were inducted into the USA Gymnastics Hall of Fame.
Raisman served as a captain for both the "Final Five" and the "Fierce Five" that won gold in London in 2012. While several alleged Nassar victims have come forward, including 2000 Olympic bronze medalist Jamie Dantzscher, Raisman is the highest profile athlete yet to publicly reprimand the organization. Raisman said she kept quiet waiting after the initial allegations surfaced last summer, waiting for USA Gymnastics to own up to its mistakes.
While it is taking steps toward creating a safer environment for its athletes, she doesn't believe it is doing nearly enough openly enough, adding she feels USA Gymnastics is trying to get on with business as usual.
"What people don't realize is that this doctor was a doctor for 29 years," Raisman. "Whether or not he did it to a gymnast, they still knew him. Even if he didn't do it to you, it's still the trauma and the anxiety of wondering what could have happened. I think that needs to be addressed. These girls, they should be comfortable going to USA Gymnastics and saying 'I need help, I want therapy. I need this.'
USA Gymnastics launched an independent review of its policies in the wake of the allegations against Nassar and reporting by the Indianapolis Star that highlighted chronic mishandling of abuse allegations against coaches and staff at some of its over 3,500 clubs across the country.
In June the federation immediately adopted 70 recommendations proffered by Deborah Daniels, a former federal prosecutor who oversaw the review. The new guidelines require member gyms to go to authorities immediately, with Daniels suggesting USA Gymnastics consider withholding membership from clubs who decline to do so. The organization also named Toby Stark, a child welfare advocate, as its director of SafeSport. Part of Stark's mandate is educating members on rules, educational programs, reporting and adjudication services.
Daniels said repeatedly that her review wasn't designed to adjudicate the past, something that doesn't fly with Raisman. She pointed to the reported $1 million severance package given to former president Steven Penny after he resigned under pressure in March as proof that the organization just doesn't get it.
"I thought, 'Wow, why couldn't they create a program?'" Raisman said. "A million dollars is a lot of money. They could do a lot of things to create change. They could create a program. They could even contact all the families that have come forward and say 'Can we help your kid with therapy?'"
Lynn Raisman, Aly's mother, said USA gymnastics needs to "get rid of the people who knew and looked the other way."
Raisman has used her celebrity and extensive social media reach as a platform to promote positive body image and anti-bullying. She's currently working living in Needham, Massachusetts working on her autobiography out in November while weighing whether to take a shot at the 2020 Games. Either way, she wants USA Gymnastics to evolve and stressed there's a difference between her criticism of USA Gymnastics and the sport as a whole.
The sport is fine. It's part of the fabric of her life. It's the organization that needs to change. And she's clear on the message she wants it to send.
"Everyone is important," Raisman said. "It doesn't matter if you're the Olympic champion or you're an 8-year-old that goes to gymnastics in Ohio, or wherever you are in the U.S. Every single kid is important and I want USA Gymnastics to do a better job with that."