Olympics
A guide to the 2018 PyeongChang Winter Olympics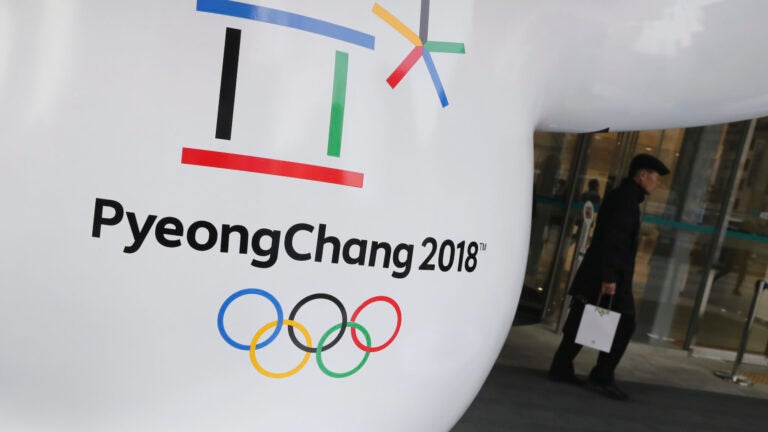 Sign up to receive our Winter Olympics newsletter.
The 2018 Winter Olympics begin just days after Super Bowl LII.
The Games in PyeongChang will mark the second time South Korea has played host to the Olympics. Seoul, which is about 80 miles west of PyeongChang, hosted the Summer Games in 1988.
Here is what you need to know, story lines to follow, athletes to watch, athletes with New England ties, and key events to mark on your calendar.
The basics
Opening ceremony: Feb. 9 (first day of competition is Feb. 8)
Closing ceremony: Feb. 25.
Time difference: South Korea is 14 hours ahead of the east coast.
Broadcast/live stream info: NBC will air more than 2,400 hours of Olympics coverage across its platforms, including the main network, its cable channels, and its online properties. For the first time, the Opening Ceremony will be live streamed.
The time difference makes it so that many of the marquee events will air live in prime time in the United States as they take place the following morning in South Korea. For example, an event scheduled to air live at 8 p.m. EST on a Tuesday will be unfolding at 10 a.m. on a Wednesday morning in South Korea.
Events: There will be 102 medal events over 15 sports, including Alpine skiing (11), biathlon (11), bobsled (3), cross country skiing (12), curling (3), figure skating (5), freestyle skiing (10), hockey (2), luge (4), nordic combined (3), speed skating (14), short-track speed skating (8), skeleton (2), ski jumping (4), and snowboarding (10). Four new events were added for these Olympics, including speed skating mass start, mixed doubles curling, big air snowboarding, and freestyle skiing. Here is the full schedule, which reflects Korean Standard Time.
The venues: The Gangneung Coastal Cluster, which is on the opposite coast from Seoul, includes venues for hockey, figure skating, speed skating, short track, curling. The PyeongChang Mountain Cluster is in the Taebaek Mountains and is the location of the rest of the venues. The Alpensia Resort will host the biathlon, cross country skiing, ski jumping, and the Nordic combined. The Yongpyong Alpine Centre will host the giant slalom, slalom, and team event. The Jeongseon Alpine Centre will host the downhill, super-G, and combined. The Alpensia Sliding Centre will host bobsled, skeleton, and luge. For snowboard, big air will be at the Alpensia Ski Jumping Centre while the remaining snowboarding events will unfold at the Bokwang Snow Park.
The medals: The design for the medals drew inspiration from the Korean alphabet (Hangeul), Korean traditional clothing (Hanbok), and Korean traditional houses (Hanok), according to the Games' official website. The medal straps use traditional Korean fabric and the alphabet is incorporated into the strap design.
Read more about the medals and their design here.
Key events (Dates and times Eastern)
■ Men's snowboard slopestyle final — Saturday, Feb. 10, 8 p.m.
■ Women's snowboard slopestyle final — Sunday, Feb. 11, 8 p.m.
■ Women's skiing giant slalom final — Sunday, Feb. 11, 8:15 p.m.
■ Women's snowboard halfpipe final — Monday, Feb. 12, 8 p.m.
■ Men's snowboard halfpipe final — Tuesday, Feb. 13, 8:30 p.m.
■ Women's skiing slalom final — Tuesday, Feb. 13, 8:15 p.m.
■ Men's figure skating final — Friday, Feb. 16, 8 p.m.
■ Women's skiing super-G final — Friday, Feb. 16, 9 p.m.
■ Women's skiing downhill final — Tuesday, Feb 21, 9 p.m.
■ Women's hockey gold medal game — Wednesday, Feb. 21, 11:10 p.m.
■ Women's figure skating final — Thursday, Feb. 22, 8 p.m.
■ Men's hockey gold medal game — Saturday, Feb. 24, 11:10 p.m.
Here is the full event schedule, which reflects Korean Standard Time.
Storylines to follow
■ Can the US women's hockey team beat Canada in the Olympics?
■ Will Mikaela Shiffrin overtake Lindsey Vonn in women's skiing?
■ Can Chloe Kim crush the snowboard halfpipe competition?
■ Will snowboarding legend Shaun White capture gold at his fifth Olympics after finishing fourth in Sochi?
■ Can Susan Dunklee break through to win the US's first biathlon medal?
■ Will the US men sweep the skiing slopestyle podium for the second straight games?
■ Can the US women find success in figure skating after many down years?
■ How will the hockey tournament fare without the NHL?
■ How will the Russian athletes allowed to compete perform? And what will happen if a Russian wins gold, as the IOC will not allow the Russian national anthem to be played on the podium?
■ How will the combined South Korean and North Korean Olympic team be received at the Opening Ceremony and how will it perform during the Games?
Who to follow
The Globe is sending a team of four to the Games. Follow us on Twitter: John Powers, Tara Sullivan, Matt Pepin, and me, Rachel G. Bowers.
Elsewhere, Pepin has created a Twitter list of key follows that includes official Team USA accounts, Olympic experts, and seasoned journalists who will cover this year's Games. Check it out here.
Listen up
Looking for podcasts to listen to in the leadup to the Games? Here are three worth checking out: The Podium (NBC Sports), Tara and Johnny (NBC Sports), and Around the Rings (Around the Rings Radio).
Americans to watch
Bobsled pilot Elana Meyers Taylor and her brakeman Lauren Gibbs. The US is chasing its first women's bobsled gold since winning the inaugural event in 2002 and Meyers Taylor boasts one of the most impressive résumés in bobsledding. This is her third Olympics, having won a bronze in 2010 as a brakeman and a silver in 2014 as a pilot. Keep an eye out for the other US women's bobsled team, too: Pilot Jamie Greubel Poser and brakeman Aja Evans are a strong duo who won bronze in Sochi.
Snowboarders Chloe Kim, Jamie Anderson, and Shaun White. Kim, a first-generation Korean American from Torrance, Calif., who has won five of her nine FIS World Cup starts, will make her highly anticipated Olympic debut in PyeongChang. The 17-year-old claimed three straight X Games gold medals in halfpipe before taking bronze in 2017. She captured her first X Games medal at 13 years old when she won silver. In 2016, at 15 years old, Kim became the first woman to land back-to-back 1080s. Anderson, who took home gold in slopestyle at the Sochi Games, is back to chase another medal. The 27-year-old finished atop the FIS World Cup slopestyle standings in 2016 and 2017 and has 10 X Games medals to her name, including four gold. The legendary White, owner of two Olympic gold medals in halfpipe, came up short at the Sochi Games, finishing fourth, but is back for his fifth and perhaps final Games at 31 years old.
Alpine skiers Lindsey Vonn, Mikaela Shiffrin, Bryce Bennett, and Ted Ligety. Vonn, the most decorated female Alpine ski racer in the history of the World Cup, will compete in her fourth Olympics and first since 2010 after missing 2014 due to injury. Vonn, 33 and winner of two Olympic medals, has finished first in the FIS World Cup standings for downhill eight of the last nine years and has won more races than any other female competitor. Shiffrin, 22, captured Olympic gold in the slalom in 2014, making her the youngest athlete to finish first in the event. She won gold in the slalom at the world championships in three of the last five years, won silver in the giant slalom last year, and finished first the FIS World Cup slalom standings four of the last five years. Shiffrin was also the World Cup overall champion last season.
Bennett, 25, won the US title for downhill in 2013 and finished 11th in the combined at the world championships last year. A ninth-place World Cup finish by Bennett in January clinched an Olympic spot for the combined event. For Ligety, 33, PyeongChang are his fourth Olympic Games. He won gold in Sochi in the giant slalom and gold in the combined in 2006.
Freestyle skiers David Wise and Maddie Bowman. Wise, 27, is back to defend his halfpipe gold he won in Sochi. He has finished first in both of his World Cup starts this season. Bowman, 24, will be defending her halfpipe Olympic gold at this year's Games. She is a three-time AFP halfpipe champ and won four straight X Games golds from 2013-16.
Biathletes Susan Dunklee and Lowell Bailey. Dunklee, a beekeeper in her spare time who lives in Barton, Vt., earned a silver medal at the world championships a year ago, qualifying for these Games. An excellent skier who works to improve her shooting accuracy, Dunklee represents one of the best chances the Americans have in the biathlon, a sport dominated by Europeans.
Competing at his fourth Olympics, Bailey has a solid shot at improving upon his eighth-place individual finish at the 2014 Games as he won the 20K world championship last year while notching career-best finishes in the sprint (fourth), and pursuit and mass start (sixth).
Cross country skier Jessie Diggins. A two-time Olympian, this 26-year-old from Afton, Minn., won silver in the sprint freestyle and bronze in the team sprint freestyle at last year's world championships. She also finished fifth the 30 kilometer freestyle.
Figure skaters Bradie Tennell, Mirai Nagasu, Karen Chen, and Nathan Chen. Tennell, who turns 20 at the end of January, came out nowhere to capture gold at the US Figure Skating Championships, posting a personal-best 213.84. The Carpentersville, Ill., native finished third at Skate America last year. Nagasu nailed six triple jumps in her second-place routine at the championships in January. This will be the second Olympics for the Arcadia, Calif., native, who finished fourth in Vancouver in 2010. Karen Chen, 18, was the US champion in 2017 and took fourth at the world championships last year. The Fremont, Calif., native finished third at this year's US Championships and will make her Olympic debut in PyeongChang.
Nathan Chen, 18, was the US champion and Four Continents champion in 2017. The Salt Lake City native landed five quadruples at the US championships last year, the first man ever to do so. Two years ago, he earned silver at the Grand Prix Final, becoming the youngest American man to medal at the event.
Ice dancers Alex and Maia Shibutani. This brother-sister duo finished ninth in Sochi and is back for a second Olympics. Maia, 23, and Alex, 26, together won bronze at last year's world championships and at the Grand Prix Final. They have medaled at every US championships for the last 13 years.
Short-track speed skater Maame Biney. Winner of the 500 meters at the US Olympic Trials, Biney became the first black woman to make the US Olympic short-track speed skating team. The soon-to-be 18-year-old — her birthday is Jan. 28 — was born in Accra, Ghana, and began speed skating at 6 years old when her family moved to Reston, Va. She moved to Salt Lake City last summer to train with the national team.
Long-track speed skaters Erin Jackson and Shani Davis. Jackson, who has been an inline skater for 15 years, picked up speed skating last year. With just four months of practice on the ice under her belt, Jackson, a 25-year-old from Ocala, Fla., qualified for the Olympics in January, placing third in the 500 meters at the US speedskating trials. She became the first black woman to qualify for the US Olympic long-track team. Davis, 35, is a four-time Olympic medalist heading to his fifth Games. The Chicago native is chasing his first Olympic medal since winning gold in the 1,000 meters and silver in the 1,500 meters at both the Vancouver Games in 2010 and the Torino Games in 2006.
Luger Erin Hamlin. Hamlin, the bronze winner in 2014, is headed to her fourth Games. The 31-year-old Remsen, N.Y., native won silver in singles and the team relay at last year's World Championships.