Olympics
Troy Murphy fails to advance in men's moguls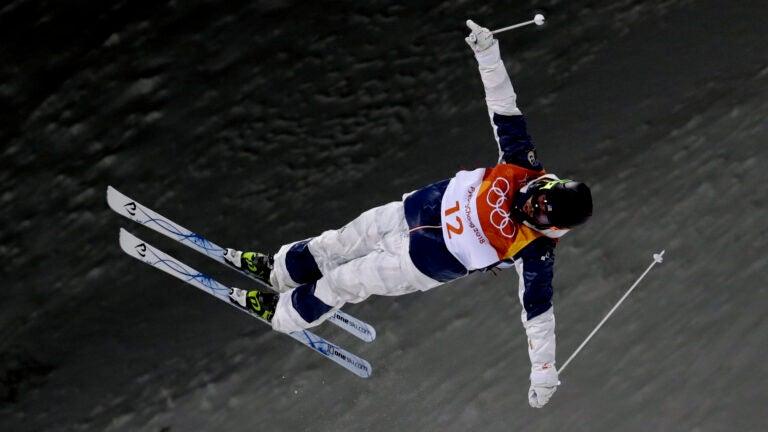 PYEONGCHANG, South Korea — The look on Troy Murphy's face said it all.
As the Bethel, Maine, native awaited his scores in the moguls finish area at Phoenix Snow Park, his eyes conveyed that he knew the end of his 2018 Olympics run was imminent, that his fate wouldn't turn out as he hoped in the first men's final.
Murphy had put down his best run of the season in the first qualifier three days earlier, scoring a 80.95, which earned him an automatic position in the first final. But on a frigid night that saw the temperature drop to the low teens, Murphy could only offer a quick smile, almost a grimace, and a half-wave as the camera trained on his face. Murphy, who calls Sunday River his home mountain, needed better than a 77 to qualify for the second final. But his score flashed up on the screen: 72.72. He finished in 25.36 seconds, tallying 14.56 points for time, 13.16 for air, and 45.00 for turns.
"A couple of little mistakes in there,'' Murphy said. "That's enough to keep you out of it.''
Known for his jumping ability, Murphy had expressed excitement last week to ski this course, saying it was optimal for jumping. But on Monday night, he wasn't able to cleanly land a trick that usually comes easy to him, and he finished 17th. The top 12 finishers out of 20 moved onto the second final, and then the top six moved onto the third final, where medals were determined.
"Bottom jump landing was just not where it needed to be,'' said Murphy, who started 17th in the first final. "That's usually an easy trick for me, but just underrotated a little bit, so I had to pull it in and, yeah, not the jump.''
After his score came in, he left the finish area and navigated a maze of metal barricades to where Team USA coaches were waiting. His face was blank as he and a staffer shared a long embrace. They exchanged a few words before Murphy got another hug and a sympathetic but encouraging head pat on his helmet.
"Just that they were proud of me,'' Murphy said of what his coaches told him, "and that we've worked hard to get here and just still proud of it. I think we did a lot of good work to get to this point. It's a bummer it didn't happen for me tonight.''
Murphy, who entered these Olympics ranked 12th in the world, has done some of his best skiing this season, but he was hoping his fourth-place finish in qualifiers would spell more good fortunate come finals time.
"I'm not satisfied with it tonight at all. I was looking for a lot more,'' he said. "But I'm proud of how I skied in qualifying and overall I think I'm skiing the best I ever have, so tonight it just wasn't my night and that wasn't the run, but I'm still proud of the year and where I'm at and what I've accomplished.''
Murphy left his coaches and was escorted through the interview area, graciously answering questions about his teammate, Casey Andringa, who performed well enough to advance to the third round, as he weighed the feeling of his own disappointment.
Ultimately, Mikael Kingsbury of Canada won gold with an 86.63, Matt Graham of Australia took silver (82.57), and Daichi Hara of Japan earned bronze (82.19). Andringa finished fifth with a 75.50 and fellow countryman Bradley Wilson, like Murphy, failed to get out of the first final, scoring a 62.74.
As the first final quickly turned into the second, Murphy left the interview area to gather his things from the team zone at the bottom of the hill, propping them up against a metal barricade near the spectator entrance. He saw another Team USA staffer, and they hugged.
"We had a great run, man,'' Murphy said before later disappearing into the spectator section.