Olympics
Canada's Olympic curlers brought their own beer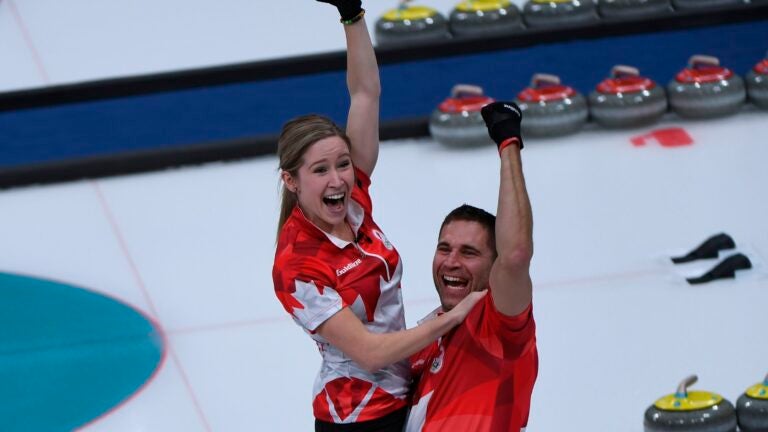 Curling isn't the most glamorous sport in the Winter Olympics. It's not the most breathtaking or the most high-profile.
But it has a few things going for it. Brooms, for one. There are no other sports in the Winter Olympics that involve as many brooms. It's also the only sport where the contestants are mic'd up for the entire match, which is great if you like hearing one person make strange grunting noises at another while they guide a big rock across ice.
? HARRRRRRRD
The sounds of #curling are like none other. ? pic.twitter.com/UUsRFrLjdE

— NBC Olympics (@NBCOlympics) February 13, 2018
It's the only sport that mimics both a lawn game and a reality TV show where pairs of contestants alternately bicker and egg each other on while competing. And guess what lawn games and reality TV both go pretty well with? Alcohol. If you need an argument for curling, let it be this: It's the only Olympic sport designed to be played while drinking a beer.
OK, maybe the athletes competing in PyeongChang aren't sipping a cold one during their actual competitions. But before and after? You bet. You parachute drop me into South Korea any time in the next two weeks, and the first thing I'm doing is looking for the curlers. Curlers know how to party.
On Friday, Canadian mixed doubles curler Johnny Morris posted a photo of himself and American curler Matt Hamilton (the mustached Wisconsonite) enjoying a couple of brewskis together. This was before Morris and partner Kaitlyn Lawes beat Switzerland for the gold medal on Tuesday.
No one can justly blame Morris for having a drink with a friend when he's still in competition mode, because it's actually a curling tradition that goes by the name of "broomstacking.'' It basically refers to competitors gathering for a beer or two after a match. The origin of the term is a little different, which Hamilton explained to reporters earlier during the Games.
"Broomstacking is something they did back in the day. About halfway through the game all the old guys would put there brooms in the middle of the ice and go inside to go take a shot of Scotch,'' he said.
CNBC, which is where most of the curling has been shown during these Olympics, should try that during its regular programming.
Morris, who was described as a reformed "bad boy of curling'' (seriously) on the broadcast, ultimately made the argument for his sport most succinctly just after winning gold.
"It's fast-paced, athletic, a lot of fun, and the beer still tastes just as good after the game,'' Morris said.