Olympics
Czech House sets the gold standard among Olympics houses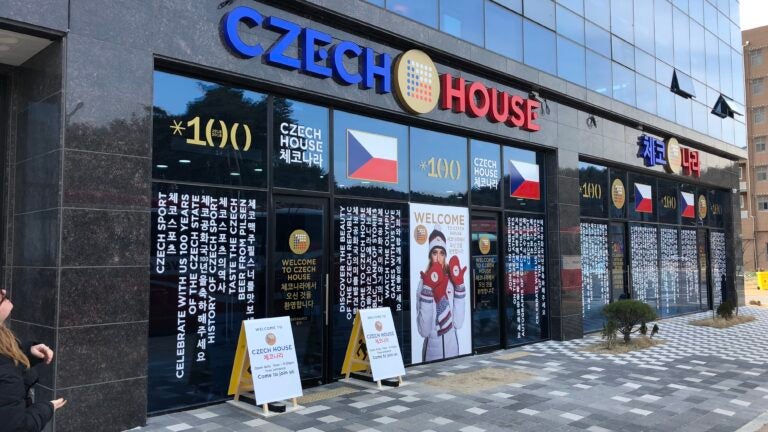 PYEONGCHANG, South Korea – A tradition at the Olympics for many nations is to open a "house'' as a way of showcasing that nation's participation in the Games.
They generally fall into two categories.
On one side you have houses that focus on the nation's culture, heritage, and traditions.
On the other side, you have houses that scream we like to party and here's how we do it.
We spent a day touring some of the houses at the PyeongChang Games. It was impossible to visit them all, but we managed to stop by eight in one day. Here's how we'd rate them.
Gold medal: Czech House
Located in the city of Gangneung near the venues for the ice events, Czech House has a bit of everything. It showcased Czech sports history with a giant wall display, but also highlighted many of the other things that make it a special place.
Foremost is its signature beer, Pilsner Urquell. Not only can you sample it at the bar that is the centerpiece of Czech House, you can take an exceptionally well-done virtual reality tour of the brewery at which it is made.
At the end of the tour, you meet Jan the bartender, and if you're at Czech House at the right time, when you're done with the virtual tour you may just meet him in real life standing behind the bar. A glass of Pilsner Urquell went great with the authentic food options such as sausage with coleslaw and beef goulash.
Czech House also has a space devoted to providing tourism information, incredibly creative glass sculptures that celebrate the artistry of winter sports, and had a festive vibe throughout. It was packed, with good reason.
Silver medal: House of Switzerland
The Swiss took up a huge space at the base of Yongpyong Resort, where the slalom and giant slalom ski races were being held, and had the feel of a giant outdoor apres-ski party.
The only thing that might have made it better would have been if the base area was where the races actually ended, but in fact the races are held on a separate side of the resort that is a 2.5 kilometer ride away.
Built on a large wooden deck, there were a couple fire cauldrons, and a giant screen showing Olympics competition that you could watch from Adirondack-style deck chairs under a cozy blanket. There was a mini-ice rink for children to skate on and play hockey, and there were smaller structures that touted different aspects of tourism to Switzerland and sold beer, brats, and other Swiss delights.
Live entertainment included Alphorn and accordion musicians, and when there was no live entertainment, a DJ had people dancing in their ski and snowboard boots.
Bronze medal: Team Korea House
This was about culture all the way, a chance for a humble but proud nation to take a well-deserved moment to thump its chest. An extensive tourism exhibit was the centerpiece, but Team Korea House also showcased its role as host of the Olympics with a display of the torch used on the torch relay and the medals awarded to the athletes.
A K-pop dance booth interactive was flanked by a Hanbok dressing room where you could try on traditional Korean attire in both real life or via augmented reality.
The theme of these games was "Passion. Connected.'' Team Korea House delivered on both concepts.
Participation Trophies
Japan: The message here is clear: "Hey, we've got the Olympics next, and we're a super-high tech place.'' Several fun interactives keep children entertained (except while they waited in long lines) and other displays tout all that Japan has to offer if you were inclined to say, visit Tokyo in 2020 to watch some sports.
Sweden: There's a laser-biathlon shooting range, a podium upon which you can pose for photos, and other games, plus a food truck and a small gift shop. We were told that the private section of the house would be open to all on the night, or day-after, a Swedish athlete wins gold.
Austria: It looks so impressive from the outside, with a mini-ski jump (into a giant air bag), a snow volleyball court, and a gondola. In reality, it's a bar where you can have a beer and watch ski racing and listen to music, or find out all about Austria's bid to host the 2023 World Alpine Championships at Saalbach. The ski jump and volleyball were closed, and the rest of the house is not open to the public.
Slovenia: It was closed to the public for a private party when we arrived, but we've heard good things about it. We'll take their word for it.
United States: The most disappointing of all. We were told it is not open to the public, although we could bridge that gap for $300. That's fine, almost all of the houses have a private space reserved for whomever they choose. The problem with USA House is there is nothing for the general public out front, where it might have done well to at least build a snowman and drape a USA scarf around it.