Olympics
Anna Gasser outduels Jamie Anderson for gold in women's Big Air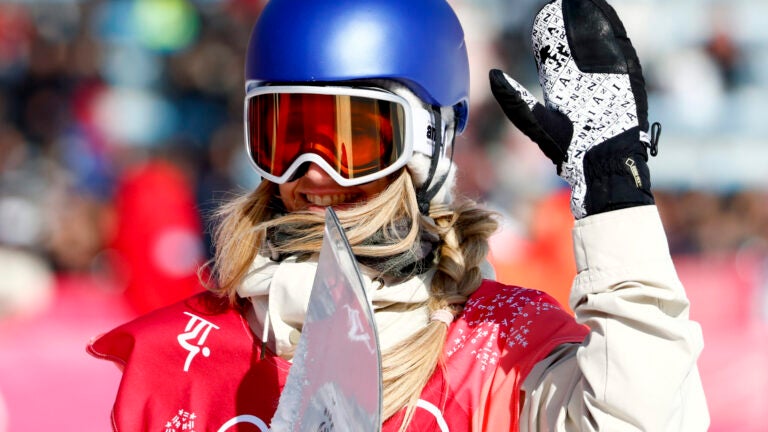 PYEONGCHANG, South Korea (AP) — Anna Gasser grew up wanting to be a gymnast, making it all the way to the Austrian national team before life took her in another direction. She didn't even start snowboarding until she was 18, drawn not by the lure of the Olympics but of simply challenging herself to push higher, go farther and become more than just some gymnast who gave snowboarding a shot.
Over the last eight years, Gasser has become far more than that.
And she's got the gold medal to prove it.
Gasser stomped a "cab double 10" — basically, two flips and three full rotations — in her final jump to slip past American star Jamie Anderson to claim the Olympic debut of women's Big Air. Gasser's score of 96 was the highest of the day and boosted her two-jump total to 185.00, providing a measure of redemption after a disappointing 15th-place finish during the wind-marred slopestyle final last week.
"After slopestyle I think everyone needed this today," Gasser said. "Everyone needed to show their best tricks and today was one of the highest levels in girls' snowboarding I've ever seen."
One that pushed Gasser to the limit.
Anderson threw down a 1080 and a cab 900 to lead through two jumps but overshot the landing a bit while trying to nail a cab 10 on her third. That left an opening that Gasser, who earned the right to go last after topping qualifying on Tuesday, sprinted through.
Not that it bothered Anderson, whose silver made her the third snowboarder with three Olympic medals, joining Americans Shaun White and Kelly Clark.
"I was hoping she was going to land it for her because she's been charging and charging and just doing so well over the last few years," said Anderson, who will leave South Korea with two medals after claiming gold in slopestyle. "It's so nice to see her put it down when it counts."
Standing atop the course getting ready to drop in, Gasser didn't feel any pressure. Already assured of at least silver, she followed one of her sport's unwritten rules: never settle.
"My mind was 'I can only win here if I land, I can change the color of this medal,'" Gasser said. "I decided to do a trick I wasn't 100 percent sure it would work but a trick I really wanted to show and that's what mattered to me the most."
In snowboarding, it's the spectacle and not the medals that truly matter. Which is why Gasser was particularly annoyed following the slopestyle competition. She openly wondered why officials allowed the event to go on even though high winds had forced the cancellation of other outdoor competitions scheduled elsewhere in Pyeongchang. Anderson survived the blustery conditions to claim gold on a day when only nine of the 50 runs were completed cleanly.
Officials scrambled to make sure it wouldn't happen again in Big Air. They moved the finals from Friday to Thursday amid concerns over another possible windstorm, and Anderson and Gasser responded by putting on a compelling duel at sun-splashed and mostly calm Alpensia Ski Jump Centre.
Big Air requires riders to sprint down a 50-meter ramp before vaulting high into the sky, flipping and twisting their way to the landing ramp, traveling as much as 100 feet while flying end-over-end. All riders get three attempts, with the two highest scores counting toward their total.
Anderson spent the morning sipping tea and dancing to calm her nerves. She certainly looked relaxed, sending a message with her first jump, a near-flawless frontside 1080. The judges rewarded her with a 90. She backed it up with an 87.25. It ultimately wasn't good enough for gold. It hardly mattered to Anderson.
"All the girls are so gangster," Anderson said. "Literally any girl in that final could have won a medal today, it was just a matter of mind power."
Zoi Sadowski-Synnott's total of 157.50 gave New Zealand its first Winter Olympic medal of any variety since Annelise Coberger earned silver in slalom at the Albertville Games in 1992. It was also the start of a big day for her homeland. Shortly after Sadowski-Synnott joined Gasser and Anderson on the podium, New Zealand freestyle skier Nico Porteous grabbed bronze in the halfpipe. Sadowski-Synnott believes it's a sign of things to come.
Who knows? Maybe in four years it will be the 16-year-old Sadowski-Synnott atop the medal stand in Beijing. It wasn't to be on Thursday, when Gasser left no doubt.
"It was insane," Sadowski-Synnott said. "Like she is on another level … she's boss."