Olympics
What the Canadian women's hockey team had to say after its shootout loss to the US
"When it comes down to a shootout, it could be anybody's game."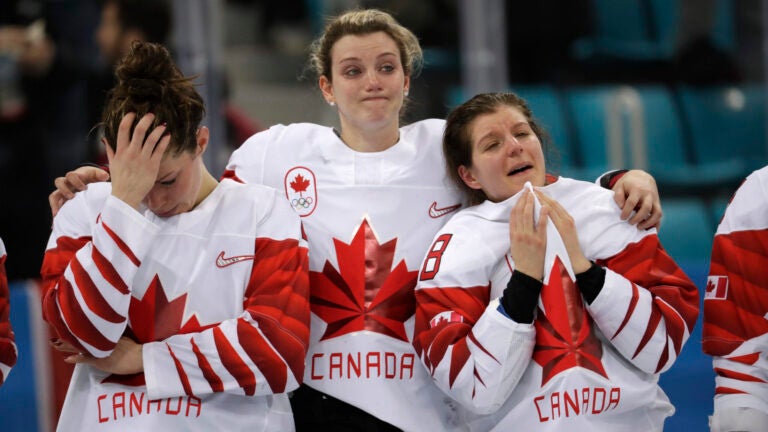 GANGNEUNG, South Korea (AP) — The silver medal was so disappointing for Canadian defenseman Jocelyne Larocque that she took it off just moments after it was draped around her neck.
The way it got there was also fairly unsatisfying to Larocque and her teammates.
Canada lost 3-2 to the United States in the women's hockey gold medal game in a tiebreaker shootout on Thursday when the teams couldn't settle their quadrennial grudge match in 60 minutes of regulation and another 20 minutes of sudden-death overtime.
"It's unfortunate that it had to come down to a shootout," said forward Meghan Agosta, who scored once in the shootout but was stopped by U.S. goalie Maddie Rooney on the final attempt.
"When it comes down to a shootout, it could be anybody's game. It becomes more individual," said Agosta, who was trying to win a fourth straight gold medal. "I think we left it all on the ice. It's just unfortunate that we had to lose in a shootout."
The NHL uses shootouts to settle regular-season games after a five-minute overtime, but the playoffs continue with successive, 20-minute overtime periods until someone scores. The Olympics use the shootout after a single overtime — 10 minutes in the earlier rounds, and 20 minutes for the gold medal game.
That's how the American men were eliminated by the Czech Republic in the quarterfinals on Wednesday.
"It's obviously easier for me to say now," U.S. women's coach Robb Stauber said, breaking into a smile. "But yesterday, the men's team lost in a shootout, and two of our coaches said 'God, that's a terrible way to lose.'
"And my first response was: unless you're on the other end."
In women's hockey, Canada and the United States have been so dominant that the preliminary action is considered all just a tuneup for their seemingly inevitable matchup in the gold medal game. The North Americans have claimed all six Olympic gold medals since the sport was added to Winter Games in 1998; they have met in the finals five times.
So while a silver medal might be a nice consolation for a skier or skater, in this tournament all it means is that you lost the only game that matters.
"This medal really hurts," said forward Melodie Daoust, who has a gold medal from Sochi and added an acrobatic goal to give Canada a brief, 2-1 lead in the shootout. "It's painful."
A four-time Olympian who had never lost a game before Thursday, Agosta was a lucky bounce away from tying the record of four gold medals set by three of her teammates in Sochi. She has 17 goals in the Winter Games — one short of the record — and she also scored on the second Canadian attempt in the shootout to knot the tiebreaker 1-1.
Canada coach Laura Schuler went back to her when the game remained tied after the original five shootout rounds.
Agosta swooped to her left and then circled back right as she skated toward the goal. She shot the puck into Rooney's pad, and it skittered toward the crease, inching toward the goal line.
With a final, gold medal-clinching flick of her glove, the goalie swiped the puck away.
After 60 minutes of regulation, another 20 in overtime and six rounds in the shootout, that's all that mattered. Canada's streak of four straight Olympic titles — and 24 wins in a row — was over.
"That is how it works," Canada forward Blayre Turnbull said. "But, in my honest opinion, a game like that should never be decided by a shootout."
Schuler was a member of the team that lost to the Americans in the 1998 Olympic final, when women's hockey made its debut. And she said she knows what it's like to feel you've let an entire country down.
"It's incredibly difficult, especially when you spend a lifetime really preparing for this moment," she said. "But the game was such a hard-fought game, and you never want to see it go to a shootout and be determined that way, but it did."
She told her team in the dressing room that she was proud of their effort and commitment, and she hoped that one day they would be able to look at their silver medals with pride.
And how long did it take her to get over her disappointment in finishing second in Nagano?
"I don't think it ever goes away," she said.