Olympics
When skating fans toss bears and bouquets, the 'flower kids' clean up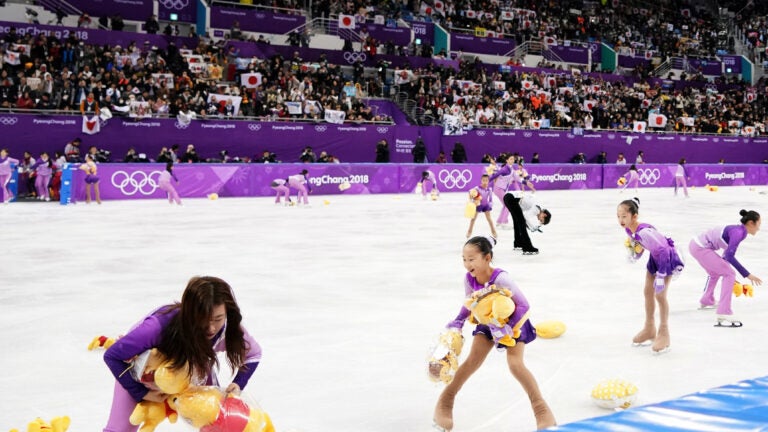 GANGNEUNG, South Korea — A group of young skaters have wowed the crowds here with their speed and agility on the ice at the Olympic figure skating venue. But they aren't competing.
The skaters stealing the show are known as the flower kids, a team of 17 purple-clad South Korean children in charge of collecting the hundreds of toys, bouquets and other items that the crowds toss from the stands to their favorite Olympic figure skaters on the ice.
The mostly female crew (there is only one boy) was recruited from competitive ice skating programs around South Korea. The flower kids, also called sweepers, stand out not only for their matching lavender outfits — color coordinated with the rink's purple Zambonis — but also for their quickness and skill navigating the ice. During competitions, the sweepers sit in a group at the edge of the rink, clapping to the music and cheering the athletes. As soon as a figure skater finishes a routine, the sweepers zip onto the ice, scoop up any items tossed by fans and quickly race back to the edge, where the items are bagged for the skater.
The job can be tricky. On Wednesday during the women's short program, a flower girl racing off the ice had to dodge American skater Mirai Nagasu, who was warming up but had stopped suddenly to check her skate boot. The men's competition was particularly challenging this year, as fans of Japanese gold medalist Yuzuru Hanyu threw hundreds of Winnie the Pooh plush toys to the ice. With less than three minutes between skaters to collect the torrent of toys, the sweepers could barely keep up, grabbing bears and stuffing them into several large plastic bags as more toys rained down on them.
One flower girl, Chaeju Yeon, 11, was hit by a flying Pooh toy hurled from the stands. "I just laughed," she said through an interpreter. "It's fun to pick up the presents."
Surin Lee, 12, said she once slipped and fell after hitting a patch of uneven ice while collecting toys. Such mishaps are worth it to see her favorite athletes, like American skater Nathan Chen, up close, she said.
Scott Hamilton, an Olympic gold medalist and NBC figure skating analyst, said that while skating fans find the flower kids adorable, they also serve an important role in making sure the athletes get to skate on clear ice. Hamilton remembers skating at the 1980 World Championships after fans of Robin Cousins tossed roses and bouquets to the ice. "It wasn't a skating rink — it was a minefield," he said.
Hamilton said that it is better now that fans mostly throw plush toys, which are easier to collect than flowers and do not leave behind petals, leaves or other debris.
"It's a joy to see these kids," Hamilton said. "I love them. They all have dreams of being great competitive skaters. It's an honor for them to be able to grace the same ice as their heroes."