Olympics
Snowboarder stuns skiers to win gold in the super-G
Ester Ledecka is the first woman to compete in snowboarding and skiing in the same Olympics.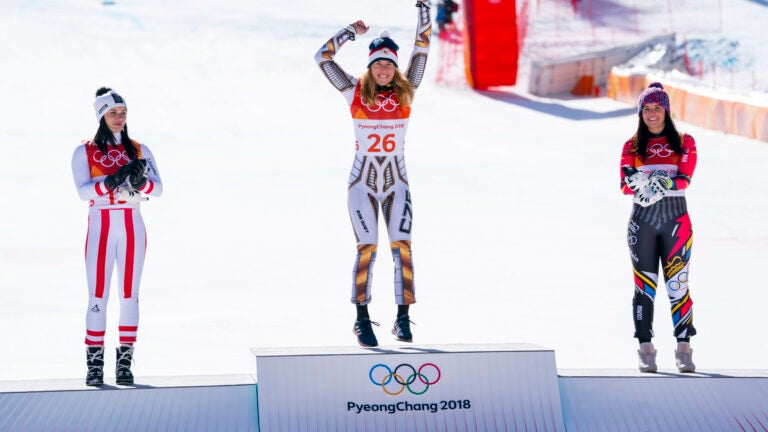 PYEONGCHANG, South Korea — Ester Ledecka was beaten before she made it to the start house Saturday for her best event, the women's snowboarding parallel giant slalom. After her surprise Alpine victory in the super-G, Ledecka had her sights set on becoming the first woman to win a medal in two sports in a single Winter Olympics.
But in the week between her gold medal run on skis and her qualifying race on a snowboard, Ledecka got nudged out by Jorien ter Mors of the Netherlands, who earned gold in the 1,000 meters in long-track speedskating and added a bronze in the 3,000-meter relay in short-track. The last man to earn medals in two sports at the same Winter Games was Heikki Hasu of Finland, in cross-country skiing and Nordic combined, in 1952.
Ter Mors and Ledecka, a native of the Czech Republic who is the first woman to compete in snowboarding and skiing in the same Olympics, have upended the belief, propagated in modern-day youth sports in the United States and elsewhere, that early specialization is the one clear path to the Olympic podium.
Ter Mors, 28, who also competed in the two sports at the 2014 Sochi Olympics, took up long-track skating as a cross-training exercise to improve her conditioning for short-track. Ledecka, 22, began skiing at age 2, tried snowboarding three years later, and loves both so much she never considered becoming a sports monogamist.
When coaches counseled her to choose one or the other, she held her ground. Her road to Pyeongchang contained no forks, just parallel tracks. With their distinct DNAs, skiing and snowboarding are snow sports' fraternal twins. The two shall never be confused, as Lindsey Vonn, the three-time Olympic medalist in Alpine skiing, can readily attest. "I tried snowboarding once, and it did not go well," she said.
Vonn, 33, is heartened by the example that Ledecka is setting. She said she became a serious skier at age 13 by default. Vonn would like to be a multisport athlete, but her forays into tennis, figure skating, soccer and gymnastics were short-lived. "I've never really been good at anything but racing," she said.
A bronze medalist in the super-G at the 2010 Olympics, Vonn finished tied for sixth in the event last week. She was 0.38 seconds behind Ledecka, who came into the event ranked 43rd in the World Cup standings. Ledecka, racing in the 26th position, edged the defending Olympic champion, Austria's Anna Veith, by 0.01 seconds, or roughly the length of a finger.
After posting the fastest clocking in the downhill portion of the combined event five days later, Vonn joked that her time had a chance to hold up since there were no snowboarders in the field.
"The millennials are raw and inclusive, and trying other sports is important to them, as it should be," Vonn said. "I think maybe Ester can give them hope that competing and being successful in more than one sport is possible. I think she definitely will have a long-lasting impact."
Mikaela Shiffrin, a three-time Olympic medalist who races in each of the five Alpine disciplines, called Ledecka "an incredible example" for young athletes.
"She didn't just specify Alpine skiing in her sports repertoire when she was 8 years old because she wanted to be an Olympic champion," Shiffrin said. "She was doing a lot of things. She can find the similarities between her sports and actually help build and improve with one sport off of the other."
Evidence abounds that delaying sports specialization until an athlete's teenage years minimizes the risk of overuse injuries and emotional burnout. Felix McGrath, a 1988 U.S. Olympian in Alpine skiing, was a four-sport athlete in high school. "I can't imagine doing what she has done, but would have liked to have given it a try," said McGrath, who attended Middlebury College and coaches skiing in Norway, his wife's home country.
"I love the fact that Ester is a multisport athlete," McGrath said in an email. "I have many problems with what is going on with youth sports in general. In Norway and the USA, specializing in one sport at a very young age — before 13 — has become common."
McGrath played soccer, tennis and golf during skiing's offseason to maintain his connection to nature and to his fitness. Shiffrin sees other, less obvious benefits to Ledecka's dual existence. She spoke of the jaw-dropping lines that Ledecka carves on Alpine courses — a knack that Ledecka's snowboarding coach, Justin Reiter, attributes to her experience maneuvering on a snowboard, which, because it has no steadying or stabilizing poles, requires seeing a mountain in a more imaginative way.
Shiffrin, 22, recalled a downhill training run in Lake Louise, Alberta, in November. Ledecka recorded the fastest time, she said, and "everybody stopped and jaws dropped, like that run isn't supposed to be skied that way."
"It made everybody think about how much better we could all ski the course," Shiffrin added.
Reiter, a retired snowboarding Olympian, said the 5-foot-7 Ledecka had a great feel for the snow under her feet. She also has a pretty good pedigree: Her maternal grandfather was an Olympic medalist in ice hockey in 1964 and 1968.
But what really sets Ledecka apart, Reiter said, is her capacity for work. "Ester loves the process, loves the feel of working until she's beat," he said. "She's pursuing a feeling. It's not just about winning medals, not just about the good accomplishment."
The evolution of sports is driven by athletes who are really artists, and whose unique vision opens everyone else's eyes to what is possible. Shiffrin, who skipped the super-G to focus on her other events, watched Ledecka's run and knew she was seeing something special.
"I was screaming and crying when she came down and won that gold," she said. Shiffrin added with a laugh, "I thought this sport was hard, but apparently not."