Olympics
Add parkour to the Olympics? Purists say 'nah'
"The community at large, even if they do participate in competition, that's not their focus."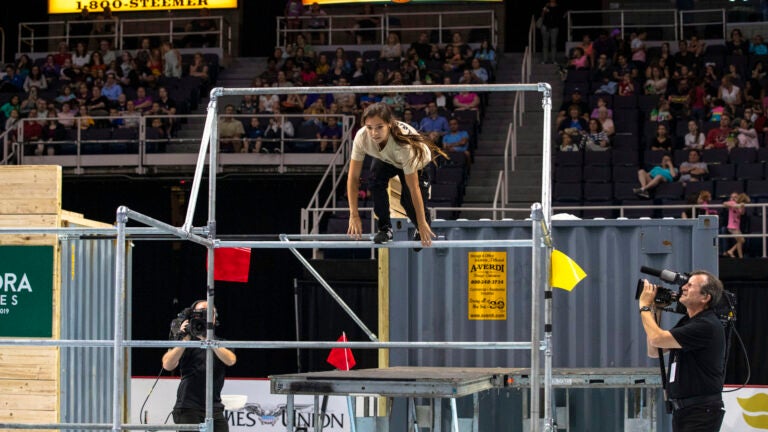 Parkour, the video-friendly sport in which daredevils race over rooftops, flip over ledges and climb walls without assistance or equipment, has always felt a little different. Its freewheeling ethos makes it stand out from other sports, and that perception is encouraged by its fans, athletes and organizers.
But as the sport's popularity has increased since its emergence in the late 1980s, it has become more organized. And with the lure of a major leap in legitimacy on the horizon, the sport has been drawn into an intramural feud over who governs the acts of spinning, twirling athletes spectacularly catapulting themselves through an urban landscape.
The feud has reached the point that one side — parkour's international federation — said Tuesday that it did not want what is considered the holy grail of recognition for just about every other lesser-known sport: inclusion in the Olympics.
Parkour began to catch mainstream popularity in the 1990s and 2000s, as the video-readiness of the eye-catching sport helped it become a television and YouTube staple, and later, a social media sensation.
Early parkour practitioners emphasized philosophies like freedom and expressiveness almost as much as the physicality of the sport, which derives from military training and combines elements of gymnastics, martial arts and climbing. Competitiveness and rivalry were shunned as being against the nature of parkour.
Despite that, a parkour federation was founded in 2007 not just to expand the sport but also to add competitive events. In 2017, the international gymnastics federation, FIG, seeing a way to tap into a younger audience, began holding parkour events as well, saying the sport was a natural extension of its own.
That put the two federations at loggerheads as both organized competing events.
"They are a gymnastics federation, not a parkour federation," said Damien Puddle, the chief executive of Parkour Earth, the sport's federation. "Parkour is a distinct activity. The whole thing is seemingly a farce."
The gymnastics federation did not respond to a request for comment Tuesday.
There are the two main events of competitive parkour, which would be candidates for the Games someday. In speed run, athletes race over a course without pausing for tricks or specialty moves, with only their time counting toward their victory. In freestyle, the athletes are judged subjectively on difficulty and execution.
The International Olympic Committee is meeting Monday to finalize the program for the 2024 Olympics in Paris. No new sports are expected to be added, beyond a few that were already chosen, like break dancing. But individual federations already in the Games may seek to add events to their lineups. That gives the gymnastics federation a chance to ask to include parkour events, leaving out the parkour federation.
"Parkour has been recognized as a sovereign, distinct and independent sport in its own right, and as such cannot be considered a discipline of, or subsidiary to, gymnastics or any other sport," the parkour federation, Parkour Earth, said in a letter to the IOC on Tuesday. "FIG's encroachment and misappropriation of our sport continues."
The federation's letter to the Olympic committee is rife with phrases like "due diligence," "formally petition" and "recognized international norms," the legalese seeming to stand in contrast to the anything-goes spirit of men and women jumping from roof to roof.
Their dispute was reminiscent of a conflict over stand-up paddleboarding in 2017. Each of the canoeing and surfing federations said they were the rightful steward of the sport going forward. Eventually, surfing won.
The Tokyo Games, now scheduled for 2021, are planning to add five sports, although they have been approved for that Games only: baseball and softball (which the IOC counts together), karate, sport climbing, surfing and skateboarding.
The IOC is expected to approve sport climbing, surfing, skateboarding, plus break dancing for Paris 2024.
Regardless of which federation wins the battle, there are parkour enthusiasts out there who have always failed to see the appeal of the Olympics and believe the ultracompetitiveness of the Games conflicts with the spirit of parkour. It is an internal conflict that has also surfaced in other sports with unconventional ethos, like snowboarding and skateboarding.
Puddle, of the parkour federation, would not commit to his sport in the Games, even under his own group's control.
"That's a conversation that our community hasn't had yet," he said. "The community at large, even if they do participate in competition, that's not their focus. Most people do it for the love of the experience."
Ryan Doyle, an English legend of the sport, said in 2010: "Sometimes, people ask, 'Who is the best at parkour?' and it's because they don't understand what parkour is. 'Who is the best?' is what you'd say to a sport, and parkour is not a sport, it is an art form, it's a discipline. That's like saying, 'What's the best song in the world?'"
Get Boston.com's browser alerts:
Enable breaking news notifications straight to your internet browser.