Olympics
Sam and Kristie Mewis opened up about their sibling rivalry growing up
The two midfielders constantly competed against one another for everything.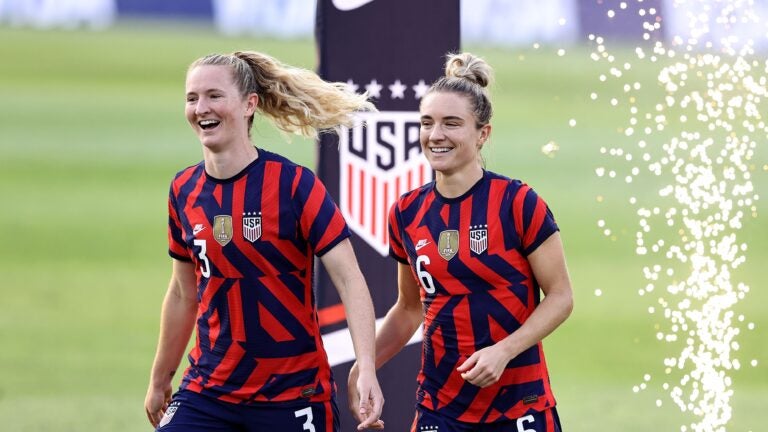 Sam and Kristie Mewis are the first sisters to represent the U.S. on a world championship roster at the senior level, and are playing together on the women's soccer team for Team USA at the Tokyo Olympics.
The midfield duo from Hanson made headlines before the Olympic games began when they completed a sister-to-sister scoring sequence in the first of the two pre-Olympic friendly games against Mexico. The assist from 30-year-old Kristie and the shot on goal by 28-year-old Sam marked the first sister-to-sister goal in team history.
But the two were not always the best of teammates growing up. When they were younger, the sisters, just 20 months apart, competed against one another for everything, they said in an interview with CBS This Morning.
"I'm sure it was pretty annoying for Kristie to always have me tagging along and trying to beat her at everything," Sam said. "But it was the best development and the best challenge I could've asked for. It really kind of has molded us into the competitive psychos that we are now."
Bob and Melissa Mewis, parents of the siblings, also agreed to their competitive nature, calling them "a handful."
"We had some knock down drag out Easter egg hunts over the years," Bob Mewis told CBS This Morning. "It was hilarious."
The "Mewi-s" (as they call themselves) had previously made history in 2008 as the first sisters to make a U.S. soccer World Cup roster as part of the Under 17 team. They went on to play once again on the same team in the 2010 World Cup.
"Sam has become the player that she has because of Kristie, never giving her a break, ever," Melissa Mewis said.
The sisters, both first time Olympians, were unable to play for some time together after Kristie tore her ACL in 2018 and was subsequently cut from the national team. Sam continued on and was part of the winning team in the 2019 Women's world cup.
"It's one of the best things that's ever happened to me because it just truly woke me up and seeing Sam win the World Cup, I was just like there is no way in this world that I'm not getting back on that team," Kristie said in the interview.
The sibling rivalry helped ignite Kristie's competitive fire, and she returned to the national team alongside her sister, also making the Olympic roster.
Now, the sisters, alongside their teammates, have begun their play in Tokyo, losing to Sweden in their first match 3-0 Wednesday. The team will be back Saturday to play their next match against New Zealand.
Get the latest Boston sports news
Receive updates on your favorite Boston teams, straight from our newsroom to your inbox.