Olympics
What happens when athletes tests positive for COVID-19 at the Olympics?
Athletes who test positive are not allowed to compete until they are cleared.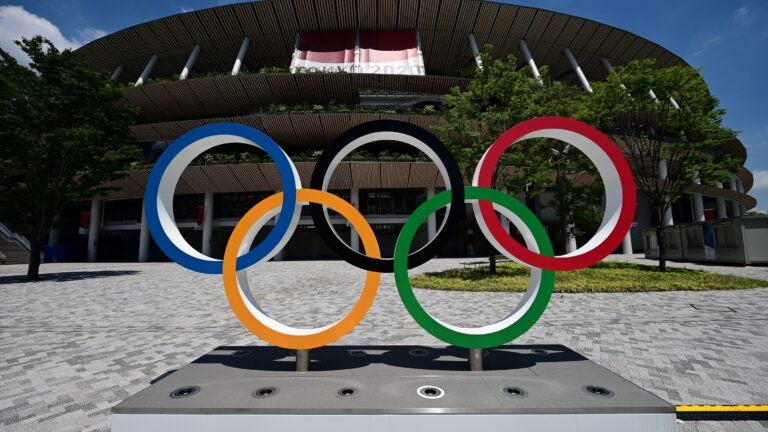 TOKYO – As athletes, support staff and journalists continue to arrive in Tokyo for the Summer Olympics, positive coronavirus cases are already popping up days before Friday's Opening Ceremonies. An outbreak of infections among the South African men's soccer team was the first test of the health and safety protocols in Tokyo, and Team USA had its first known case when Kara Eaker, an alternate for the U.S. women's gymnastics team, tested positive.
It is highly likely that positive cases will continue to crop up among athletes, who are traveling to the city in waves depending on when their competition begins, throughout the Olympics.
But once events get underway, Tokyo 2020 organizers and national Olympic committees will have to balance concerns over individuals' well-being with preserving the integrity of medal competitions for which athletes have spent years preparing. Here's an overview of the protocols an athlete must follow if they test positive for the coronavirus and how their team or individual competition proceeds in the meantime.
Which Olympic athletes are known to have tested positive in Japan?
Kara Eaker, United States, gymnastics
Kamohelo Mahlatsi, South Africa, soccer
Thabiso Monyane, South Africa, soccer
Ondrej Perusic, Czech Republic, beach volleyball
What happens if an athlete tests positive?
Athletes who test positive are not allowed to compete until they are cleared. They must begin isolation immediately – most likely at a designated hotel, where organizers will provide three meals a day. The length of their isolation is determined by Japanese health authorities depending on the severity of their symptoms.
If an athlete tests positive, how does their team or competition proceed?
The IOC recently released sport-specific guidelines detailing how every competition in the Olympic program would proceed should an athlete test positive either at the group stage or in a knockout round. But there are three main principles that apply across the board, each created with the purpose of ensuring tournaments proceed as normally as possible.
No athlete or team will be designated as "disqualified" for returning a positive Covid-19 test. Instead, athletes and teams will receive a "DNS" (did not start) or sport-equivalent designation if they cannot compete.
An athlete or team's minimum result before testing positive will be protected.
Wherever possible, any athlete or team who cannot compete will be replaced by the next most eligible athlete or team so competition may proceed as usual.
What are the restrictions facing athletes at the Games?
Athletes will operate in a bubblelike environment during the Olympics. As with everyone involved in the Tokyo Games, they are instructed to wear a mask at all times, keep their physical distance and take all the usual measures for preventing the spread of the coronavirus – such as frequently washing hands – plus some sports-specific measures, such as clapping rather than singing or yelling to cheer on their fellow Olympians.
Athletes are essentially only permitted to leave their accommodations to go to official Games venues, and they're prohibited from using public transportation. That means things such as sightseeing, visiting bars, restaurants or clubs and mingling with Olympians staying in other places in the Olympic Village are out of the question. Athletes who break these rules could face a range of consequences that include disqualification from the Games and financial penalties.
While athletes are strongly encouraged to stay in the Village, it isn't required, though any self-arranged accommodations must be certified by Tokyo 2020 organizers. The U.S. women's gymnastics team, for example, is staying at a separate hotel because it felt it could better care for and keep track of its athletes that way.
Those staying in the Village get their temperature taken every time they return home.
What are the testing protocols for Olympic athletes?
Testing begins before athletes arrive. Olympians, as with all Games participants, including medical staff, coaches and journalists, need proof of two negative tests – one taken at least 96 hours before departure and one taken at least 72 hours before departure – to even board a flight to Japan.
Games participants then take a saliva test upon arrival and wait at the airport until they receive a negative result. If an athlete tests positive upon landing, they are required to enter isolation immediately or head to a hospital for treatment.
Once in Tokyo, athletes take daily saliva tests.
Are vaccines required to compete at the Olympics?
No. The International Olympic Committee offered to help facilitate vaccines for any athletes who ask, but they aren't mandatory. All restrictions and almost all protocols are the same no matter an athlete's vaccination status.
What happens if an athlete comes into close contact with someone who tests positive?
Close contacts are defined as those who have had at least 15 minutes of contact without wearing a mask within one meter (a little over three feet) of a person who has a confirmed positive coronavirus test, from two days before the person's symptoms appeared to when they began isolation.
How the close contact proceeds is then determined on a case-to-case basis. The close contact's likelihood of spreading the virus will be taken into consideration – this is where vaccination status may come into play.
To be allowed to continue competing, the close contact is required to return negative results on a daily nasopharyngeal test swab (the ones that go way back in your nasal cavity) for a period of time determined by Tokyo 2020 health officials. Athletes are also required to receive a vaguely worded "positive assessment of their medical situation" from Japanese health officials, which may take into account the athlete's medical history.
If the close-contact athlete continues competing, additional measures may come into play, including moving the athlete to a private accommodation or separating them from other athletes during training.