Olympics
Concerns linger after positive COVID case among women's gymnastics team
"I still have anxiety for the test results to come in every day."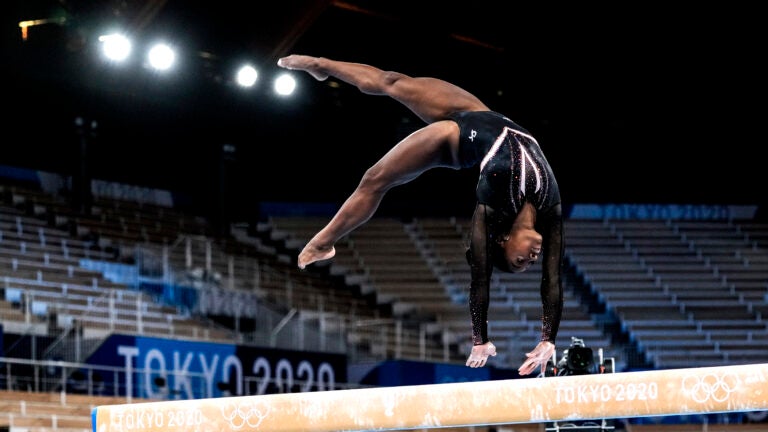 TOKYO – For the U.S. women's gymnastics team, each solid routine at Thursday's training session, and all of Simone Biles's jaw-dropping skills, served as reminders that the Americans are an unstoppable force. Team USA has won the gold medal at every Olympic Games and world championships held since 2011, and that run of dominance is poised to continue in Tokyo. But this week, the Americans ran into perhaps their most worrisome threat – a positive coronavirus test result in the U.S. delegation.
Alternate Kara Eaker, 18, tested positive for the coronavirus Sunday, and fellow alternate Leanne Wong, who was roommates with Eaker in Tokyo, had to quarantine after being identified as a close contact. Eaker is fully vaccinated and "is doing very well with no symptoms," a representative from her club, Great American Gymnastics Express, said in a statement. Eaker is one of eight athletes who have tested positive since arriving in Tokyo, according to the Tokyo 2020 organizing committee. Wong, 17, said last month she had not been vaccinated. Annie Heffernon, the vice president of the U.S. women's gymnastics program, said Wong continues to test negative.
With just three days before the women's competition begins Sunday, all six U.S. Olympians have stayed healthy and prepared. During the formal practice at the competition venue, the gymnasts showcased excellent routines, including Biles's soon-to-be eponymous Yurchenko double pike on vault and Sunisa Lee's difficulty-packed bars routine. They have the gymnastics portion of these Games under control – but Heffernon admitted the positive test in Tokyo was a "nightmare scenario." And she has lingering concern about the health of the rest of the gymnasts, who all declined interview requests after Thursday's training session.
"I still have anxiety for the test results to come in every day," Heffernon said. "I don't go to sleep until I know. I hope they don't [have that stress], but I do for them. We're just continuing with the protocols more vigilant than ever, making sure that we're staying to ourselves."
The Olympic team members and the four alternates trained at the same facility for several days after they arrived in Japan. The U.S. staff separated the gymnasts into different groups during those practices, and the team members sat away from the alternates during meals and on bus rides, according to a USA Gymnastics spokesperson. Those precautions will have helped prevent the spread of the virus, but Team USA could have also opted to have alternates and team members train and live in different places, and concerns about the virus affecting the Olympic team wouldn't have emerged as a result.
All athletes here in Tokyo are tested daily, and the American gymnasts are now four days removed from Eaker's positive result with no indication of any further health scares.
"It's not anything that we ever dreamed would happen or wanted to happen," Heffernon said. "And it was a rough 36 hours, I'm not going to lie. It was difficult for everybody. It was hard for me. It was hard for the athletes. It was hard for the staff."
The Olympians recently moved into a new hotel, which was planned before Eaker's positive test, rather than living in the Olympic Village. The two unaffected alternates, Emma Malabuyo and Kayla DiCello, are still training in Inzai, a city about 30 miles from the Ariake Gymnastics Centre. The United States could have named up to five alternates for Tokyo but chose to bring only four.
Team USA is expected to rack up medals in the women's gymnastics competitions. Biles could win up to five golds, and during Thursday's practice she performed all of her routines without major mistakes. Her new vault will become the fifth skill that bears her name once she successfully completes it in competition. Biles also trained her eponymous double-twisting double tuck beam dismount that she doesn't always perform at meets.
Lee and Jade Carey, who is here as an individual and won't contribute to the team score, both had solid practices after dealing with minor injuries this season. Lee will be a contender to earn a gold medal on bars, the only event in which Biles isn't projected to vie for the Olympic title. Carey and MyKayla Skinner, another individual competitor, will battle to join Biles in the vault final because only two gymnasts per country can advance. Each gymnast has the potential to land on the podium.
"They just keep moving forward, forward, forward," Heffernon said. "They don't look backwards. You saw them. They're doing a pretty good job."
Get the latest Boston sports news
Receive updates on your favorite Boston teams, straight from our newsroom to your inbox.