Olympics
Here's what Aly Raisman said about the Tokyo Olympics, USA Gymnastics, and her future
"I'm just trying to work on figuring out who I am outside of gymnastics," Raisman told The New Yorker.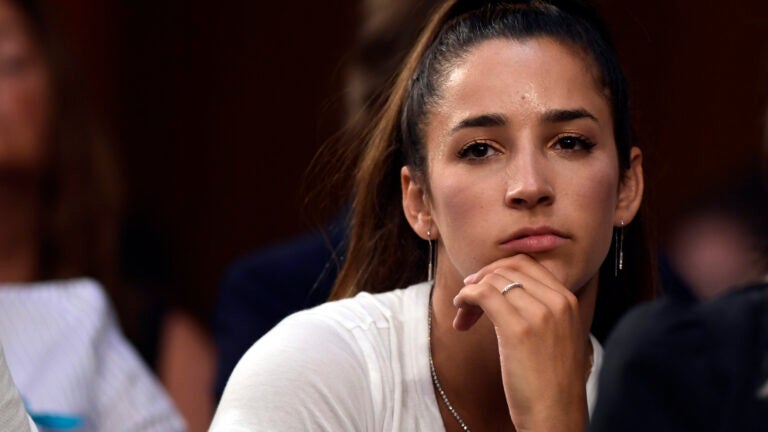 Needham native and two-time Olympian Aly Raisman discussed USA Gymnastics leadership, the Tokyo Olympics, and the future of gymnastics culture in an interview published in The New Yorker. Raisman – who announced her retirement from the sport in January of 2020 – said she is now learning to define herself outside of gymnastics.
"For the first time in my life, I have more of a social life," Raisman said. "I didn't have time for any of that stuff before. Now I can just have a friend over on a Wednesday night."
Writer Eren Orbey spoke with Raisman in Boston last week. Raisman was with her mom and dog Mylo, who was found after recently being lost for a week.
Orbey talked to Raisman about USA Gymnastics leadership in the wake of former team doctor Larry Nassar's conviction on charges of sexually assaulting athletes, as well as alleged verbal and emotional abuse of athletes by coaches. Raisman said she still wants answers and new leadership at the top of the organization: she said thinks of USA Gymnastics as "rotten from the inside out."
"There needs to be a completely independent investigation so that USA Gymnastics and the United States Olympic Committee don't control what is actually released," Raisman said. "The scope of the investigation matters. It needs to be that nobody's off-limits."
Raisman said she hopes this type of investigation will help protect future gymnasts. She also spoke out against the "punishing" culture of gymnastics and told Orbey it needs to change.
"I think it's clear-cut: you can push your athlete while still treating them with respect and treating them as a human being," Raisman said.
In regards to the current Tokyo Olympics, Raisman said she is watching the games from home since she was unable to attend due to the pandemic. She said she feels sad for the Olympians who are not getting the typical Olympic experiences of touring the city and meeting other athletes.
Orbey asked about other Olympic news, such as gymnast Chellsie Memmel's return and sprinter Sha'Carri Richardson's suspension. Raisman called Memmel's return "awesome" and shared her support for Richardson.
"To my knowledge, weed does not make you run faster," Raisman said. "So I just don't understand at all. Maybe they'll end up changing the rules, because it seems like it's very outdated."
Raisman also said a return to the sport is unlikely, as she figures out the next chapter in her life.
"I ask myself why I would come back. I think it would be because I felt pressure to, because I was good," Raisman said. "There's something to be said about that fear of defining yourself by the sport, and so I'm just trying to work on figuring out who I am outside of gymnastics."
Newsletter Signup
Stay up to date on all the latest news from Boston.com