Olympics
Shaun White hopes, for one final Olympics, he can be Shaun White again
"I'm going to give it everything I have at this Olympics. It's my title to defend."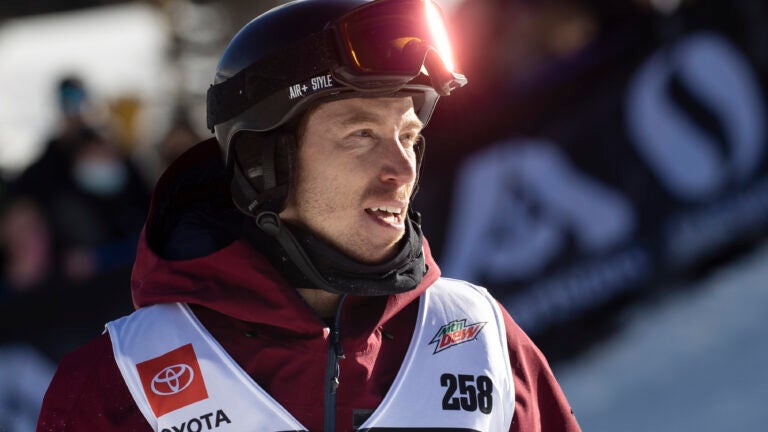 One day last November, Shaun White sat in the snow on the side of a mountain in Austria, deflated. His knee ached; he had spent the day watching younger snowboarders "throw down heavy tricks"; and then, during a practice run, his ankle "just gave out." He felt old.
Finally, White got up and headed for a gondola to take him to the top of the halfpipe – and went the wrong way. To get to where he wanted to be, he climbed onto an empty chairlift and began the long, slow ride back up the mountain.
He thought about all the signs telling him he could no longer keep up – the injured ankle, the wrong turn, the futile search for the right gondola – and decided this month's Beijing Olympics would be his last. And there, dangling alone above the trees, the 35-year-old godfather of snowboarding cried.
"It was sort of like I was sad," White says, recalling the story over the phone two months later. "But then it was like a joyfulness because I was sitting there thinking: 'Like, wow what a run, you knew this day would come, like you know it's inevitable this is going to happen at some point, and to know that today is that day. This decision has been made.'"
Adjusting his approach
Before White could retire after his fifth Olympics, he had to qualify for his fifth Olympics, and this was not easy. Since winning his third gold at the 2018 Winter Games, White has lingered on the periphery of the sport's hierarchy. Injuries and age have kept him from his former dominance. Entering the last qualifying event before Beijing, the Laax Open in Switzerland, he needed to finish in the top three to secure a spot. He finished third.
He is third on the four-man U.S. team, behind Taylor Gold and Chase Josey and ahead of newcomer Lucas Foster, who is 13 years younger than White. He has labored to find consistency. But he's also Shaun White, with 13 X Games snowboard gold medals, and when he is on and the run is smooth and nothing hurts, he still can propel himself into the air in tightly wound twists that make him believe he somehow will leave China with one last Olympic medal.
Little in the past year suggests this will happen. But a part of White's success has come from his impudence. He is almost always certain he will win. The only time he wasn't was at the 2014 Sochi Olympics when he finished fourth – a result that gnawed at him for the next four years until he won gold at PyeongChang. He loves the buzz that follows him around the halfpipes, the hum of expectation that he is going to do something big every time he arrives at an event. Most would view this as pressure. He sees it as inspiration.
"I don't know if that's something that's just like in me or what," he says of this assuredness. "I feel I just felt that way about the sport – about certain things – when it's my moment to shine, I feel like I know it and I can walk that path."
This time feels different, though. The injuries have slowed him. He doesn't have the same stamina he did in his 20s. He has learned to practice less than he did in the past. At 35, his body can't take the constant pounding of board crashing on ice.
White used to power through practices, working for hours to get landings just right. "Four years ago, we used to dread days off," his coach J.J. Thomas says. Days off meant more time to think, more time to let doubt chisel away at the certainty. Now, White needs days away. He's learned to appreciate what his 21-year-old protege Toby Miller describes as "quality over quantity." He's learned to be patient. He's learned to relax.
Last fall was filled with imperfection White never expected. He lost his first event, the Grand Prix at Colorado's Copper Mountain, when he says "the nerves got to me," causing him to stumble in the final. A week later, during the Dew Tour on the same mountain, his binding broke in his first finals run, causing him to finish seventh.
Momentum has been hard for him to find. His knee and ankle keep hurting. He gets tired. He's had a perpetual cold since the start of the fall. He coughs as he talks. It's a horrible, hacking cough that sounds like the starter on an old jalopy. He was certain it was covid, but the tests kept coming back negative. Then, right before the new year, the cough came back stronger. This time, the test was positive. More practices canceled. More delays in the pursuit of the perfect run that will bring him back.
"It's just laughable," he said.
New frontiers
Snowboarding changed over 10 days last October.
That's when four Japanese snowboarders, including White's rival, Ayumu Hirano, began landing frontside triple cork 1440s – four complete rotations and three off-axis flips – in practice runs. Though the trick had been around for years – White worked on it when he was trying to compete in slopestyle as well as halfpipe before the 2014 Olympics – the triple cork had been a kind of invisible ceiling.
And while the Japanese riders were landing on air bags for safety, the precision with which they were doing their triple corks meant that snowboarding had leaped into a new phase, a younger, higher, more dangerous space that no longer resembled the world White had dominated for so long. Thomas, who was there, said he could hear the pinging of people's phones at the halfpipe as videos of the triple corks circulated.
"The sport leaped more than it had in 10 years," Thomas says. "It's gone to another level, and it's going to be at a different level from now on."
White says the Japanese riders' triple corks were on his mind a month later in Austria. The fact they were on the verge of landing one in competition, which had never been done (Hirano hit one at the Dew Tour in December), was another message that it was time to retire.
But the signs have been everywhere. Recently, he has noticed how many of the rebel photographers who chronicled snowboarding's early rise now have gray in their hair. He sees former competitors his own age standing in the crowd, hoisting their kids on their shoulders.
"I don't know how you keep doing this at your age," people keep telling him.
He's not the goofy kid anymore. Instead, he's an aging millennial in a Gen Z world, constantly writing thoughts, ideas and reminders in brown Moleskine notebooks that he orders in packs of three. Despite the fact he has 1.7 million Instagram followers and his girlfriend, actor Nina Dobrev, has 25 million, he is not obsessed with social media. Miller has had to introduce him to Tik Tok and instruct him on Instagram features.
"He's more analog than digital," Thomas says.
Still, White insists he has the tricks to win a medal in Beijing.
"I'm not, like, going to just hand it over," he says. "I'm not going to walk away. I'm going to give it everything I have at this Olympics. It's my title to defend."
"But knowing what was lying on the other side of this Olympics kind of gave me a second wind," he continues. "And we're like: 'OK, well, if this is the choice and this is the decision, I can let this crumble me and I'll crawl away and give up or like, 'Hey, this is your last go: Let's be safe; let's do this thing; but let's push it to the point of breaking.'"
He stops.
"Sorry if I got deep on this," he later says. "It's a lot of emotion for this run it's just been unfolding in front of me – the decisions and all of that happened in Austria, you know."
The next chapter
There was something else about that day White cried on the chairlift: His decision to retire wasn't made for him.
"No one called me into an office and was like, 'Oh, you got traded, you're done, it's over,'" he says.
He always has had a need for control, to understand what is going on, to be in charge. And while his rise included falls – including an arrest for trashing part of a hotel room and the settling of a sexual harassment suit filed by a woman who was in his band – he also has become one of the biggest names in action sports, with clothing lines and board deals.
When he won in Turin he instantly became a sensation – the way-out, pimpled, bandana-wearing face of Burton snowboards and whoever else wanted to write him a check. He became what the marketing industry likes to call "a deliverable," handed scripts for commercials written by people who didn't know him yet knew what they thought he should be.
For a while he played along until, finally, a few years in he told the marketing people he wanted to control the way he was sold. It was a transformative moment, he said. But it also forced him to ask questions he never had before.
"How do I portray myself? How do others see me? Is that good?"
He learned that he liked making decisions, and helping to design clothes unleashed a creative side. He discovered satisfaction in seeing people at halfpipe events wearing clothes from the line he helped invent. It made him more than the Flying Tomato
Recently, White started a clothing company with his brother, Jesse, called Whitespace. The name is, of course, a play on their last name, but it's also an opportunity, a blank space upon which to make something of his own.
"It's like a gap in the market, like a space waiting for something new, something creative," he says.
With his career nearing an end, he imagines he might use his new company to do more than sell clothes. What if they could have a team of riders? Maybe he could be the next Jake Burton launching a new generation of riders onto mountains.
"I don't know, there's just so many fun opportunities, and it means so much knowing I'm retiring and starting this thing simultaneously," he says just before hanging up.
"It's kind of like the ending of something and the beginning of something else."
Get the latest Boston sports news
Receive updates on your favorite Boston teams, straight from our newsroom to your inbox.