Olympics
Red Gerard already has a gold medal. Now he knows what he wants.
"I want to make myself look good, and I want to have fun at the Olympics and make what we do look cool. "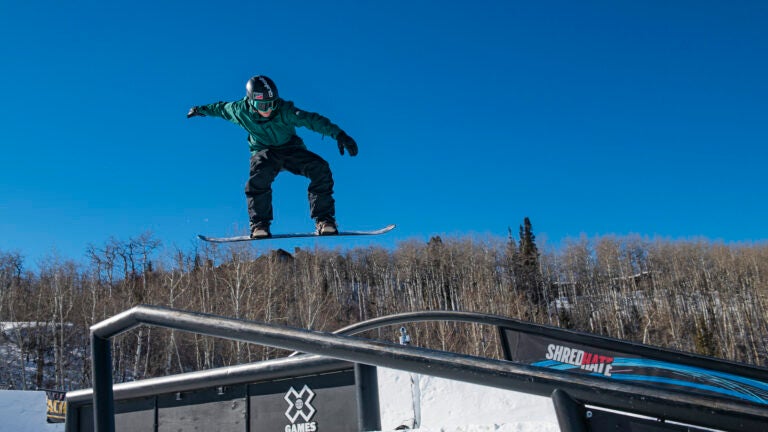 STEAMBOAT SPRINGS, Colo. – The staging area is the last thing Red Gerard remembers. What followed is a blur – climbing the podium, hearing the national anthem, whisking through the international media, flying back across the world with sudden and fleeting fame, all the trappings and pitfalls of winning an Olympic gold medal. Even his family members, 18 deep and fueling the South Korean brewery economy 12 ounces at a time, would accumulate their own measure of celebrity.
When Gerard looks back at the 2018 PyeongChang Olympics, so many of the moments when his life changed swirl into a haze. Everything was moving fast for a 17-year-old brain to capture it all. But the staging area is vivid. In that last quiet moment, Gerard thought to himself, "Is this really happening?"
"It was the craziest thing ever," Gerard said. "Everything was so new."
Four years later, the pipsqueak with the unkempt dirty-blond mane and lovably rambunctious family is all grown up. Gerard has solidified himself as one of the best snowboarders in the world. He has navigated the burst of minor fame that accompanies Olympic gold, at first with trepidation and then with a plan for how to wield it.
In Beijing, Gerard will arrive at his second Olympics with an evolved outlook. He will defend his slopestyle Olympic gold medal, which he stores in a fireproof bag inside his parents' laundry room. Another victory, a second gold at age 21, would present Gerard with another new world of opportunity. As the American stars from the Olympics' first snowboarding generation exit the stage, new ones will replace them. Chloe Kim has cemented one spot on the mainstream marquee. Gerard could claim another if he performs – and then, if he chooses.
"I didn't really have a main goal of what I want out of all of this," Gerard said. "Now I do. Not a master goal, but I know for the moment what I want. I want to make myself look good, and I want to have fun at the Olympics and make what we do look cool. I didn't know what we wanted back then at all. The snowboarding side, going to the Olympics I didn't care if I won. I didn't care anything about that at all. Now, I want something out of it this time around."
One late afternoon in early December, after a morning spent on a mountain in Steamboat Springs, Gerard steered his silver Toyota Tundra to the apartment he had rented for the week. Inside, he joined his brother Malachi, who serves as Gerard's videographer, coach and closest confidant; fellow Team USA snowboarder Sean FitzSimons, one of his best friends; and Hailey Langland, an Olympian, one of the best snowboarders in the world and also Gerard's girlfriend for the past four years, since shortly before the 2018 Games.
Outside their window, chairlifts trundled on wires and snow machines readied the mountain for the next day. They watched "Home Alone 2: Lost in New York" and munched on sandwiches from a deli in the ski town down the hill. It felt like a college dorm, just bigger and with decorative snowshoes hung on the wall.
Gerard travels the globe with his best friends and carves down mountains on a high-tech plank, the thing that still connects most to his family. But he has grown more professional in his approach, trying to hold on to what he loves about the sport as his talent presents him with possibilities and challenges beyond it.
"In some ways, it's a little bit sad," said Jen Gerard, Red's mother. "He was always so carefree and happy. He's still that guy. He just has to take it a little more seriously now. This is his career now. He's been ranked No. 1 in the world for pretty much the last four years now. There's probably a little more pressure. That's okay with him. He's matured a lot."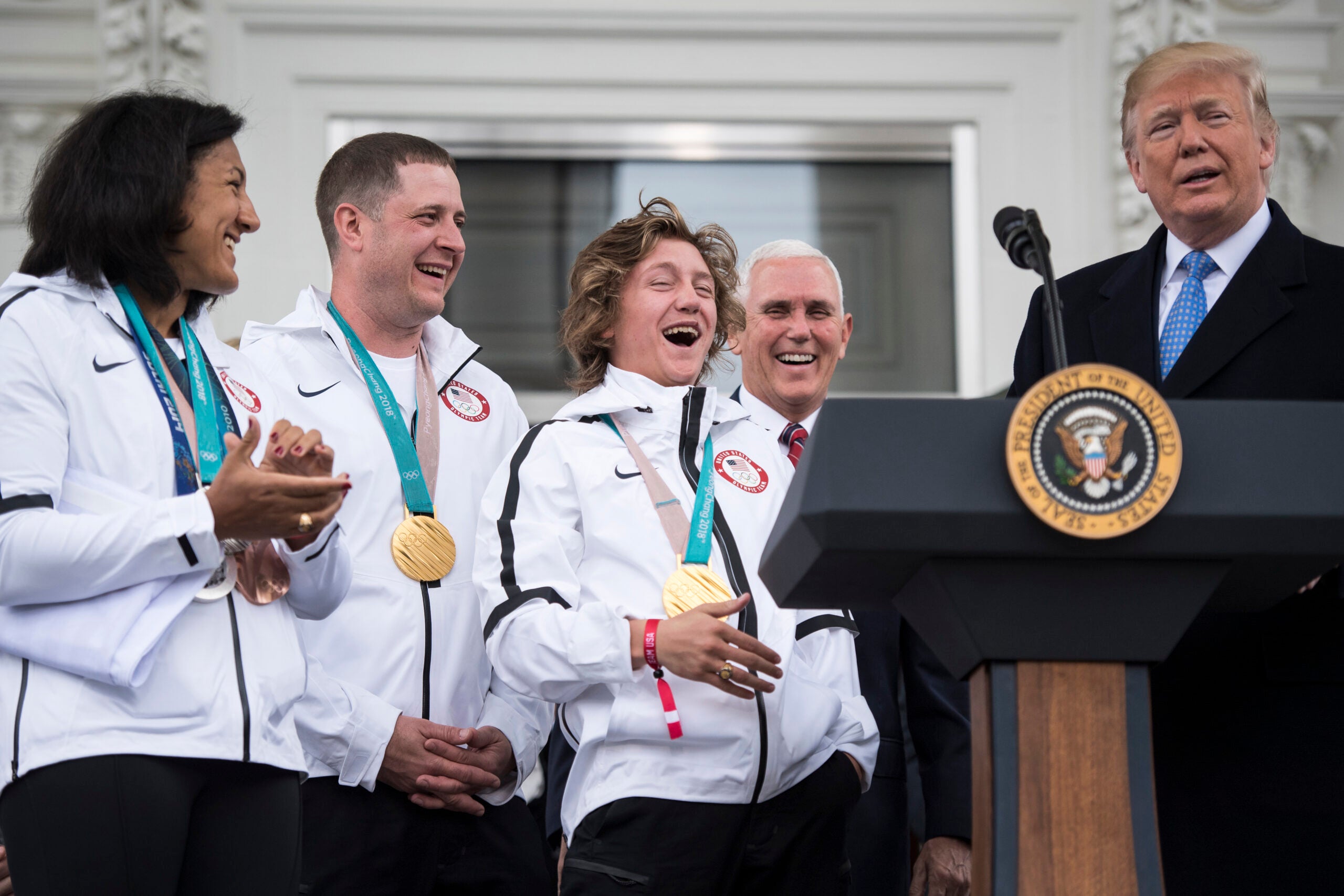 Learning to compete
Redmund Gerard grew up the second-youngest of Jen and Conrad's seven children, the youngest of five boys. (He is now the third-youngest of eight – his parents recently adopted 1-year-old Oslo, whom Gerard described as "the happiest little guy.") He comes from a supportive and high-achieving family. His sister Tieghan is a food blogger, cookbook author and owner of the Half Baked Harvest recipe empire. She has 3.9 million followers on Instagram.
Red honed his natural ability through constant repetition. He was 2 the first time he strapped on a snowboard. He followed his brothers to small ski mountains around Cleveland, packing the hill with as much rowdiness as a cheap lift ticket would allow. The family moved to Colorado when Red was 8 and built a small snowboard course, complete with jumps and rails, in the backyard. He and his brothers spent winters "kicking the door down to go snowboarding every morning," Malachi said. He spent summers leaping off skateboard ramps and diving into foam pits. The way most kids learn to move in sneakers, he learned to move with a board under his feet.
"It was what I was almost chosen to do," Gerard said. "I started doing it so young. I also loved it. I loved how free it was for me. It's not even like I chose it. I was in it. I was doing it. That was where my life was headed."
Gerard entered contests and won plenty of them, but in his teens, he gravitated toward the artistic side of the sport. He loved snowmobiling into the backcountry with a few buddies, building jumps by hand and recording his runs. It felt like the purest version of snowboarding. He envisioned a career filming movies.
"I don't think he was very mentally involved in contests," Langland said. "I could kind of tell he wanted an out."
Still, Gerard kept training with the U.S. team and became a rising star. Coaches believed Gerard's first Olympics would be the 2022 Games. Then he won two events during the season leading into PyeongChang and placed himself in position to make the 2018 team at just 17.
At a family gathering at Christmas in 2017, Gerard mentioned to his parents that he planned to film a snowboard movie in the backcountry in January, a month before the Olympics. Jen and Conrad always had granted their children independence, and they had made it a priority not to apply pressure. Now, though, their son's plans unsettled them. They told him they needed to talk. They left the family and headed to Starbucks.
"We could see he wasn't taking it seriously," Jen said. "He didn't realize the opportunity the Olympics could bring."
The conversation, Gerard says now, changed his life. Jen and Conrad told him he needed to be practicing runs on a mountain, that his filming could wait. He could tell what the Olympics meant to them, and he took their advice. After more high finishes, Gerard made the team.
Gerard still believed he would compete at only one Olympics. Ideally, a strong performance would allow him to monetize the experience and help fund his movies. Days before he competed, he told a handful of reporters, "I honestly don't know what the Olympics is."
Gerard made the final comfortably while, at the base of the hill, 18 family members waved cardboard cutouts of his head and emptied a heroic number of Korean beer cans. The morning of the final, Gerard woke up late after a night bingeing "Brooklyn Nine-Nine" on Netflix and borrowed a teammate's jacket after he couldn't find his. Someone sent him a video of his family shotguning beers at dawn.
In the final, each rider received three runs, with the best individual score winning. Gerard did not land either of his first two runs.
"He told me afterwards, one of them was the wind," Jen said. "The other one was probably nerves. The third one, he was thinking at first, 'I just want to get this over with and be done with it.' But then he said to himself: 'My entire family came out. They came all the way to South Korea. I need to give it my best shot.' "
On his last run, Gerard pieced together a flawless, flowing run. On the final jump, he took off riding backward and spun 3½ times, a back 1260 that sealed the best score of the day. The sensation he felt changed his career again. The validation of landing a run, hearing the crowd and seeing his score was seductive.
"What I found out I like is being on the podium is really cool, and I figured I wanted more of that," Gerard said. "It made me feel good."
The weight of gold
The night he won, Gerard stayed up until 2 a.m. doing media interviews. He stayed in PyeongChang the next day to watch Langland compete, then flew back to the United States for a media tour. He sat on Jimmy Kimmel's couch. In one green room, jet-lagged and tired, he woke up from a nap and saw the hosts from "Shark Tank" enter. "Am I dreaming?" he thought. "What is going on? This is such a trip." He attended the ESPYs and the Kids' Choice Awards and filmed a commercial for Mountain Dew.
The whirlwind became a burden. Talk show hosts and reporters asked the same questions over and over, and he didn't know what they wanted him to say or what he should say. Jen noticed him grow frustrated at small annoyances.
"He was a having a hard time figuring out where it to put it all in his head," Jen said.
In the spring, the PGA Tour invited him to a tournament in Florida. Gerard flew with his father, thinking it would be a relaxing trip. It dismayed him how many people still recognized him from the Olympics. He felt like he could not escape.
Gerard cherishes the experience and the people he got to meet. But looking back, he feels his 17-year-old brain had not matured enough to process all that came at him.
"There was a time where I wasn't too happy about myself and the way I was going about things," Gerard said. "Probably, my brother and agent had some times when they wanted to punch me in the face, and probably [I was] being a [jerk] and a spoiled little kid."
In June, the Gerards took a family vacation to the Caribbean with Jen's father: no snow, no one who knew Red, nothing but a reset. Red and Malachi arrived early and stayed three weeks.
When the next season began, the time and energy he committed to his victory tour showed. At a Dew Tour event, Gerard finished last. With help from his brothers' pep talks, Gerard turned the finish into a wake-up call. He rededicated himself to the work that had gotten him to the top of the podium, because he wanted that feeling again.
"It's put on a whole new pedestal where you can put snowboarding on a map to way bigger people, and you need to take advantage of those opportunities," Gerard said. "Otherwise, someone else will. You always think your opinion is the right one. At least I do."
Keeping it real
One day in early December, Malachi scrolled on his phone and announced that longtime snowboard pro Chad Otterstrom had posted a photo of Shaun White on Instagram. He read the caption aloud: "I've been watching @shaunwhite compete and win for 27 years straight." Malachi let out a snort of awestruck laughter.
"So sick," Malachi said. "Shaun's a beast, dude."
"I can't believe he's going for another," Red said.
"He's not going for another," Malachi said. "He's going."
"I don't know why he's going for another," Red said. "He's already been to four! It's crazy."
Sixteen years after he debuted at the Olympics, White still hovers over the sport. Gerard has a clear reverence for White's ability and his impact. Like Tiger Woods in golf or Tony Hawk in skateboarding, White raised the sport's visibility, purses and sponsorship dollars. Gerard marvels at White's aerobatic brilliance and his "insane" capability under pressure in a halfpipe. He dismisses the idea that White's fame curries favor with judges. "The GOAT of snowboarding," Gerard said.
But Gerard also views White as a cautionary example, particularly in relation to how he views his own career. After White won his gold medal at 19, he signed sponsorship contracts with Hewlett-Packard and Target and became a regular on red carpets. Gerard filmed a commercial for Mountain Dew – a longtime sponsor of action sports – and recently joined long-standing outfitter Quiksilver. He filmed a backcountry video with Sage Kotsenburg and Ben Ferguson. It won Snowboarder Magazine's movie of the year award. They called it "Joy."
Gerard is focused on winning now in a way he was not entering the last Olympics. He also intends to funnel his cachet back to the sport. If he promotes himself, he wants it to be in the service of promoting his sport. In White, Gerard sees someone who promoted himself beyond snowboarding and lost touch with it.
"I don't think a lot of people in snowboarding liked how Shaun White went about things," Gerard said. "I feel like he got that famous side of things and liked that famous side of things a little more. With that, I'm not talking trash at all about Shaun. What he's done, literally the one person snowboarding could thank is him, because he got it to that scale, it's so big. But then it felt like when he did get it to that scale, he kind of left it behind and went into this different celebrity side of things. Being on that side of things, I would maybe just want to do it differently than he did it, you know, bring it back to snowboarding and always remember where you came from and where you got that fame from."
Snowboarding has grown embedded in the Olympics – Gerard wasn't alive when it debuted at the 1998 Nagano Games – and far more commercialized. Still, conflict remains between the purity of the pursuit and the competition of the sport. Even as Gerard has embraced competitions, he can feel the tension between wanting to win – and what comes with winning – and maintaining what he loves about snowboarding.
"It seems like it happens to some people," Gerard said. "Maybe that's what happened to Shaun. I feel like maybe he might have lost his love or got too focused on [celebrity], and then snowboarding wasn't the same for him. That's definitely important for me. That's that whole filming side of snowboarding to me. It's a whole different side of it, and I really like playing in the two sides. That is my love for snowboarding, is going out in the backcountry and filming powder and slashes and doing all that stuff.
"Really, I've found this new love for competing after doing better at these events. At first, it was so, like, hard, and a lot of it wasn't that fun. It was stressful and scary and stuff. Once you figure it out, I started to enjoy it a lot."
At a chain of resorts across the country, Red and Jen have opened small parks, modeled after the one he rode behind his parents' home, under the name Red's Backyard. Their idea is to charge a minimal price – nothing, in some cases – so kids who wouldn't otherwise experience snowboarding can join the sport. He has plans to film more backcountry snowboarding in Idaho and Montana.
"I get the same feeling as landing a contest run," Gerard said.
Where he belongs
Gerard sometimes wonders how different his life could be. What if another gust of wind had pushed him offline in that third run in PyeongChang? Had he not landed on the podium, would his zeal for competition have dissipated? Would he be snowmobiling in the backcountry with a film crew rather than boarding a flight to China?
"Every single avenue of that day has gone through my mind, just thinking, why did I win?" Gerard said. "Even that, I've thought about that so much: Why did I win? Something was going on that day where everything happened. I couldn't tell you if I'd still be competing or not. That win that I had in the Olympics put a different fire in me where I really started to enjoy contests. I don't know if I would have that, necessarily. But I think I'd still be in snowboarding."
At the end of seasons, Gerard sometimes feels burned out. It never takes long for him to feel the itch to get back on his board. Last winter, his family gathered after the holidays. His brothers would work until 2 p.m., and then they would rush to the hill for two hours of taking as many runs as they could, rowdy as ever, like when they were back on small mountains and Gerard was just trying to keep up.
"I'll ride really slow, and some of them are sketchy and whatnot," Gerard said. "It's just really fun to ride with them. I'm kind of doing my job right here now, too, while I'm having a blast with you guys."
Get the latest Boston sports news
Receive updates on your favorite Boston teams, straight from our newsroom to your inbox.