Parenting
Two Massachusetts lawmakers want to ban youth tackle football
Other states have tried unsuccessfully to get similar bills into law.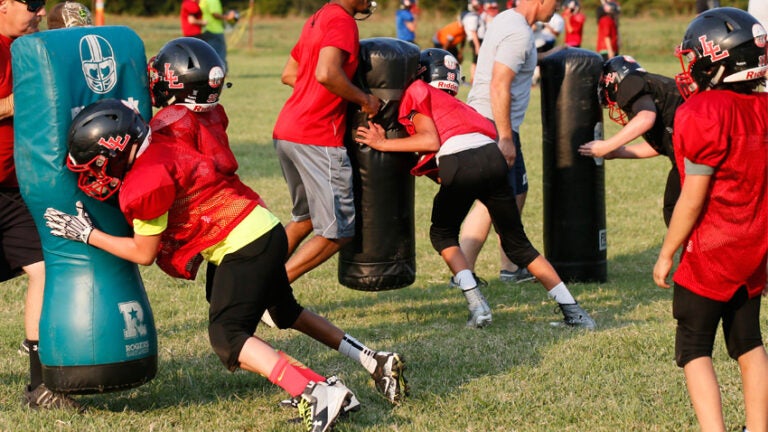 Concussions and football are increasingly inseparable thoughts, with each passing year leading to more former NFL and college players going public with the long-term effects of the game or retiring to try and avoid them. This has an obvious affect on the game's lower levels, with nationwide high school football participation down 6.6 percent in the past decade and Massachusetts participation down almost twice that according to data from the National Federation of State High School Associations.
It should be noted 11-man football remains far and away the most popular sport at the high school level, played by more than 1 million nationwide, twice as many athletes as all but track and basketball. NFHS says 330 schools in Massachusetts sponsor football, a number that's largely held firm even as NFL players express reservations about their own children playing the sport. And plenty who don't share those reservations have spoken out about youth football.
"I beg of you, all parents to please don't let your children play football until high school," said former Patriots great and Pro Football Hall of Famer Nick Buoniconti last March. "I made the mistake starting tackle football at 9 years old. Now, CTE has taken my life away. Youth tackle football is all risk with no reward."
A pair of Massachusetts lawmakers are hoping to take the choice away.
State representatives Paul A. Schmid III (D-8th Bristol) and Bradley H. Jones Jr. (R-20th Middlesex) have filed "An Act for No Organized Head Impacts to Schoolchildren," which would effectively ban any child "in grade seven or under" from playing or practicing any form of "organized tackle football." Schools or leagues who violated the law would be subject to fines of up to $2,000 for each violation, up to $5,000 for repeat offenders and up to $10,000 in cases of "serious physical harm to any participant or participants."
"Soccer has age restrictions for head contact. Lacrosse has age restrictions. Hockey has age restrictions for head contact. Football doesn't," Rep. Schmid told the Fall River Herald News, noting football has no national federation to self police as those other sports do. "It's all about kids' health and we have a number of studies that say that repeated contacts to the head are very bad for you and the younger that starts, the worse it is. It seems that if you start playing tackle football in high school, you're in a much better place than if you started earlier."
The bill makes no restrictions on football "which does not involve tackling,"
Multiple states have attempt to enact such laws, according to ESPN research, though all have failed due to pushback from those in the sport despite apparent public interest in the idea. A 2017 UMass-Lowell poll found 53 percent of respondents nationwide felt "tackle football is not a safe activity for kids before they are in high school."
There's some science behind the concern, whether it be that early concussion sufferers are twice as like to have a subsequent one, that blows to the head as a child change the physical makeup of the brain, or the possible link between "beginning tackle football before age 12 with increased risk of depression, cognitive impairment, and behavior problems over time."
(And, not for nothing, the local quarterback with six Super Bowl rings didn't start playing tackle until his freshman year of high school, according to his father.)
Fifteen other legislators have co-sponsored the bill, which was filed Jan. 17. According to the Herald News, it is yet to be assigned a committee for review.