Parenting
Here's what happened in the five other states that tried to ban youth tackle football
None of those proposed bans have come close to being passed into law.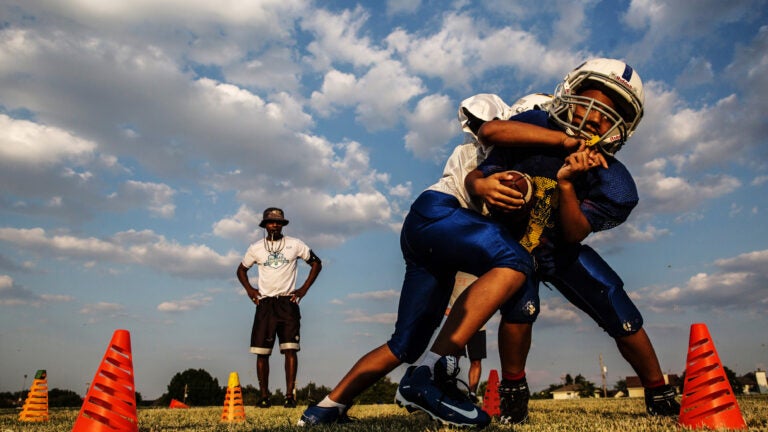 Two state representatives recently introduced a bill that would effectively ban any child in grades seven and under from playing tackle football in Massachusetts. If passed, "An Act for No Organized Head Impacts to Schoolchildren" would allow flag and touch football but subject schools or leagues that violate the law to stiff fines.
The lawmakers say state government has to step in because, unlike sports like soccer or hockey, there is no single statewide governing body in football that can self-police the sport.
"It's all about kids' health and we have a number of studies that say that repeated contacts to the head are very bad for you and the younger that starts, the worse it is," Rep. Paul Schmid III, a co-sponsor of the bill, told the Fall River Herald News. "It seems that if you start playing tackle football in high school, you're in a much better place than if you started earlier."
This is not the first time lawmakers have examined research linking youth tackle football to long-term impacts and attempted to put a stop to play. Politicians in five other states have introduced similar bills, but none of those proposed bans have come close to being passed into law.
As Massachusetts weighs whether to ban youth tackle football — with plenty of input from parents, coaches, researchers, and even Patriots — here's a look at what happened when other states faced the same question:
California
Three days after the Philadelphia Eagles beat the Patriots in Super Bowl LII, two lawmakers co-sponsored the "Safe Youth Football Act." The legislation initially proposed banning tackle football before high school and was later altered to under 12 years old.
One of the sponsors, Assemblyman Kevin McCarty, noted that non-contact youth football has produced a number of NFL stars — including Jerry Rice, Walter Payton, Lawrence Taylor, Jim Brown, and Tom Brady.
The bill's introduction prompted the formation of the Save California Football Coalition. The San Diego Union-Tribune reported that 150 parents and kids in football jerseys rallied outside the Capitol in support of the sport ahead of a vote on the bill by the committee for Arts, Entertainment, Sports, Tourism, and Internet Media.
The bill's sponsors pulled the bill in the face of pushback when it became clear they did not have the required votes.
After the proposed ban was withdrawn, the coalition said "We are optimistic that if this or similar legislation is presented in the future, we will once again, mobilize, vocalize, and work alongside with all of you to ensure the future of the sport of youth tackle football and all those it serves."
Maryland
Last February, Delegate Terri Hill filed a "public health" bill that sought to ban tackle football, heading in soccer, and checking in lacrosse below the high school level.
Youth coaches across Maryland voiced their opposition on social media and sports talk radio, according to The Baltimore Sun. One youth football administrator accumulated more than 7,000 signatures to "stop the bill" in an online petition.
The Ways and Means Committee overwhelmingly rejected the proposal. Nineteen committee members voted to kill the measure, while three did not vote.
Hill said she did not expect the bill to pass, but added "I think it's a conversation we have to have and I don't think the conversation is over."
"Culturally we love football, I love football," said Hill, a surgeon. "It's difficult to appreciate that something we really enjoy — with clear benefits to our kids — may be hurting them without our knowledge."
Illinois
State Rep. Carol Sente filed the "Dave Duerson Act to Prevent CTE" in January of last year.
The proposal, which would ban tackle football in Illinois for kids under age 12, was named after the Chicago Bears defensive back diagnosed with CTE after his death at age 50 in 2011. Duerson shot himself in the chest rather than the head presumably so that his brain could be examined by researchers at Boston University.
Duerson's son Tregg stood with Sente when she unveiled the proposal, the Chicago Tribune reports, but the bill struggled to gather support as critics poured onto the lawmaker's Facebook page, and youth football coaches argued they'd made strides to make the game safer. They also said players who are ill-prepared to play tackle football when they're older may be more susceptible to injury.
Pop Warner spokesperson Brian Heffron told the Associated Press the organization "can't imagine elected officials mandating to parents which sports their children can play."
In April, Sente acknowledged the measure lacks the backing needed to pass the legislature.
Although the bill did clear the House's Mental Health Committee by a narrow margin, the lawmaker said, "I felt, from the responses I did get from some peers, that getting 60 votes in the House, finding a Senate sponsor and getting the governor to sign it was not a viable option."
New York
State assemblyman Michael Benedetto filed a bill in January of last year that would ban youth tackle football for children under 12 years old. When the lawmaker first introduced the bill in 2013, the executive director of Pop Warner called it "disturbing."
Benedetto named his recent proposal the John Mackey Youth Football Protection Act, after the Baltimore Colts tight end who developed dementia and died in 2011.
"I firmly believe that when we see evidence of the danger to children, we need to act on that," Benedetto said, per The New York Times. "There are laws that you need to use a car seat, wear a bicycle helmet. It's the same principle."
The bill initally lacked a co-sponsor in the State Senate and remains in committee.
New Jersey
In April, Assemblywoman Valerie Vainieri Huttle sponsored a bill that would prohibit children under age 12 from participating in tackle football. She said that her bill was a "first draft" intended to start a dialogue on the issue in the Garden State.
However, Vainieri Huttle swiftly ran into opposition from coaches, officials, and fellow lawmakers.
"That's not happening," State Senate President Stephen Sweeney, who decides which measures get voted on in the legislature's upper house, told NJ Advance Media. "They're teaching kids how to tackle properly. All you're gonna do is get kids starting later, when it's easier to teach kids early."
Vainieri Huttle said at the time that she hoped to sponsor a revised bill that provides parents with more options for how to protect their children, like requiring education on the sport's dangers or requiring parents to sign a disclaimer.
So far, the Assemblywoman is the only sponsor of the measure and a companion bill has not been introduced in the state Senate.