Racial Justice
Worcester's minority-owned businesses reportedly shut out of Polar Park construction
Worcester reportedly awarded just one percent of its $100 million in Polar Park construction contracts to minority and women-owned businesses.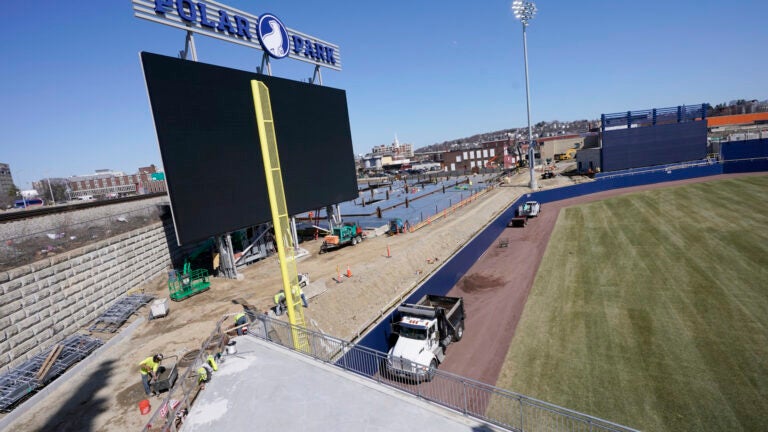 Minority and women-owned companies in Worcester say they were promised a sizable role in helping construct Polar Park, the stadium that will house the Boston Red Sox's Triple-A minor league baseball team, only for the city to all but shut them out of the multi-million-dollar project.
With the ballpark nearing completion, a new report is backing up those claims.
A GBH News investigation revealed that less than one percent of the more than $100 million in construction contracts awarded for the project went to a certified minority-owned business, despite claims from Worcester and the park's construction manager that its payments to those organizations were much higher.
Both the city and Polar Park's construction manager Gilbane/Hunt, according to the report, claimed that minority-owned firms (4 percent) and women-owned firms (13 percent) received a total of 17 percent of available contracts for the stadium's building, which approaches the project's combined goal of 20 percent for women and minorities.
But a closer look at the numbers suggests Gilbane/Hunt misattributed contracts paid out to non-minority businesses as part of their figures and also drastically over-reported payments made to certain minority-owned companies.
"We're not looking for a handout. All we are looking for is opportunity and to be part of the progress," said Libis Bueno, CEO of the Worcester-based IT and security firm Domitek, in the story.
Gilbane/Hunt released a statement declining to speak in-depth on GBH's findings on the grounds that the project "is not complete" while saying the firm was "proud" of its hiring practices and praising the "minority and women-owned businesses that helped build this project."
Meanwhile, Worcester's Redevelopment Authority Executive Director Peter Dunn acknowledged the project didn't meet its overall diversity hiring goals, saying "we're always trying and trying to continue to do better." But he also spoke positively of the ballpark project's hiring, saying the city exceeded its workforce goals in some cases.
But detractors view the lacking Polar Park numbers as yet another example of minority-owned businesses being left out of lucrative city and state contracts. Boston, for example, has come under fire for awarding just 1.2 percent of its $2.1 billion spent in contracts over the past five years to Black and Latino-owned companies, while minority business owners through the state more broadly have seen their contracts dip over the last 20 years.
"No one should be satisfied with a number like that," said Segun Idowu, executive director of the Black Economic Council of Massachusetts, of the GBH report's findings on Polar Park. "There should be an acknowledgment that there was a failure on the part of the city and this company.
"Worcester has a healthy population of folks of color. Why you wouldn't want them participating in the economy of the city and greater Worcester doesn't make any sense to me. The development of some communities cannot coexist with the underdevelopment of others."
Get Boston.com's browser alerts:
Enable breaking news notifications straight to your internet browser.