Rob Gronkowski
These are the people you would meet on Gronk's party cruise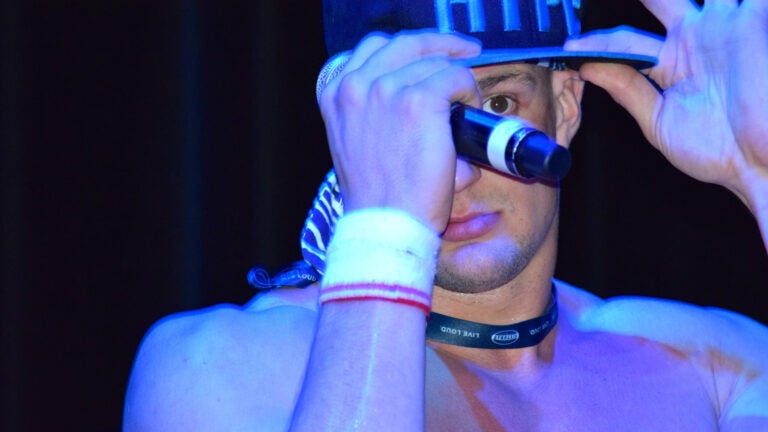 The Gronk cruise may have been underbooked, but there was no shortage of people aboard living up to the ideals of the Patriot tight end's party boy image.
Boston magazine just published an extensive account of the party Rob Gronkowski hosted on the high seas back in February. According to the piece, the cruise only sold 700 of 2,400 tickets, which led to many unsuspecting vacationers who bought up the remaining tickets oblivious to the fact they were about to walk onto a floating, three-day frat party.
Of course, there were many who knew exactly what they were getting into. For instance, "Rob from West Roxbury," a jobless middle-aged man who spent the weekend "wearing Day-Glo spandex and a drawstring backpack full of limited-edition 'Gronk Flakes' cereal." Repeat: A backpack full of Gronk cereal.
What's remarkable is just how unremarkable Rob from West Roxbury was relative to the rest of the Gronk cruise ship guests, it seems. You'll meet Andrew, who "… seems to subsist on mimosas and bloodys, no matter the time of day," and Paul, who "blares air-horn noises at people using an app on his phone," and many, many more.
Despite the delay in publication, the magazine's account of the Gronk cruise is worth the wait and you should go read it. Let us set the scene here:
Waka Flocka Flame, the rapper, is funneling distilled liquor down peoples' throats. Redfoo, a performer of uncategorizable genre, formerly of three-hit wonder LMFAO, parades around in zebra-stripe undies. Mojo Rawley, a semiprofessional WWE grunt, makes love to the air with an inflatable palm tree. Audience members have begun crawling up onto the stage, zombielike, past indifferent security guys. In the thick of it is our dazed ringmaster, Rob Gronkowski, swigging Grey Goose and, I guess, twerking.
Intrigued? Click over to Boston magazine.