Sports News
Olympic bronze medalist Molly Seidel will run in the Falmouth Road Race
Seidel will start the race last and chase down fellow runners to help raise money for charity.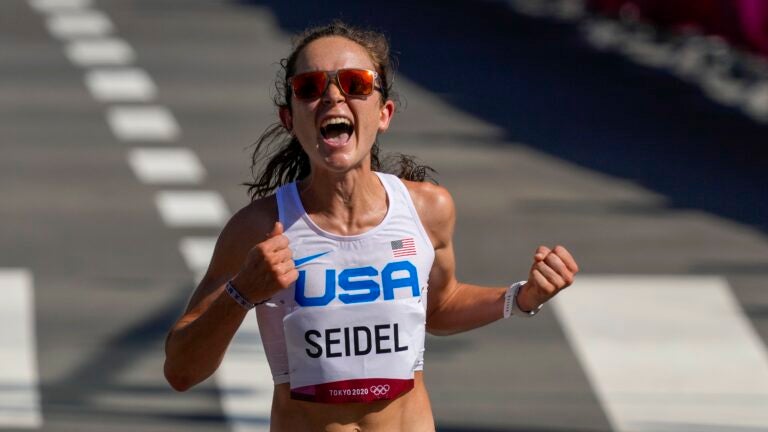 For any participants in Sunday's Falmouth Road Race who happen to get passed by a conspicuously fast runner, just know that there's a chance it's an Olympic medalist.
Molly Seidel, 27, who recently won a bronze medal in the Tokyo Olympic marathon, will be the official race starter of the 49th annual edition of the Cape Cod event. She will then begin the seven-mile course as its last runner, and try to catch as many fellow racers as possible along the way.
For each runner that Seidel passes, race organizers said they will donate $1 to Tommy's Place, a Falmouth-based vacation home for children fighting cancer named after race founder Tommy Leonard. In May, it was announced that there would be an 8,000-person field for the 2021 edition, giving Seidel plenty of runners to potentially pass.
Seidel, a Cambridge resident (and Wisconsin native), ran in the virtual Falmouth race in 2020 (held remote due to COVID-19). And while the event usually draws the presence of elite runners, Seidel's charity method will be a new twist.
"We're pretty confident she'll pass lots of people," Falmouth Road Race executive director Jennifer Edwards told Boston Globe reporter Emma Healy.
While at the Olympics, Seidel won fans not only for her medal-winning performance (finishing with a time of 2:27:46), but enjoyable post-race soundbite.
"Oh my god, you guys. We did it," Seidel said. "I'm so tired. Please drink a beer for me."
Sign up for Patriots updates🏈
Get breaking news and analysis delivered to your inbox during football season.