Skiing
Watch Olympian Sarah Hendrickson hit New Hampshire's restored 'sleeping giant' ski jump
Hendrickson was among the first to hit the monster jump in three decades.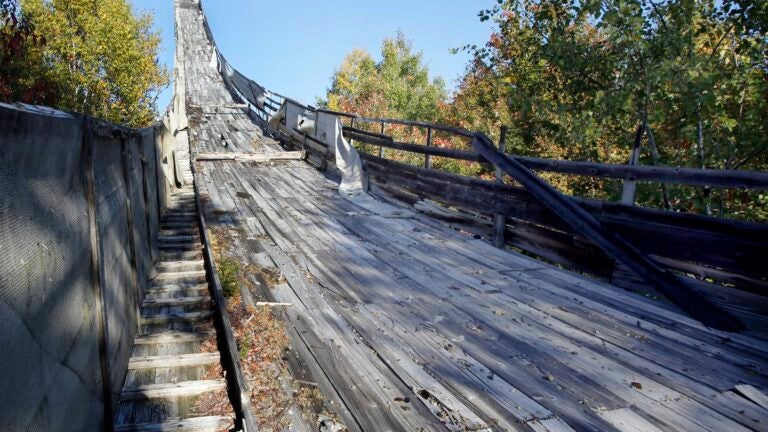 When it was constructed in 1936, New Hampshire's 171-foot tall Nansen Ski Jump was the highest ski tower in the world. Yet by 2017, it had been abandoned for decades. The dormancy was finally brought to a dramatic end in March, when Red Bull filmed Olympic ski jumper Sarah Hendrickson taking flight.
The video is a culmination of an enormous recovery project. Thanks to New Hampshire State Parks, the Friends of Nansen Ski Jump and Red Bull, the jump—which had fallen into disrepair (seen in the photo above from 2014)—was rebuilt. After 22 tons of new lumber was laid into place by Knollstone Contracting, the "Sleeping Giant" was ready to launch a new generation of jumpers:
Hendrickson, 22, was officially the first woman to jump in Olympic competition (the 2014 Sochi Olympics were the first to include women's ski jumping). Women's junior team member Anna Hoffman was the first to take flight off of the rebuilt Nansen jump:
https://www.facebook.com/photo.php?fbid=10154384713298059&set=p.10154384713298059&type=3&theater
The Nansen's ski jump's renaissance was a particularly prideful moment for the local New Hampshire community, which still has strong ties to the jump's heyday from past decades.
"Two years ago, we proposed this idea and a couple of days ago, we really didn't know if it would come together," Hendrickson said in Red Bull's recap. "It was so cool to ski out at the bottom and see the community at the bottom of the hill, everyone happy and telling their family ties at this jump. It was a priceless day."
On top of welcoming World Cup competitions and four national championships, Nansen hosted Olympic trials in 1938:
And according to New Hampshire's park servce, there are plans to continue rebuilding the site and bringing it back into regular usage.