Skiing
How Massachusetts' ski industry once got a New Deal boost
"Our greatest primary task is to put people to work."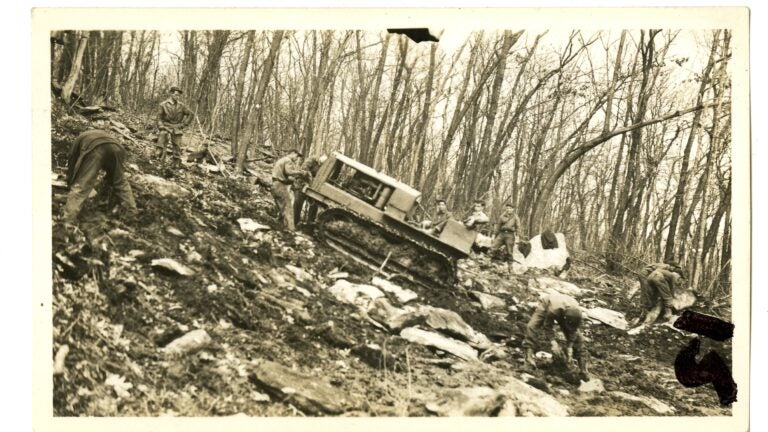 In March of 1933, more than 12 million American workers—a quarter of the labor force—were unemployed. It was the height of the Great Depression, and Massachusetts was caught in it like everywhere else. It was an unlikely time for the state's ski industry to see even the most meager amount of investment (skiing is the definition of a superfluous activity), yet that's exactly what happened.
Eighty years later, the fingerprints of a response to the depression are still visible all over Massachusetts, but particularly in some of the state's ski areas. The connection is found in the Civilian Conservation Corps. It was one of the earliest programs created by Franklin Roosevelt's "New Deal," and it ushered in not merely an age of a more active federal government, but (as a byproduct) a more developed infrastructure of local ski trails.
It began even before Roosevelt took office. In a 1931 speech, he outlined his opinion that America wasn't doing enough to protect its natural resources.
"The green slopes of our forested hills lured our first settlers and furnished them the materials of a happy life," Roosevelt said. "They and their descendants were a little careless with that asset."
And in his inaugural address, Roosevelt alluded to a more specific program that he thought could not only help alleviate the problem of unemployment, but could also satiate his desire for a better environmental policy:
Our greatest primary task is to put people to work. This is no unsolvable problem if we face it wisely and courageously. It can be accomplished in part by direct recruiting by the Government itself, treating the task as we would treat the emergency of a war, but at the same time, through this employment, accomplishing greatly needed projects to stimulate and reorganize the use of our natural resources.
Only 10 days after first sending a proposal to Congress, a bill was sent back to his desk for signing (typifying the almost unprecedented speed at which legislation was passed in his first 100 days). It authorized the hiring of 250,000 unemployed men between the ages of 18-26. All were expected to be capable of physical labor, and would be put to work in more than 4,500 camps across the country.
In Massachusetts, immediate needs were quickly identified for the program despite the state not possessing a national forest. Several sites were prioritized, including Wachusett Mountain. Local Chamber of Commerce representative Edward B. Walker was intrigued by the idea of creating trails in the mountain forest. As was pointed out in a 1933 edition of the Fitchburg Sentinel, "development of such a trail would enhance the recreational attractions to the Montachusett region."
In 1936, the 197th CCC company, based in Fitchburg, began a project at Wachusett that would have a lasting impact. They cut two trails on the mountain (used both for hiking and skiing) and began work on a stone lodge.
Top local advisors were brought in to help with the process. As the company's official history noted, "One of New England's best known ski trail designers, Charles L. Parker, was the technical adviser for the undertaking."
By the spring of 1937, the work on Wachusett was done, and the ski trails were deemed "as good as any in the state." The lodge became a fixture of local hikers in the summer and skiers in the winter. Wachusett was far from the only site that the CCC cut ski trails. Aside from planting millions of trees, building lodges, bridges and other forest projects, "Roosevelt's Tree Army" cut ski trails at nine other sites around the state.
And it had a lasting impact. The two Wachusett trails, maintained for years afterward by the local ski club, are still accessible today. For those who buy a Wachusett Mountain lift ticket, they can ski a portion of the Balance Rock trail. The lodge that the CCC built, known as Bullock Lodge, remains one of the resort's unique destinations (where visitors can find local Red Apple Farm cider and donuts).
For modern skiers, local resorts like Blue Hills, Butternut and Wachusett, as well as the famous Thunderbolt trail, remain part of the lasting legacy of the CCC's work in Massachusetts. The program, which ran from 1933 until 1942 (when American entry into World War II required mobilization), left in its wake more than three billion planted trees, millions of dollars in earned money to over 2.5 million unemployed men and (in New England) an important jumpstart of the local skiing industry. Without them, one of the region's most popular winter recreational activities would look vastly different, even eight decades later.