Skiing
It's mid-May and people are still skiing at Killington
"It's pretty much a given that we're going to be up at Killington sliding on the last patch of snow."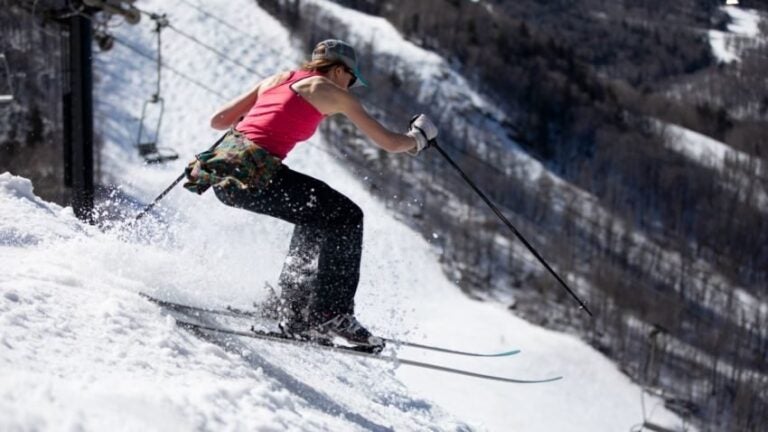 Each year, the New England ski season endures longer than seems possible. Snow lasts on some of the region's peaks for weeks (sometimes months) beyond when most skiers stop thinking about their winter pastime.
Almost all of the ski areas in New England are officially closed, but one holdout remains. Once again, Killington (located in Vermont) has not only retained snow coverage on its flagship trail, "Superstar," but continues to open a chairlift for those who want to make some spring turns.
According to Killington marketing manager Jordan Spear, the ski area averages around 800 visitors on spring weekends. Last weekend, with clear skies and warm weather, Spear noted that over 1,000 turned up to make a few turns.
Killington's official ski season passed the 200-day mark a week ago, and will continue through at least May 19.
While much of the ongoing snow coverage is due to leftover efforts from the resort's artificial snowmaking system, a recent storm actually added to the base.
On Tuesday, conditions aligned and eight inches of new snow fell.
"Receiving more than a few inches for a May snow storm is very rare," said Spear.
Flashback to mid-Janua…

Nope, that's today. Snow in Killington, Vermont. pic.twitter.com/T7Y5bYUImu

— WeatherNation (@WeatherNation) May 14, 2019
The scene — which looked more like a day in January than May — produced ideal conditions and stunning images for those who were able to make it over to enjoy the new snow.
Rick Kuehl was one of several Vermont locals who took advantage of the new snow. Since the mountain is now closed during the week, he made the 40-minute hike up so that he could enjoy a rare burst of May powder.
"On Monday night," Kuehl explained, "I sent out a text saying, 'Hey, 3-5 [inches] in the forecast, that's worth a hike. Who's down to meet at 6:30 [a.m.]?"
With two friends (one of whom brought his dog, Wonder) the group made their way up. They captured the experience in a video Kuehl made on his phone.
"There are a lot of locals. You would've thought it was open two hours later," Kuehl said. "There were a lot of cars in the parking lot. People hike and get their turns. That's kind of what this whole community's about."
Kuehl and his friends, who make regular videos of their skiing experiences, will continue to stop by Killington until June, when the snow (presumably) melts away at last.
"June 2nd falls on a Sunday," Kuehl noted. "It's pretty much a given that we're going to be up at Killington sliding on the last patch of snow."